This Perfume Is a Weighted Blanket in a Bottle
Here's why Atelier Cologne's Santal Carmin is worth It.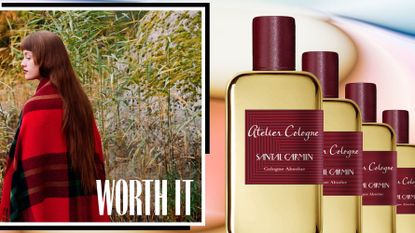 (Image credit: Susanna Hayward)
Welcome back to Worth It, a bi-weekly breakdown of the new beauty products I've tested and adored: I'm talking that drain-it-to-the-bottom-and-tell-my-friends-I've-found-The-One kind of love. If it's featured here, consider this my permission to splurge on it. Read on for the product you don't want to live without, and catch up on the latest Worth It breakdown here.
The Promise
This oriental turn from Atelier Cologne is as enchanting as it gets. The potent juice is worldly and rich, driven by Australian sandalwood (one of the world's most precious woods) and brightened by Italian bergamot and Central American guaiac wood. It feels warm, woodsy and sensual, and it's androgynous enough for anyone to rock.
Why I'm Obsessed
"Comfortable" and "dependable" are far from sexiest words in the English language. They can bring to mind orthopedic shoes, or how a close friend might describe her long-term relationship, which you both know has thoroughly run its course. But in 2020, comfort reigns supreme, as does routine: we work from our couches every day, matching sweat sets are the new business casual, and the hottest dress in town is literally made for napping. All anyone wants is to be soothed and reassured, myself included. And, as a metaphorical swaddling, I often look to fragrance. I burn candles all over my apartment, there's usually a diffuser puffing away by my bedside, and I cloak myself in cozy perfumes to settle my stressed-out mind.
Enter Santal Carmin, the olfactory equivalent of a weighted blanket: one intoxicating whiff instantly signals to my brain that I can exhale. The hour I most associate its pure sandalwood note with is 6 P.M., as I shut my laptop for the night and pour myself a cup of my favorite winter herbal tea. And as comforting as it is, its dependability is what makes this a standout in my ever-growing fragrance collection: it's the most versatile of them all, and it's somehow perfect for every single occasion that arises. It's sexy enough to seduce on a date, welcoming enough for a casual hang with friends, and subtle enough to spritz on after an evening shower before I crawl under the covers. That's why I'm partial to keeping the travel size in my purse 24/7, since there never seems to be a moment when the scent doesn't work. For $365, I expect a perfume to deliver, and this one has never let me down—even during a year when literally nothing else is promised. Ahhhh.
Taylore Glynn is the Beauty and Health Editor at Marie Claire, covering skincare, makeup, fragrance, wellness, and more. If you need her, she's probably roasting a chicken, flying solo at the movies, or drinking a bad Negroni at JFK.