Chébé Is the Secret to Perfect Curls
If you haven't tried the Chadian plant, Salwa Petersen's new line makes it easy.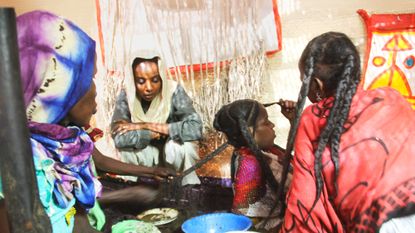 (Image credit: ahouansouignace@yahoo.fr)
At the start of the 2000s, paleontologists unearthed the oldest-known ancestor of humankind, in Chad. The seven-million-year-old specimen was nicknamed Toumaï, which translates to "hope of life" in Dazaga, the language of the nation's northern regions. Since this discovery, the African country has come to be considered the cradle of humanity. It just might be the cradle of hair care too. Not far from Toumaï's resting site, the writing is—literally—on the wall.
"Our women have very, very old hair rituals, and some can be traced back thousands of years through old rock art," says Salwa Petersen (opens in new tab), founder of a new eponymous haircare brand (opens in new tab). The prehistoric rock paintings she's referring to depict fashion shows, hair stylings, and rituals that revolve around chébé (opens in new tab), a plant that's strengthened and moisturized the hair of Chadian women for millennia. Petersen, a French and Chadian dual citizen and industry vet who's formulated best-selling products for L'Oréal, thought someone should share the ancient practice with the world.
The traditional ritual, also called chébé, starts with grilling the chunky brown seeds and grinding them into a powder, "a bit like you do with coffee," Petersen explains. It's then braided into the hair by applying alternating layers of water, the powder, and nourishing ingredients like shea butter and sesame oil to help the chébé penetrate the hair shaft—no rinsing necessary. Chadian women do this a few times a week, enlisting their mothers, sisters, or friends in the process.
But for busy consumers who can't phone a friend in the morning, Petersen has streamlined the process with one easy-to-use product three years in the making: a leave-in conditioner that contains the first chébé extract ever formulated from the same seeds Chadian women use daily.
"I wanted to respect the ritual by making a leave-in product first," says Petersen. "Beauty-industry founders and mentors warned me not to launch with just one cream, but I wanted to concentrate on one formula that delivers." Using the best chébé on earth ensures that it does. Though some versions of the plant grow across western and southern Africa, the most nourishing and effective chébé comes from Chad.
"All chébé is not created equal," says Petersen, whose team harvests the plant from February to April, when it's at its most potent, and extracts from it in the brand's lab on the outskirts of Paris. "When we did analyses, we realized that the Chébé du Tchad—what we call the extract—is different from the rest of the continent's chébé. It looks different. It's more concentrated, and its strengthening benefits are more powerful."
And though its results are best seen on textured hair—it stops breakage, improves curl structure, and hydrates for bouncy, more uniform curls—Petersen says the cream can benefit all hair types. I can attest: After shampooing and skipping conditioner, I towel-dried my fine, stick-straight hair and ran a small dollop of the cream through it. Sure enough, after a blast with the blowdryer, my strands were significantly silkier and shinier, without any extra weight. As for the rest of our hair-care routines, Petersen has big plans for chébé and her country's rituals: "Chad has seven million years of history to share. There's so much more to say and to do."
This story appears in the Spring 2021 issue of Marie Claire.
subscribe here (opens in new tab)
RELATED STORIES
Taylore Glynn is the Beauty and Health Editor at Marie Claire, covering skincare, makeup, fragrance, wellness, and more. If you need her, she's probably roasting a chicken, flying solo at the movies, or drinking a bad Negroni at JFK.