How to Plop Your Hair for the Best Curls of Your Life
Your post-shower hair + some products + a cotton t-shirt = magic.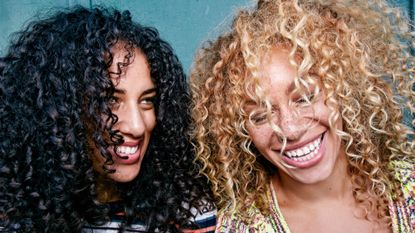 (Image credit: Mint Images)
My curly hair quest can be summed up in three words: a long journey. I've tried all the shampoos and curl products, and have spent endless hours on YouTube in search of the kind of curls I see on my Instagram explore page. My hair has its sad days, but there are a lot of winning days in between. And I'm always up for improving the odds. So one recent evening, while I was doom scrolling on TikTok, I found plopping.
While the practice of wrapping your sopping wet hair in a cotton t-shirt isn't exactly new, the results I saw from my fellow curly ladies were unlike anything I'd witnessed before. Their hair looked so bouncy! Full of life! Hydrated! And I wanted it desperately. So I consulted my roster of curly hair experts: Jesseca Dupart of Kaleidoscope Hair Products, Senior Stylist and Educator at Devachan Dominique LyVar, and Lorraine Massey, owner of salon Spiral (x,y,z) and founder of CurlyWorld. The results? Hair with so much volume and perfect coiling, I find myself glancing in the mirror every couple of seconds. Want in, too? Here's what you'll need to do.
Step One: Add Some Product
You're fresh out of the shower, staring at your mirror, just knowing time is of the essence here. Soaking wet curly hair is a blank canvas with a time limit, and all the curl experts agree you should put it to good use.
"Always add product immediately after conditioner, while hair is still damp. Part hair in fourths, and scrunch from ends to roots to help products penetrate and moisturize, and to begin to define curls," says Dupart.
The best products to use pre-plopping, she explains are leave-in conditioners, oils, curl creams, and gels for moisture, hydration, and curl definition. A favorite of Dupart's is the Kaleidoscope Moisture Silk Conditioner.
Do be wary of what your products are made of, though. Massey recommends reading the ingredient labels to make sure they're free of sulfates, silicones, parabens, heavy butters, synthetic oils, and fragrances. Her go-to is CurlyWorld's Leave-in Lover, which doesn't contain any of those things.
"Long-term healthy hair goals with healthy products is a must," says Massey. "Think of your hair like a one-of-a-kind Balenciaga you wear every day." You can't argue with that.
Shop Our Favorite Curl Products
Step Two: Wrap It Up
So this is where the magic happens, and by magic, I mean wrapping your hair in a strategic way to get the curls of your dreams. Don't just grab any plain towel, though. Instead, go for an oversized cotton t-shirt, or if you want to be fancy, take it up a notch with a microfiber towel. Here's how you're going to wrap it:
Lay your t-shirt upside down—with the sleeves end closest to you—on any flat surface.
Flip your wet hair over and onto the center of the T-shirt. While your head is still upside down, pick up and lay the bottom of the shirt over your head. Double-check to make sure it's touching the nape of your neck and completely covering your hair.
Grasp the sleeves (near your forehead) and the back of the t-shirt (at the nape of your neck) and tie one nice big knot. If you look like you're wearing a makeshift diaper on your head, you did it, my friend.
Now comes the question of how long to wear it. Massey says it all depends on your preference. "Some people prefer plopping or 'wrapunzeling' for 15 to 20 minutes just to get the wetness out and then allow the hair to dry naturally," she explains. "Like anything else you have to experiment with what works best for you; it may need adjusting in different seasons."
Just know that the longer you plop, the more water is being absorbed by the t-shirt or microfiber towel. "If your hair is on the dryer side, you do not want to take out lots of water. You'll end up losing that wetness which can result in unwanted frizz," explains LyVar.
Step Three: Extra Curl Protection
Once you feel like your hair and t-shirt have had a good run, untie the knot. As your hair takes its first breath of fresh air, feel free to add more product to it. Massey recommends using light-weight, water-soluble gel or spray to enhance your finished style. After adding, you're good to go out into the world, or if you're like me, right back on the couch to watch Netflix.
Shop Our Favorite Lightweight Styling Products
One last thing...
Before we part ways, my fellow curly-haired friend, I must note that some of the curl experts did warn me plopping isn't for everyone. *cue the sad music* It all goes back to the moisture needed for curly hair. LyVar broke it down like this:
"Curls and natural hair textures primarily need moisture. Some individuals need their hair to be really wet during the styler application process," he explains. "Until your hair can naturally retain moisture and definition, one must supplement the lack of moisture with water and product. In this case, plopping may remove [too much] moisture that is needed."
And with that, I leave you on your journey to explore the most Instagrammable curls. Happy plopping!
RELATED STORIES
Bianca Rodriguez is the Fashion & Luxury Commerce Manager at Hearst Magazines, covering fashion, beauty, and more for Cosmopolitan, Elle, Esquire, Harper's BAZAAR, and Town & Country. She likes lounging about with a good book and thinks a closet without platform sneakers is a travesty.