CSI Miami: Solve Your Beauty Crimes
Just as the world's most popular show, CSI: Miami, uses advanced DNA techniques to crack murder cases, you can now solve your own beauty crimes with the latest scientific breakthroughs. Had your skin profiled lately?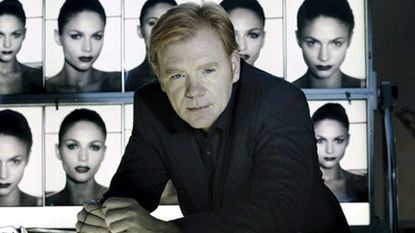 (Image credit: Sheryl Nields)
Marie Claire Newsletter
Celebrity news, beauty, fashion advice, and fascinating features, delivered straight to your inbox!
Thank you for signing up to Marie Claire. You will receive a verification email shortly.
There was a problem. Please refresh the page and try again.
"I've been here twice," sneers a suspect on a recent episode of CSI: Miami, "and all you've got is a Q-Tip." Cut to: the bad guy being led to jail, the DNA swabbed from his mouth having matched blood spilled at a crime scene. "And that's all I need," deadpans the show's hero, Horatio Caine, played by David Caruso.

If CSI: Miami is the planet's number-one show, it's partly because, in a scary world, we all sleep better knowing that science, not mere instinct-driven sleuthing, is working for the common good. Who ya gonna call: Colombo, shuffling around in a ratty raincoat, or a forensics-fortified CSI guy cruising in a Hummer?
Cut to: women at cosmetics counters and spas asking themselves, Am I going to trust my skin to a pretty, perfumed luxury cream, or one with a science degree? Thanks to breakthroughs like the Human Genome Project-which identified and stored all 20,000-plus genes- and other recent skin-science discoveries, DNA-based methods and products that target your cells are being used to fight crimes of beauty. And why not call perfectly preventable dam age to skin, hair, and nails what it is? A crime.
The humble Q-Tip, an essential low-tech beauty tool since its invention in the1920s, is enjoying newfound fame and clout. In fact, it provides the first clue to you at Dermagenetics's New Jersey lab, which processes a swab from your cheek and concocts your own personalized, genetically guided moisturizer. "We test your skin-aging genes," says John Souza, Dermagenetics's director of sales. "For example, the ones that indicate your collagen breakdown or wrinkling capacity. We're all a mixture of advantaged and disadvantaged skin-aging genes called Single Nucleotide Polymorphisms or SNPs [pronounced snips]." So, whereas someone may have an advantaged SNP for eliminating chemical pollutants, she may have a disadvantaged one for protecting against UV rays. "Our lab would then select active ingredients in optimal concentrations just for her," says Souza. "Whenever you hear a brand boasting that 30 percent of customers reported improvement in reduction of fine lines, it means that the formula wasn't right for the other 70 percent."
SWAB RULE

No doubt intrigued by the novelty of it, stars have lined up to be swabbed- among them CCH Pounder of The Shield and Lisa Edelstein of House. Results are kept confidential, although one celeb who aced it appeared on Dancing with the Stars and is famous for his tan (another clue: he shares a surname with the president on the $10 bill).
LAB FAB

When Sephora unveiled its Skinphysical diagnostic machine in select stores late last summer, it did so "to demonstrate that knowledge is power," says Sephora's education development manager Laura Filancia. Developed in conjunction with Klinger Advanced Aesthetics (Georgette Klinger created the world's first "medical facial") and tested for safety and efficacy at Johns Hopkins Medical School, the Skinphysical uses visual imaging and sensors to show what the naked eye can't see: your skin with every bit of sun damage, spotting, and loss of hydration and elasticity accumulated through your life. Scary? You bet, though most people are galvanized by the findings, says Filancia: "The reaction young women have, particularly to seeing the damage UV has done, results in an immediate call to action to step up protection." Nu Skin and Olay will be introducing similar skin analysis systems by this spring. Of course, sun isn't the only culprit, cautions Filancia: "Central AC, heat, and computer screens sap the moisture right out of your face." While the Skinphysical is free, Sephora is stocked with creams, serums, and sunscreens you'll likely be shocked into buying. Though Filancia won't play favorites, she doesn't deny that dermatologists' brands are buying up more and more aisle space at Sephora, from N.V. Perricone's eponymous line to Dr. Dennis Gross's MD Formulations, to Murad and Cosmedicine.

Expectations about skin creams are climbing, explains Perricone, a Connecticut-based skin doctor who calls his products "cosmeceuticals": "Women are demanding powerful topical treatments that rival more invasive dermatologic and plastic-surgery procedures."
THE ROOTS OF AGING

Hair and nail specialists are also increasingly taking a look at what lies beneath, maintaining that even an obscenely expensive cut or manicure can't disguise what isn't healthy at the root. Procter & Gamble's scientists now use a Scanning Electron Microscope to evaluate the health of a single strand of hair. By magnifying it 1000 times, they can examine whether the cuticle is smooth (indicating strength and shine) or rough (revealing a tendency to break or grow dull). Chiquita White, in product development for Pantene, suggests protein- and vitamin-pumped products to ameliorate rough hair cuticles. Nails, too, show their age-though instead of fine lines and wrinkles, they develop ridges. The tips of your fingers are like a message board for your body: If excessive ridges, pallor, white spots, or yellow casts appear, it's wise to see a dermatologist, as they could be an indication of some deficiency-or even anemia.Is the day coming when women seeking optimum beauty will completely forsake their little luxuries for droppers, beakers, and unpronounceable ingredients? Wouldn't that be the revenge of the nerds! Actually, with more and more couture brands beating the science drum, we're seeing what might be called hybrids, designed to convince women they can have it both ways. Guerlain's Issima Perfect White Dark Spot Corrector contains an ingredient that reduces pigmentation, it claims, by protecting DNA and the cells responsible for self-defense. Elizabeth Arden's Ceramide Plump Perfect lip cream, containing potent line-plumper Argireline, is the closest thing to a shot of collagen, while RéVive promises that its Peau Magnifique has a bioengineered ingredient that awakens adult stem cells and encourages an unprecedented level of skin renewal.
Maybe the Best of Both Award should go to La Prairie's Cellular Radiance Concentrate Pure Gold; it contains not only hyaluronic acid and neuropeptides but "microparticles of 24K gold," said to reduce wrinkles without painful injections. Science purists may scoff at the sexy jewelry connotations and choose to regard gold as just another element on the periodic table. Either way, at $525 an ounce, compared to $1000-plus Botox treatments, La Prairie's concoction may be worth its weight.
Celebrity news, beauty, fashion advice, and fascinating features, delivered straight to your inbox!