Worldly Scents
Intrepid fragrance explorer Courtney Dunlop uncovers the history of how culture informs what smells good to us.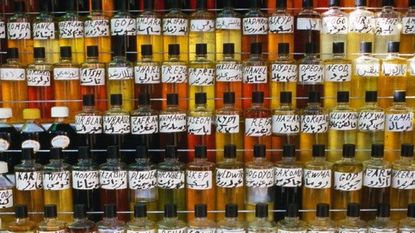 (Image credit: Marie Claire)
TO GET AN IDEA OF HOW POWERFUL fragrance can be, look no further than Empress Josephine, who, legend has it, doused her rooms in her signature musk after Napoleon decided to leave her for the Archduchess of Austria. A note with serious staying power, it lingered long after Josephine departed the premises, ensuring that her ex would be reminded of her every time he stepped foot into her abandoned chambers. Evidently, revenge is a dish best served heavily scented.
That such a tale originates in France should come as no surprise, since, as French-Armenian fragrance maker Francis Kurkdjian puts it, "Perfume is as much a part of the culture as food and wine; it's a part of life." French tradition involves taking young girls of 12 or 13 to shop for their very first perfume—Kurkdjian remembers his sister's first bottle of Anaïs Anaïs by Cacharel—and they grow up learning how to dab perfume on their pulse points: the neck, the wrists, behind the knees. Later in life, the ritual becomes "part of seduction," explains Kurkdjian. "It's very intimate."
The French aren't afraid of their dark, spicy statement scents (think Guerlain Shalimar and Chanel No. 5), but as you move across southern Europe, Mediterranean freshness is de rigueur. Citrus and neroli are typical of the region, which has historically served as a melting pot—the early days of Eastern spice traders and exotic travelers left a permanent mark on the fragrance culture. Take an island known for its fragrant orange blossom fields: As Sicily was invaded by the Romans and Arabs, cultures collided and their tastes intertwined over time, explains Sumit Bhasin, global leader of innovation for P&G Prestige, who helped create Dolce & Gabbana's latest scent, Pour Femme, a neroli-and-sandalwood-infused concoction that embodies the sweet and spicy notes of the area.
In the Middle East, fragrance is so ingrained in the culture—the Persians were the first to use distillation to extract oils from flowers—that residents rarely go a day without it. Fragrance is often considered a spiritual way to anoint yourself before prayer, but it's also a personal statement: Many women wear strong perfume all over as a way to symbolize arrival, which is perhaps telling in areas where burkas are the local uniform. "You almost greet people with how you smell," says Bhasin. Where smoldering incense and fragrant teas are ubiquitous, strong wood notes are popular—earthy vetiver, sensual oud—and there's a love of layering. Kurkdjian explains that women will apply a strong, woodsy base from a local perfumer, then layer flowery European perfumes on top. The technique is prevalent in India, too, where base notes like sandalwood and patchouli, used for centuries in religious and beautifying ceremonies, are mixed with sensual floral notes like jasmine.
China, with its many different regions, has varied tastes that tend to correlate with the climate. Woody notes do better in dry Beijing, and fruity florals thrive in warmer Shanghai. People in the hot, humid southern areas prefer refreshing but pungent fragrances—Kurkdjian explains that dialed back in strength, light scents would simply disappear into the sultry, overwhelming mélange of food, flowers, and people. That's in stark contrast to the Japanese, a more reserved society that eschews the heavy scents of other cultures and prefers delicate, well-balanced fragrances like Issey Miyake's L'Eau d'Issey. Rather than flaunting one or two standout notes, you find "nothing overpowering—almost smelling cosmetic-like," says Bhasin. "A bit more musky, with white-flower notes and a powdery background. Very creamy, but not with a strong vanilla like you get in some of the American products." This less-is-more approach is exemplified when it comes to application: Traditionally, it's all about using softly scented body lotions, soaps, and shampoos rather than hearty spritzing. That said, young people are starting to embrace more incense-like scents, once considered taboo because of their association with the iconic yet scandalous geisha.
Americans, known for our insatiable appetites and all for knocking one over the head with an olfactory hammer, love gourmand notes like vanilla and sweet, fruity notes like strawberry. And although fresh, "clean" scents are also typically American (CK One started a revolution when it was launched in 1994), the most popular fragrances in the U.S. have traditionally been feminine florals such as Ralph Lauren Romance and Lancôme Trésor. This is no doubt left over from our shared history with the British, who are known for, and still enjoy, English-garden floral notes of rose, lily of the valley, and violet. (Consider Penhaligon's classic Bluebell.)
But as culture dictates our shared fragrance vocabulary, in the U.S., change is afoot. With the rise of the Hispanic population (whose tastes, Kurkdjian notes, tend to be more aligned with locales like Spain and Italy) and the surge of niche perfume brands coming from Europe, deeper chords are on the upswing. "Woody notes are very trendy right now," says Mary Ellen Lapsansky, vice president of the Fragrance Foundation. Last year, the best-selling women's prestige fragrance in the U.S. was Chanel Coco Mademoiselle, a scent with a somewhat heady patchouli, vetiver, and musk base. "The world is getting smaller and the door is open to experimenting with different fragrances," continues Lapsansky.
Of course, Americans may be embracing fragrance globalization, but there's one practice you'd be hard-pressed to find outside of the country: the ol' spray-and-walk-through perfume method, said to have been invented by none other than Estée Lauder herself, a born and bred New Yorker.