The 12 Best Acne Body Washes, According to Experts and Editors
Salicylic acid remains the MVP.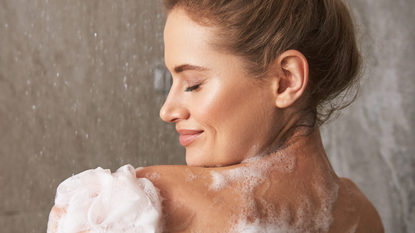 (Image credit: Getty)
Be it buttne, chestne, neckne, or backne, body breakouts happen—there's no denying it. The good news? Treating it can *usually* be accomplished by making a few lifestyle changes (read: clean towels, shower after sweating) and incorporating one of the best acne body washes into your routine. "Benzoyl peroxide, salicylic acid, and glycolic acid washes are very helpful," explains board-certified dermatologist Dr. Karan Lal. "They loosen up the skin cells that contribute to acne." With time, and regular use, these active ingredients will clear out the gunk, reduce bacteria, regulate oil, and inevitably get rid of blackheads and pimples.
For a while, Neutrogena's Pink Grapefruit Acne Body Wash, which is formulated with salicylic acid, was the one and only go-to. Thanks to the body care boom, that's no longer the case (although it's still one of the best out there). Now, the drugstore aisle, Sephora shelves, and online retailers have dozens upon dozens of options to choose from. So, which ones deserve a spot in your shower? To answer that question, we've rounded up the best acne body washes of all time.
To get more recommendations on how to treat acne, check out our favorite spot treatments and the best face washes for acne-prone skin.
What to Look For in an Acne Body Wash
Ingredients
Think of an acne body wash the same way you think of an acne face wash—it's a short-term contact therapy treatment. Your body skin can handle something a bit more intense than your face, so you might find higher concentrations of active ingredients or want to consider letting the body wash sit on your skin for a few minutes. "Look for body washes with benzoyl peroxide, which will kill bacteria and yeast associated with acne, or ones with salicylic acid, which is comedolytic and breaks blackheads apart," says Dr. Lal. Chances are you'll also find additional AHAs, BHAs, or natural alternatives in the mix, such as glycolic acid, lactic acid, or tea tree extract.
Chemical vs Physical
All the options out there are going to fall into one of two camps: They'll be a physical exfoliant (think: grainy particles) or chemical exfoliant (think: acids). It is largely a personal preference, but Dr. Lal is partial to the latter. "I don't recommend physical exfoliation for acne or folliculitis," he says. "Chemical exfoliation is the way to go and washes are an easy way to do this. It allows for therapeutic intervention without irritation and dryness."
The Best Acne Body Washes
The Best Drugstore Acne Body Wash
CeraVe SA Body Wash for Rough & Bumpy Skin
Whether you're dealing with straight up body acne or just have a rough texture that you want to even out, CeraVe can save the day. "This has salicylic acid and ceramides which makes this safe for all skin types," says Dr. Lal. The salicylic acid, which is concentrated at two percent, serves as the active, acne-fighting ingredient, while the ceramides, along with hyaluronic acid and niacinamide, counteract the drying, occasionally irritating side effects. The best part? The price can't be beat.
Pros: Dermatologist-recommended; Affordable; Fragrance Free
Cons: None
The Best Acne Body Wash for Folliculitis
(opens in new tab)
It's all too common to mistake folliculitis, aka inflammation of the hair follicle, as acne. Thankfully, this Amazon body wash is a savior for both. "This has sodium hypochlorite, which is great for people with bacterial-prone acne and for people with folliculitis," says Dr. Lal. The benefits don't stop there—it's also able to treat eczema, redness, and dryness. Such a 360 treatment doesn't usually come bottled up in one product, so don't sleep on adding this bleach bath dupe to your shower shelf.
Pros: Dermatologist-recommended; Multi-purpose
Cons: Can stain towels
The Best Benzoyl Peroxide Body Wash
PanOxyl 10% Acne Foaming Wash
"This is the OG acne body wash. It kills all organisms and truly works," says Dr. Lal. How, you ask? Thanks to a 10 percent benzoyl peroxide formula. That's the strongest possible concentration you can get over the counter, so rest assured it's the real deal. If you lean more sensitive, I would wash it off right away. But if you can tolerate it, try letting the wash sit on your skin for a few minutes. Just a word from the wise: "Be careful, it can bleach towels."
Pros: Dermatologist-recommended; Strong OTC concentration
Cons: Can stain towels
The Best Acne Body Wash for Maintenance
Naturium The Purifier Niacinamide Body Wash
For bad breakouts, you'll always want to go the salicylic acid or benzoyl peroxide route. But if your acne is controlled and you only deal with a small flare here and there, allow me to direct your attention to this delightfully milky body wash from Naturium. The fragrance-free product is primarily hydrating and contains all the usual suspects, with the extra addition of niacinamide, which is loved for its oil controlling abilities. If you find you need an extra acne-fighting kick, try out their new Salicylic Acid Body Spray.
Pros: Great texture; Good for daily use and sensitive skin
Cons: Doesn't contain AHAs or BHAs
The Best Salicylic Acid Body Wash
(opens in new tab)
Neutrogena Body Clear Pink Grapefruit Acne Body Wash
Tried and true, this Neutrogena body wash is a staple in the category. It has a *very* strong citrus smell, don't get me wrong. But, the formula itself is impressive. Salicylic acid is the star of the show and gets to work unclogging pores, removing dirt, and busting up oil. It's supported by a hefty dose of vitamin C, a powerful antioxidant that comes along with a brightening effect. On the texture front? This is the way to go if you like a foaming lather.
Pros: Contains salicylic acid; Foams
Cons: Strong smell
The Best Physical Exfoliator Acne Body Wash
While salicylic acid can be used at a two percent concentration, Murad opted to cut it in half—and for good reason. Their acne-fighting body wash takes a three-pronged approach to pimple destruction. The beta-hydroxy acid attacks blackheads, glycolic acid speeds up cell turnover and gets rid of dead, pore-clogging skin cells, and date seed powder, which is a physical exfoliant, gently exfoliates. While physical exfoliation isn't for everyone, this particular inclusion is relatively gentle.
Pros: Contains two acids
Cons: Physical exfoliation is too harsh for some
The Best Body Wash for All Types of Acne
(opens in new tab)
Hero Cosmetics Brave Body Power Wash
Different types of acne need different types of treatments, which is why the chemists over at Hero cooked up a solution that cures all. Salicylic acid addresses clogged pores, while a mineral complex complete with silver and copper side-swipes benzoyl peroxide by fighting acne-causing bacteria. It works up a nice lather (foam included!) and creates an aromatic experience in your shower. The gender neutral fragrance profile is a mix of citrus and sandalwood.
Pros: Targets multiple types of acne; Lathers
Cons: Fragrance free
The Best Acne Body Wash for Brightness
(opens in new tab)
Kosas Good Body Skin AHA + Enzyme Exfoliating Body Wash
Cleanse, exfoliate, moisturize, brighten, and do all the things with Kosas' anti-pimple concoction. It's powered by a trio of alpha-hydroxy acids (lactic, glycolic, and madelic), as well as fruit enzyme extracts. Together, they're going to work some magic on the acne front. Dead skin cells? Gone. Skin tone? Brightened. Oil? Controlled. Acne? Incrementally better. That all said, this intense exfoliation can be irritating, so the brand tossed in some soothing allantoin to combat any dryness.
Pros: Nice texture; Great ingredients
Cons: Fragranced
The Best Smelling Acne Body Wash
(opens in new tab)
Sol de Janiero Bom Dia Bright Clarifying AHA BHA Body Wash
It's hard not to be obsessed with the smell of Sol de Janiero's BumBum Cream—it's too good. Enter this body wash, which is a just-as-amazingly-scented counterpart that infuses the signature scent into your shower. But it's not just a treat for your nose; your skin will thank you. The formula has blemish busting superpowers thanks to its intense formula. Salicylic and lactic acids blend with fruit acids to create an AHA and BHA blend that's top notch.
Pros: Signature scent; Intense actives
Cons: Drying for some
The Best Acne Body Wash for Sensitive Skin
(opens in new tab)
Sometimes the solution to your breakouts is simply to do less. That's SEEN's whole motto. The dermatologist-developed brand is focused on removing acne triggers from the equation. That in mind, you're not going to find any irritating fragrance, sulfates, silicones, oils, or preservatives in their body wash. Instead it's going to nourish the skin, deliver non-comedogenic hydration, and cleanse your body without disrupting the skin's barrier.
Pros: Gentle; Hydrating; Non-Irritating
Cons: No treatment ingredients
The Best Glycolic Acid Acne Body Wash
(opens in new tab)
Typology Anti-Blemish Body Wash
Fun fact: Exfoliating your body in the shower can *majorly* help prevent ingrown hairs. Getting rid of dead skin cells, with, say, Typology's Anti-Blemish Body Wash, can stop those little red bumps from creeping up. This particular formula couples six percent glycolic acid with tea tree extract, which has antibacterial properties. Hydronesis, a hydrating ingredient, also made its way into the mix, to soothe redness and address any keratosis pilaris on the body.
Pros: Contains glycolic acid, anti-bacterial
Cons: Expensive
The Best Tea Tree Oil Body Wash
(opens in new tab)
The Body Shop Tea Tree Skin Clearing Body Wash
This particular *vegan* body wash targets acne without any of the common actives. Instead, it takes a natural approach and leverages the purifying effects of Community Fair Trade tea tree oil sourced from Kenya to dry out body blemishes. It soaks up oil and sucks up blackheads, all while providing a next-level sensory experience. You can expect a refreshing little tingle to the skin upon application and a nice lemon-y aroma.
Pros: Natural; Ethically sourced ingredients; Vegan
Cons: No acids
Meet the Dermatologist
Originally from New York City, he grew up in Queens and attended Hunter Science High School in Manhattan. He graduated summa cum laude from the New York Institute of Technology, where he completed a rigorous seven-year accelerated combined medical program. He was selected to be an academic medical scholar, during which he received a Master of Science in neuroscience and a scholarship for three years of medical school and graduate training. He was elected to the Sigma Sigma Phi and Psi Sigma Alpha medical honor societies. He completed his internal medicine internship at the University of Connecticut Medical Center where he was elected intern of the year. He completed a three-year dermatology residency at the University of Massachusetts, where he was elected chief resident. He continued at the University of Massachusetts to complete a pediatric dermatology fellowship, where he gained an interest in vascular anomalies, pediatric laser, and dermatologic surgery of pediatric patients. Dr. Lal specializes in pediatric and adult dermatology, laser surgery, soft tissue filler augmentation, body sculpting, melanocyte keratinocyte transplant surgery for vitiligo and hypopigmentation, pigmentary abnormalities of the skin and enjoys treating patients from birth onwards. He is an expert in atopic dermatitis, vitiligo, melasma, psoriasis, and hidradenitis and has worked in specialty clinics among experts. He is the only board-certified pediatric and fellowship-trained cosmetic dermatologist in the country.
Samantha Holender is the Beauty Editor at Marie Claire, where she reports on the best new launches, dives into the science behind skincare, and keeps up with the latest trends in the beauty space. She has previously written for Us Weekly, Popsugar, Makeup.com, Skincare.com, and Philadelphia Wedding. Follow her on Instagram @samholender.