Lactic Acid for Skin: A Beginner's Guide
If it's good enough for Cleopatra, it belongs on your shelf.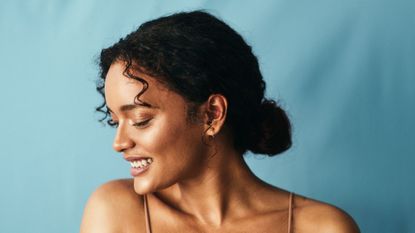 (Image credit: Getty Images ¦ Delmaine Donson)
Sometimes, a powerful ingredient comes along and kicks all your other potions' ass right out of the medicine cabinet. Don't get me wrong—my bathroom still overfloweth with creams, lotions, and acids galore—but when I tried lactic acid, it quickly became a staple in my everyday routine. While I knew some of the science behind the increasingly popular ingredient, I was surprised by how compatible it was with my complexion. That's why I checked in with board-certified dermatologist Jennifer David of Pennsylvania Dermatology Partners to give me the rundown on what might be your skin's new saving grace.
Lactic acid is an alpha hydroxy acid, or AHA, so it's in the same family as other exfoliating MVPs like glycolic, citric, and mandelic acids. Part of the reason it's so compatible with the skin is because your body has already experienced it: it's produced naturally in the body, as well as during the fermentation process of turning milk into yogurt and cheese. It's not a new discovery: According to Dr. David, the ancient Egyptians—most notably Cleopatra—knew the benefits of lactic acid for the skin: they would bathe in sour milk as a beauty ritual, long before the science behind the practice was figured out. (Hey, if it's good enough for her, it's good enough for us.)
Now, it's touted as an effective exfoliant that helps break down dead skin cells and stimulate the skin's renewal process. But what makes it stand out from its acid sisters is that it actually hydrates the skin in two different ways while it buffs away the dead skin and impurities that leave your skin dull and prone to damage.
"It's a humectant, which means it draws moisture from the environment so it can be absorbed into the skin, and it's a component of the skin's natural moisturizing factor, a mixture of key components found naturally in the skin that attract water and promote hydration," says Dr. David. That's what makes it so effective for brightening and plumping even dry and mature skin, and even complexions effected by conditions like ichthyosis vulgaris and asteatotic eczema.
So no matter your skin type, lactic acid could be a major breakthrough if you're stuck in a skincare rut. Just keep in mind that the products below are best applied as your day is winding down. "Since lactic acid—and all other alpha hydroxy acids— can make the skin a little more sensitive to the sun, I typically recommend applying it at nighttime before bed, preferably immediately after showering when the pores are open and it can lock in the moisture in," says Dr David. She notes that if you do need to use it in the morning, you should make sure you to apply sunscreen after.
for dry skin
1. Sunday Riley Good Genes All-In-One Lactic Acid Treatment
This is the cult classic when it comes to lactic acid, and it's a favorite of Dr. David's. It visibly improves the appearance of fine lines, even the ones you've been eying for years now.
for a budget
2. The Ordinary Lactic Acid 10% + Ha 2% 30ml
Super affordable, super potent, and super easy to incorporate into the rest of your nighttime routine.
For instant results
If you've got big plans and want a lit-from-within glow, apply a thin coat of this stone fruit-infused formula and leave it for just five minutes. Your makeup will go on smoother, and you might not even need that highlighter.
For sensitive skin
4. Eminence Organic Skin Care Mangosteen Daily Resurfacing Concentrate
Celebs love this brand, and this product is a standout thanks to its powerful lactic acid and mangosteen complex. Even if you're prone to redness, this organic option is safe to use.
For flaky skin
5. Biossance Squalane + 10% Lactic Acid Resurfacing Night Serum
Since lactic acid is better off used before you hit the sheets, this overnight formula will give you a serious glow to wake up to.
For an overnight glow
6. ELEMIS Peptide4 Overnight Radiance Peel
If you're a woman of color who's wary of in-office peels—Dr. David notes that you should find a derm you're confident has experience with deeper skin tones, as there is a potential risk for inducing inflammation and post inflammatory hyperpigmentation if it's too strong —this glow-inducing at-home version is an excellent first option that'll give you major results.
For dull skin
7. Murad AHA/BHA Exfoliating Cleanser
It might sound counterintuitive, but cleansing with lactic acid can actually help hydrate the skin rather than strip it. Use it 2-3 times a week to achieve a smoother base for the rest of your skincare routine and makeup.
For large pores
8. SKINCEUTICALS Clarifying Clay Masque Deep Pore-cleansing Skin-refining Masque, 2.4-Ounce Jar
If you feel like you can see your pores from space, this refining mask will loosen the impurities clogging them and make them appear smaller with every use.
For acne
9. PCA SKIN Smoothing Toner
If you've got pimples and blemishes, a toner can help keep bacteria at bay. This one exfoliates while it purifies, but won't irritate or strip the skin.
For rough skin
10. CeraVe SA Cream for Rough and Bumpy Skin, Moisturizer with Salicylic Acid - 12oz
If you've got lumps and bumps no loofah or body scrub seems to fix, gentle acids are your next course of action. The Salicylic and lactic acids in this body cream help chemically exfoliate rough skin away.
Celebrity news, beauty, fashion advice, and fascinating features, delivered straight to your inbox!
Taylore Glynn is the Beauty and Health Editor at Marie Claire, covering skincare, makeup, fragrance, wellness, and more. If you need her, she's probably roasting a chicken, flying solo at the movies, or drinking a bad Negroni at JFK.