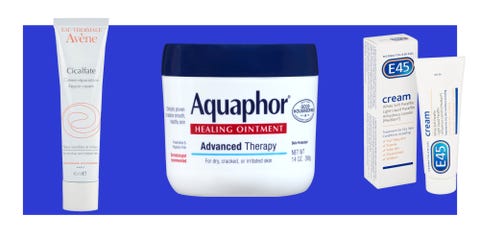 Eczema anywhere on your body is a curse, but eczema on your face is a special kind of hell. It can come on suddenly, take forever to go away, and make you look and feel like you've been punched, burned, doused in poison ivy, or all of the above. To the uninitiated, it's hard to explain how self-conscious facial eczema can make you—your face, after all, is what you're presenting to the world, and to lose control of how it looks and feels is miserable.
"There are a lot of different kinds of eczema," explains dermatologist Mona Gohara, M.D., an associate clinical professor at Yale University, who names atopic dermatitis, irritant contract dermatitis, and allergic contact dermatitis as just three examples. Each kind of eczema may benefit from a different treatment, which is why it's important to see your derm to work out a personalized plan if your eczema is severe, unexpected, and/or doesn't go away quickly (i.e. within a couple weeks). Some people may benefit from steroids or prescription creams, like Eucrisa, while others may just need to change up their routine. (The biggest misconception Dr. Gohara says patients have about eczema? "That you can't be irritated by or allergic to something that you have used for many years," she says. Turns out, you can be.)

Whether you're dealing with a flare-up, trying to avoid steroid creams, or just looking for something to calm your skin while you wait for this bout to pass, here are some tried-and-true drugstore treatments real women swear by.