The 11 Best Face Creams for Eczema in 2022
An application a day keeps the itching away.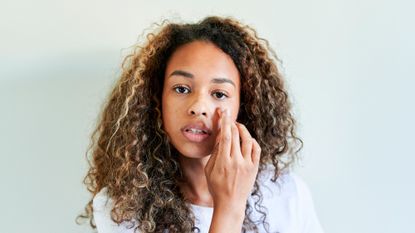 (Image credit: Westend61)
Allow me to blunt: Eczema on your face isn't fun. It can be wildly itchy, sting, burn, cause bumps and blisters—the list goes on. But eczema is so common (up to 15 million people have to deal with it) that dermatologists have a pretty solid idea of what causes it (scroll down for the info) and are well-versed in the best face creams for eczema to alleviate symptoms. "Dry skin can cause inflammation, which leads to eczema," explains board-certified dermatologist at Schweiger Dermatology Group Dr. Nava Greenfield.
What to Look For in an Eczema Face Cream
"I encourage my patients to look for thicker moisturizing creams, balms, and ointments," says board-certified dermatologist at Treasure Valley Dermatology Dr. Dustin Portela. "Avoid any product with fragrance and use only products formulated with sensitive skin," adds Dr. Greenfield.
Results
While using a tried-and-true eczema cream will do the job for some people, others might have to pay a visit to the dermatologist for a prescription steroid cream. "You should see results in two weeks, but see a doctor if the rash does not improve, worsens, or becomes itchy or painful."
That in mind, scroll ahead to shop for the best face creams for eczema. From ultra-nourishing drugstore options packed with calming and nourishing ingredients to dermatologist-formulated balms that promise overnight results, we've rounded up the top-rated products, below.
The Best Face Creams for Eczema
The Best Cream for Scaly Eczema on the Face
(opens in new tab)
Eucerin Eczema Relief Flare Up Treatment
As someone who's had eczema their entire life, I can confidently say that you won't be disappointed by Eucerin. I make a point to slather my body in their cream every damn day as a preventative measure, but I always have this on standby for facial flares. Thanks to a formula packed with uber-calming colloidal oatmeal and a trio of hydrating ceramides, it works wonders on itchy, scaly patches. There's no steroids in it either, so feel free to reapply whenever your heart desires.
The Best Daily Cream for Eczema on the Face
Skinceuticals Triple Lipid Restore 2:4:2
While this isn't a specific eczema treatment per se, it is one of the best soothing, preventative face creams on the market. The lipid-packed formula is solely focused on repairing a damaged skin barrier, which is the main cause of an eczema flare. In addition to keeping easily irritated skin in a happy, healthy state (always the goal, you guys), it's also going to provide loads of additional benefits ranging from plumping to evening out skin texture.
The Best Targeted Treatment for Eczema on the Face
(opens in new tab)
SkinFix Eczema+ Dermatitis Face Balm
Formulated specifically for sensitive skin, this handy little balm is a mini-sized savior for facial flares. It's dermatologist and opthomologist tested, so rest assured it's safe for use anywhere on the face and eyelids. It is designed for targeted treatment, so only apply the product where you're having an issue. That in mind, it does contain pharmaceutical-grade active ingredients like colloidal oatmeal so the brand recommends stopping use after seven days.
The Best Kid-Safe Face Cream for Eczema
(opens in new tab)
Aquaphor Healing Ointment
The original, and still the best. Aquaphor is a petroleum jelly–based ointment that the pros recommend slathering on your skin immediately after a shower or bath to lock in moisture. It won't leave irritated skin feeling even more irritated, and it'll provide a barrier between your skin and anything that might hurt it (the weather, pollutants, etc). I like using the kind developed specifically for babies—to me, it's the gentlest.
The Best Face and Body Cream for Eczema
(opens in new tab)
La Roche-Posay Lipikar Balm AP+ Intense Repair Body Cream
Eczema spreads—not between people, it isn't chicken pox, but it can spread from your face to your body. If you're skeptical about using a balm that works on your face and body, I promise this one is the way to go. But the main ingredients of shea butter and niacinamide will work on any area of skin. "This product also has many clinical studies showing improvement in skin barrier and reduction of itch in patients with eczema," says Dr. Portela.
The Best Moisture-Boosting Face Cream for Eczema
(opens in new tab)
Holy grail! Hero item! Cult favorite! The CeraVe Healing Ointment is all these things for its benefits in locking in the needed moisture on the skin's barrier. Another favorite of Dr. Portela, he loves this ointment for its benefits towards "cracked and fissured skin."
The Fastest Acting Face Cream for Eczema
(opens in new tab)
First Aid Ultra Repair Cream
Last winter, when my eczema was at its worst, I would dab some of this on my skin if it was feeling particularly itchy. And trust, I plan on stocking up on this super-effective product once again. It's *that* good. And I'm not the only one to think so: A tub of Ultra Repair Cream is literally sold every minute.
The Best Short-Term Face Cream for Eczema
(opens in new tab)
Cortizone 10 Intensive Healing Lotion
This one isn't for the faint of heart, but if you want to steer clear of prescription creams, try this during a flare-up—it's for that moment that you can't bear to itch anymore. But, it is important to note that while this can be successful in a pinch, it's not a long term treatment. Dermatologists don't recommend using hydrocortisone on the face for more than three days.
The Best All-Over Face Cream for Eczema
(opens in new tab)
"I love Vaseline," says Dr. Gohara. "Especially around the eyes, where facial eczema can be very prevalent." While Aquaphor is part petroleum jelly, part other ointments and oils, Vaseline is just pure petroleum jelly. (Again, if your skin is super-sensitive, go for the baby-friendly variety—the gentler, the better.) Vaseline goes on heavier than Aquaphor, since the latter is more easily absorbed by your skin, and it's more of a protectant than a treatment.
The Best Long-Lasting Face Cream for Eczema
(opens in new tab)
Elizabeth Arden Eight Hour Cream
This Eight Hour Cream is legendary in skincare circles. While not developed for eczema specifically, I've found that a tiny amount of this goes a long way toward treating my issues—it's thicker and stickier than most of the others on this list, but it also sits more comfortably on my sensitive skin than any other premium skincare product. In particular, if you get eczema on your lips (or have dry, cracked lips generally), this is perfect—make sure you get the fragrance-free kind.
The Best Preventative Face Cream for Eczema
(opens in new tab)
Avene Cicalfate+ Restorative Protective Cream
So, miracle upon miracle, your eczema is gone. Hooray! But you know that one patch of dry skin that isn't well-moisturized can kick-start the whole cycle again. Don't fret: This moisturizer will keep your skin hydrated for hours at a time. Unlike Aquaphor and Vaseline, which can result in skin shinier than the Tin Man in The Wizard of Oz, this cream will go on light.
What Causes Eczema?
"Eczema causes are multifactorial," explains Dr. Greenfield. "Genetic and environmental factors can trigger an inflammatory cascade that results in itching, scales, and redness." Dry skin is by and large the biggest trigger, which is why people might notice more flares during the winter time or in cold weather.
Are There Different Types of Eczema?
"There are a lot of different kinds of eczema," explains board-certified dermatologist Mona Gohara. While most eczema will be treated relatively the same way, a quick trip to your doctor can help identify the specific type of eczema you're dealing with. "Nummular eczema appears as round, red, and scaly plaques and most commonly presents on the arms and legs," says Dr. Greenfield. "Dyshidrotic eczema shows up as small fluid filled vesicles on the fingers and toes on the hands and feet." There's also atopic dermatitis, which is a bumpy rash that's very common in babies.
Meet the Experts
Dr. Nava Greenfield is a dermatologist practicing at Schweiger Dermatology Group. Dr. Greenfield earned her Bachelor's Degree from Queens College, City University of New York, where she graduated Cum Laude with honors in mathematics, natural sciences, chemistry and biochemistry. Dr. Greenfield attended medical school at the Albert Einstein College of Medicine, Yeshiva University. She completed her internship at Yale-New Haven Hospital and her residency in dermatology at SUNY Downstate Medical Center. Dr. Greenfield has been published in many medical journals, including The Journal of Dermatological Treatment, the Journal of Women's Dermatology and Pediatrics. Dr. Greenfield is a member of the American Academy of Dermatology, Alpha Omega Alpha Honor Medical Society, Women's Dermatologic Society and the American Medical Association.
Dustin Portela, DO, is a Board Certified Dermatologist and Dermatologic Surgeon. He is certified through the American Board of Dermatology, the largest national group of board certified dermatologists. Dr. Portela is an Idaho native having grown up in Southeast Idaho. His professional interests include skin cancer surgery and facial reconstruction, skin cancer prevention, complex medical dermatology and wound healing. Dr. Portela has lectured at national dermatology meetings and has published articles in several medical journals. Dr. Portela graduated with an Honors-Bachelor of Science in Zoology from Idaho State University. He received his medical degree at Des Moines University in Des Moines, IA graduating among the top of his class and being recognized with the Award for Excellence in Physiology. Following medical school Dr. Portela completed his internship through Michigan State University at the Oakwood Southshore Hospital. His residency training in Dermatology and Cutaneous Surgery was completed at Michigan State University through the Beaumont Trenton Hospital in Trenton, Michigan, where he also received his training in Mohs micrographic surgery and was recognized with the Excellence in Dermatologic Surgery Award.
After graduating from medical school with AOA honors, Dr. Mona Gohara did her dermatology training at Yale New Haven Hospital, where she served as chief resident. Dr. Gohara continues to teach at Yale where she holds a faculty appointment as an associate clinical professor. Dr. Gohara and her husband have two tween boys. Besides mothering and doctoring, she spends time watching her son's basketball games, educating the public on skin health, skin cancer, and sun protection. She has done this through writing, lecturing on the local, national, and international level, and by engaging popular media. Dr. Gohara serves as Vice President of the Women's Dermatologic Society. She is an active member of The American Academy of Dermatology, where she chairs the Social Media Task Force, and The American Society For Dermatologic Surgery, where she chairs the Media Relations Work Group.