Niacinamide for Acne: What to Know, According to Dermatologists
The powerful ingredient helps with oil control, inflammation, and hyperpigmentation.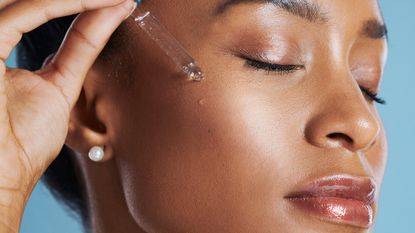 (Image credit: Delmain Donson/Getty)
Marie Claire Newsletter
Celebrity news, beauty, fashion advice, and fascinating features, delivered straight to your inbox!
Thank you for signing up to Marie Claire. You will receive a verification email shortly.
There was a problem. Please refresh the page and try again.
Niacinamide has pretty much been the It-girl of skincare ingredients for the better part of the last two years. It's the star of skincare marketing campaigns and tossed in just about every pore shrinking, acne fighting product and spot treatment under the sun. "Niacinamide is popular for a few reasons. It can decrease inflammation in many skin conditions like acne, rosacea, and post-inflammatory discoloration; it has mechanisms to reduce unwanted pigmentation; and has shown benefit in reducing oiliness for those that have more oily skin," explains board-certified dermatologist Dr. Dustin Portela, aka @208skindoc.
While the benefits are hard to ignore, is niacinamide *really* the one-and-done solve to treating acne? The answer is a little complicated. The ingredient is so extremely versatile and 100 percent worthwhile, but it's not a magic pimple healer when functioning solo—it needs a good team (read: salicylic acid, benzoyl peroxide, and retinoids) to provide maximum benefit. To learn exactly how niacinamide can *actually* help acne-prone skin and shop the best niacinamide skincare products, keep reading.
What Are the Benefits of Niacinamide?
We love a multi-purpose ingredient—and niacinamide is the epitome of a hustler. It addresses a range of concerns, from a weakened skin barrier to excess inflammation, which makes it useful in addressing multiple types of pimples and preventing future ones from popping up.
Calms Inflammation
Whether you find that your pimples are inflammatory in nature (think: juicy red pimples and cysts) or you have an inflammatory condition like rosacea, niacinamide can swoop in and provide a little relief. "It can help to reduce a number of inflammatory cytokines (i.e. chemicals) in the skin that can lead to increased redness and inflammation," explains Dr. Portela. "Much of the acne that we see and feel is actually our body's inflammatory response to the acne. When we decrease that inflammation, we can see less acne."
Strengthens the Skin Barrier
"When our skin barrier is compromised, we may notice that our sebum production (think: oil) is unregulated," says Dr. Portela. When you have more oil, you're *typically* more prone to get clogged pores, blackheads, and other types of acne. Enter: Niacinamide. "It can help strengthen our skin moisture barrier, which can send a feedback signal to regulate sebum production to more normal levels."
Regulates Oil
Niacinamide decreases oil on the skin's surface, which makes it ideal for anyone with a little extra shine or congestion. "Oil provides fuel to the acne-causing bacteria," says Dr. Portela. "Less of the oil can mean less acne."
Helps With Hyperpigmentation
Niacinamide doesn't just help regulate acne and then say peace out—it's an ingredient that guides you through the healing process too and can reduce the appearance of post-inflammatory hyperpigmentation, a.k.a. the mark left behind from a pimple. "It seems to decrease the amount of pigment that is deposited into skin cells by inhibiting a process called melanosome transfer, which is when a pigment-producing cell (the melanocyte) produces pigment and literally transfers that pigment into the neighboring skin cells" explains Dr. Portela.
Will Niacinamide Help My Acne?
As seen above, the benefits are numerous and undeniable. But let it be known that when used solo, niacinamide is not the most potent ingredient to treat acne. "It helps to modulate inflammation and slightly reduce oil production, but doesn't directly kill acne causing bacteria or have the ability to exfoliate in the way that retinol does," explains Dr. Portela. "Niacinamide is helpful in mild cases of acne, however in moderate and severe cases, additional therapies are needed."
Should I Use Niacinamide?
"Anyone can benefit from niacinamide due to its wide range of benefits," says Dr. Portela. That said, it's best suited for people with normal or oily skin. Anyone with dry or sensitive skin might experience a bit of irritation from the ingredient. "It can be felt as mild burning, stinging, or irritation."
What to Look For
Concentration
Over the counter products can use niacinamide in a range of concentrations, from barely there (think: 0.01 percent) to very high (think: 20 percent). But in order to see an actual benefit from the ingredient, Dr. Portela tells patients to seek out a product with a two to 10 percent concentration. "You'll see the added benefits without risking much irritation," he adds.
Additional Ingredients
Because niacinamide shouldn't be the only treatment ingredient used to fight acne, you're best off looking for a product(s) that combines niacinamide with other actives. "I like combination products that include niacinamide for its added benefits," explains Dr. Portela. "It can be a compliment to traditional acne fighting ingredients like salicylic acid, benzoyl peroxide, or retinol."
The Best Niacinamide Products for Acne
The Best Drugstore Niacinamide Product
La Roche-Posay Retinol Serum B3
This little drugstore bottle made its way to the top of Dr. Portela's picks in large part because of its affordable price and combination therapy. "It contains gentle retinol as well as niacinamide," he points out. As a result, it's going to offer a resurfacing and exfoliation benefit that can help prevent acne—and provide anti-aging benefits. "At around $40, it's a great value from a reputable company." (Application note: Because retinol is a star in this formula, use it exclusively at night and make sure to wear SPF in the morning.)
Pros: Dermatologist-approved; Affordable; Contains retinol
Cons: Fragrant
The Best Niacinamide Serum With Retinol
CeraVe Resurfacing Retinol Serum
"CeraVe's serum contains encapsulated retinol to help reduce irritation, while delivering results for the beginner retinol user," explains Dr. Portela. "Paired with hyaluronic acid, ceramides, and niacinamide, you will get a boost of ingredients that help repair the skin moisture barrier." Essentially, the fragrance-free serum has a nice balance of powerful and calming ingredients, which makes it ideal for those who have sensitive or drier skin types.
Pros: Dermatologist-recommended; Affordable; Contains retinol and hyaluronic acid
Cons: Some report a bad smell
The Most Powerful Niacinamide Product
Paula's Choice 10% Niacinamide Booster
"This is a dedicated 10% niacinamide serum with a lightweight feel," says Dr. Portela. "It's easy to combine with other skin care products in your routine." That said, because it's so multitasking you'll probably find that you can cut out a lot of excess. In addition to addressing pores and texture, vitamin C and licorice extract tackle inflammation, redness, and hyperpigmentation. Just one callout: This is a water-like booster, so your best bet is to combine the liquid with your moisturizer of choice.
Pros: Lightweight; Multi-tasking
Cons: Might be too strong for some
The Best Niacinamide Serum for Pores
Dr. Barbara Sturm The Better B Niacinamide Serum
If large pores are the biggest pain point with your complexion, allow me to direct your attention to this Dr. Barbara Sturm masterpiece. It's not technically designed to reduce acne, but a carefully selected trio of ingredients reduces the congestion and makes a huge difference in your skin's clarity. Niacinamide obviously steals the show by reducing oil production and preventing less oil from getting clogged up in your pores. Marine plankton extract supports the skin barrier and panthenol, or vitamin B5, provides a little soothing action and reduces inflammation.
Pros: Helps with large pores; Hydrating
Cons: Expensive
The Best Niacinamide Cleanser for Acne
Skinfix Acne+ 2% BHA + Azelaic Acid + Niacinamide + AHA Cleanser
Do a simple scan of this cleanser's name and it's easy to see why it's an acne-fighting hero. A combination of salicylic acid, azelaic acid, niacinamide, and glycolic acid team up to address every aspect of breakouts—from preventing 'em to healing 'em. Your oil will decrease, your pores will shrink, and your pimples will be dried up. That in mind, this cleanser is pretty intense, so steer clear if you run on the dry side.
Pros: Contains salicylic, azelaic acid, and glycolic acid
Cons: Might be too intense for some
The Best Niacinamide Spot Treatment
Bliss Clear Genius Acne Spot Treatment
Salicylic acid is the leader of the pack when it comes to addressing active acne—it clears out pores, busts up oil, and gets rid of dead skin cells. The geniuses over at Bliss decided to target both congestion and inflammation, by combining this beta-hydroxy acid with our beloved niacinamide, as well as calming cica and redness-reducing zinc. The end result? A hard-freaking-working spot treatment that quite literally shrinks pimples overnight.
Pros: Great combination of ingredients; Addresses congestion and inflammation
Cons: Pump can be difficult
The Best Niacinamide Product for Glow
Glow Recipe Watermelon Glow Niacinamide Dew Drops
Want bright, glowing skin? You *must* get your hands on this Glow Recipe MVP. Niacinamide is the star ingredient and makes a huge difference in regards to hyperpigmentation. But it's the inclusion of watermelon and hyaluronic acid that gives the serum a borderline glistening effect. Sometimes I'll even tap a little extra on top of my foundation for a colorless glow.
Pros: Glowy; Great for hyperpigmentation; Can be used as highlighter
Cons: Fragrant
The Best Niacinamide Serum for Redness
Sunday Riley B3 Nice Niacinamide Serum
Sunday Riley's newest launch is a need—not a want—if you have sensitive, redness-prone skin that craves a little TLC. The niacinamide obviously helps with tone from an inflammation perspective, but an ingredient called trans-resveratrol is really what amplifies the product's redness reducing powers. Your blotchy tone will all but disappear, hyperpigmentation will begin to fade, and your skin will look more even, calm, and happy after just a few uses.
Pros: Ideal for redness; Very brightening
Cons: Dropper is a little messy
The Best Niacinamide Cleanser
Naturium Niacinamide Cleansing Gelee 3%
As a rule of thumb, a wash-off product is going to be less intense than a leave-on. But, if you're looking for just a smidge of niacinamide action, this Naturium cleanser is your best bet. The brand specializes in potent, no-fuss formulas and elegant textures, and this jelly-meets-foaming cleanser is no exception. In addition to giving skin a taste of niacinamide, hyaluronic acid, and vitamin C, it's going to effectively remove makeup, oil buildup, and impurities. When all is said and done, your skin will feel clean as can be and look brighter.
Pros: Affordable; Balancing cleanser
Cons: Not as powerful as a leave-on
The Best Hydrating Niacinamide Serum
Merit Great Skin Instant Glow Serum
We've talked extensively about how niacinamide is beneficial for oily skin types, but lest we not forget those with the dry skin. The ingredient is still worthwhile thanks to its brightening and smoothing properties. That all said, it's important to balance out with sufficient hydration, which is where Merit's plumping serum comes into play. Thanks to four different types of hyaluronic acid and cacao seed (this has a plumping effect, FYI), the skin is left with a moisturized, reflective sheen.
Pros: Good for dry skin; Plumping
Cons: A little oily
Meet the Dermatologist
Dustin Portela, DO, is a Board Certified Dermatologist and Dermatologic Surgeon. He is certified through the American Board of Dermatology, the largest national group of board certified dermatologists. Dr. Portela is an Idaho native having grown up in Southeast Idaho. His professional interests include skin cancer surgery and facial reconstruction, skin cancer prevention, complex medical dermatology and wound healing. Dr. Portela has lectured at national dermatology meetings and has published articles in several medical journals. Dr. Portela graduated with an Honors-Bachelor of Science in Zoology from Idaho State University. He received his medical degree at Des Moines University in Des Moines, IA graduating among the top of his class and being recognized with the Award for Excellence in Physiology. Following medical school Dr. Portela completed his internship through Michigan State University at the Oakwood Southshore Hospital. His residency training in Dermatology and Cutaneous Surgery was completed at Michigan State University through the Beaumont Trenton Hospital in Trenton, Michigan, where he also received his training in Mohs micrographic surgery and was recognized with the Excellence in Dermatologic Surgery Award. Dr. Portela's professional memberships include the American Academy of Dermatology, American Society for Dermatologic Surgery, American Society for Mohs Surgery, and the American Osteopathic College of Dermatology. Dr. Portela enjoys all aspects of dermatology, from skin cancer treatment and post-surgical reconstruction to cosmetic enhancement, as well as the care of both adult and pediatric patients.
Celebrity news, beauty, fashion advice, and fascinating features, delivered straight to your inbox!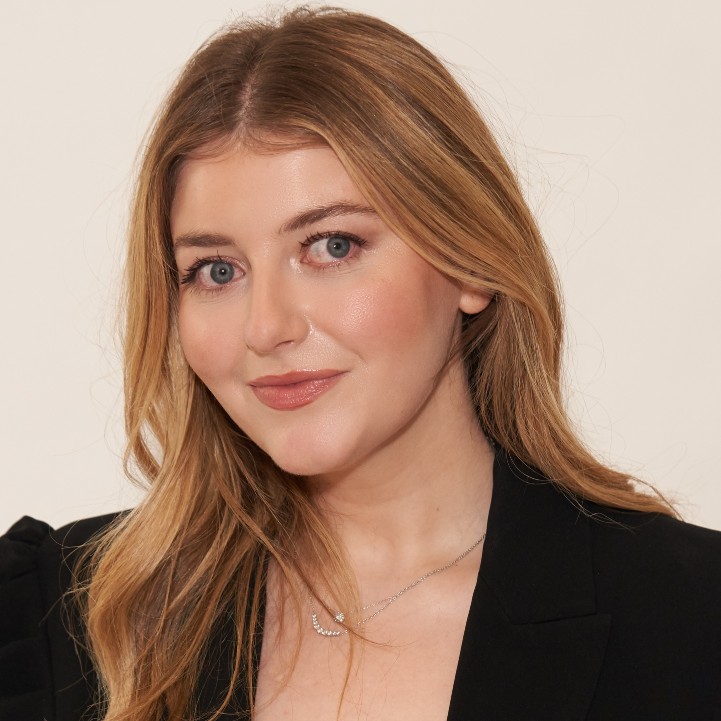 Samantha Holender is the Beauty Editor at Marie Claire, where she reports on the best new launches, dives into the science behind skincare, and keeps up with the latest trends in the beauty space. She has previously written for Us Weekly, Popsugar, Makeup.com, Skincare.com, and Philadelphia Wedding. Follow her on Instagram @samholender.