The 12 Best Deep Conditioners for Curly and Natural Hair, According to Stylists and Editors
Keep your crown shiny.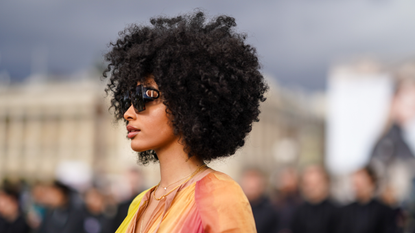 (Image credit: Edward Berthelot/Getty Images)
Let's face it: While we all endeavor to take painstaking care of our hair by using hand-picked shampoos and conditioners, leave-ins, and other haircare products, we still need a deep conditioning every once in a while. Some of the most common, bothersome hair woes are, indeed, caused by dryness, including frizz, split ends, and dullness—and switching to a shampoo and conditioner regimen formulated for dry hair doesn't necessarily solve this problem all by itself. This is especially the case when it comes to curly and natural hair.
"I always end up recommending that people with natural hair use a deep conditioner, because it helps restore hair and makes it more moisturized," says Kim Kimble, celebrity hairstylist and founder of her eponymous haircare brand. "Natural hair tends to be a little drier than naturally straight hair, so using a deep conditioner helps hair gain those essential oils and minerals that it needs to be smooth and moisturized."
But what is a deep conditioner, and how does it differ from the run-of-the-mill conditioner you use in the shower after shampooing? Kimble explains, "Deep conditioners are pretty much hair masks that are used to bring moisture back to the hair and help reduce hair breakage." But that doesn't mean that deep conditioners and hair masks should only be used to repair damage. On the contrary, they can be used regularly—particularly by those with curly and natural hair—in order to maintain long-term hair health and moisture. Kimble agrees, "A deep conditioner is usually used to make hair healthier and help defend against dry, brittle hair in the future."
If you, like me, are in the market for a deep conditioner that hydrates and defines your curls alongside your favorite curly hair products, you're in luck. We've consulted Kimble, along with other experts and editors, to find the best deep conditioners for curly and natural hair, along with how to best use these mane-saving wonder products.
What To Look For in a Deep Conditioner
Like all haircare products, not all deep conditioners are built alike. Some contain ingredients that nourish curls and coils, while others contain components that are better suited for straight hair or that can even harm the long-term health of your hair.
"My recommendation is to look for natural ingredients in the deep conditioner," Kimble advises. "Using natural ingredients in your hair, like coconut oil and honey, will benefit your hair more than using harsh minerals and chemicals. Staying away from deep conditioners that have sulfates and parabens is also a really good idea. Sulfates and parabens are known to strip vital oils and minerals away from hair and will continue to make hair dry and brittle."
And while you're stocking your beauty shelf with a sulfate-free deep conditioner, consider other curl-friendly, natural hair products, such as sulfate-free shampoos.
How To Use a Deep Conditioner
As aforementioned, deep conditioners are not quite the same as your run-of-the mill, everyday conditioners. Because they're so hydrating, they should be used in a different manner and frequency than normal conditioners.
Kimble clarifies, "I believe that someone should use a deep conditioner at least once every week or once every two weeks. People with natural hair should deep condition on their wash days to regain those vital minerals."
Deep conditioners also differ from normal ones when it comes to how they're used. Kimble advises, "First, you should go along with your regular hair washing routine. Use the shampoo of your choice and the conditioner of your choice. After you are done with your wash routine, you should put in the deep conditioner." In other words, deep conditioners should only be used on freshly cleansed hair. "Your hair should be wet when putting the deep conditioner in, as it will benefit your hair a lot more," Kimble explains.
Furthermore, deep conditioners should be left in for much longer than normal ones. "Unlike a regular conditioner," says Kimble, "deep conditioners stay in the hair overnight and should be washed out the next morning." Other deep conditioners call for shorter intervals of time, like 10, 15, or 30 minutes. Kimble recommends wearing "a shower cap or a bonnet for sleeping to make sure that there is no mess when it comes to the deep conditioner." She also adds that it helps keep the conditioner in place. Personally, I like wrapping a shower cap over my hair while deep conditioning because it minimizes mess and optimizes the conditioning by adding an element of humidity. The cap also keeps my hair off my face and back, protecting my skin from conditioner-induced breakouts.
The Best Deep Conditioners for Curly Hair
The Best Deep Conditioners for Natural Hair
Meet the Experts
Kimberly Kimble, better known as Kim Kimble, is a celebrity hairstylist, beauty expert, and business owner who has styled the likes of Shakira, Rihanna, Halle Berry, Beyoncé, Zendaya, and others. She also owns her own beauty brand, Kim Kimble, which provides high-quality haircare, extensions, and more—with a focus on keeping natural hair healthy and well-styled. Originally from Chicago, she is now based in Los Angeles.
Ryan Babbitt is a hairstylist with a passion for educating his clients about how to keep their hair healthy and well-maintained. Comfortable with both cutting and coloring, he is particularly enthusiastic about creating lasting, structured looks. He is currently based in Chicago, where he has worked for 15 years, and can be booked via the Klicked Salon.
Priscilla Valles is a celebrity hairstylist and extension expert. She has worked with a number of high-profile celebrity clients, including Christina Aguilera, Celine Dion, Britney Spears, and Chrissy Teigen. She is currently based in Los Angeles.
Celebrity news, beauty, fashion advice, and fascinating features, delivered straight to your inbox!