The 12 Best Leave-In Conditioners for Curly Hair, According to Hair Experts and Editors
Stay hydrated, stay happy.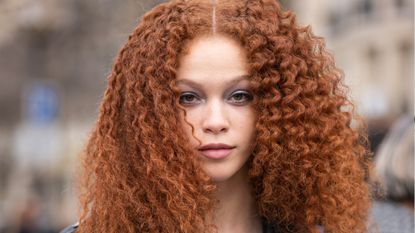 (Image credit: Claudio Lavenia/Getty Images)
By now, we all know that caring for curly hair and natural hair takes a lot more than just shampooing and conditioning as usual. In reality, there are a variety of products for natural hair and curly hair, including hair oils (like castor oil, argan oil, and coconut oil), deep conditioners, protein treatments, and, of course, leave-in conditioners.
"A leave-in conditioner is the product you use after you wash your hair," explains celebrity hairstylist Dimitris Giannetos. "This is very similar to a normal conditioner, except you don't have to rinse it out and it provides extra hydration. Someone can use a leave-in conditioner to keep their hair hydrated and protect it from the daily styling."
And this extra hydration and protection is particularly important for people with curly hair, which is more prone to dryness than straight hair. Plus, leave-in conditioners that have hold or curl-defining properties can go a long way in helping style curly and natural hair on a daily basis. I, for one, depend on my go-to leave-ins more so than I do any other haircare product.
Thus, scroll on for all things leave-in conditioner, from tips on how to use leave-in conditioner for curly hair to what people with curls should look for in a formula to the very best expert- and editor-approved leave-ins on the market.
How To Use a Leave-In Conditioner on Curls
First things first, Giannetos says it's important to be aware of how thin or thick your hair is, as well as how greasy or dry it is, to determine how much leave-in conditioner you should use.
"You should apply your leave-in conditioner after washing your hair and before styling, try not to use too much to avoid oily hair," he advises. It's better to start small and progressively apply more than to apply too much and have to re-wash. "You can tell when you have applied too much leave-in when you try to apply heat to the hair, and see that the texture feels stiff and slightly greasy. The hair could also smoke during blow drying at this stage, which is another reason why it is important to avoid applying too much."
In the same vein, Giannetos also says it's best to apply leave-in conditioners just a few times a week, depending on how thick or thirsty your hair is and on how often you wash your hair. More specifically, he suggests starting with applying product no more than twice a week.
When it comes to application technique, Giannetos advises, "I recommend applying it only after you wash the hair and towel dry it enough where it's damp but not too wet. Depending on how long your hair is, I recommend applying between a dime or quarter amount and brushing it through the ends of your hair, avoiding the roots."
You can also use leave-in conditioner when using the scrunch or plop methods, both of which define and style curls while they're still damp. Giannetos says that using leave-in during this styling phase "helps to define the curls and add shine."
Unfamiliar with these methods, or new to styling curly hair? Never fear—Jamila Powell, owner of curly haircare brand Naturally Drenched, has you covered.
"I always suggest sectioning with clips and applying any product for even distribution," she starts. "Section your hair in halves or fours. Disperse the leave-in into the palm of your hands and emulsify the leave-in by rubbing your hands together. Then, evenly distribute the product on each section. After you apply the product, use a brush, comb, or your fingers to distribute the leave-in through out the hair. You can then use a microfiber towel to plop or scrunch your curls with the leave-in only, or apply your styling products on top of the leave-in, and then use your hand or a microfiber towel to scrunch or plop your hair. Let your hair air dry or use a diffuser."
Personally, I use the scrunch method, and tend to opt for a leave-in with a bit of hold so that I don't have to layer too many products.
What to Look For in a Leave-In Conditioner for Curly Hair
In many ways, what you should be looking for from a leave-in conditioner depends on your hair's porosity, your curl type, and your personal preferences and haircare goals. For example, like me, you may prefer a leave-in that defines curls and doubles as a styler, or you may want a formula that simply hydrates and detangles your curls.
"If you have fine hair, use a spray leave-in conditioner, but if you have more wavy or curly hair, use more of a creme leave-in conditioner," advises celebrity extensionist and hairstylist Priscilla Valles. Indeed, curls comprised of fine hair may be weighed down by formulas that are particularly thick, such as those incorporating rich ingredients like castor oil. On the other hand, she says, "If you have curly or natural hair you want something heavier and it can act as a serum, like an oil or a conditioner base, because that will control the frizz."
Once you've determined your hair type and goals, though, there remain a few universals to keep in mind during your leave-in conditioner shopping process.
"I recommend people avoid any leave-in conditioners that contain alcohol or dyes, because this works to create the opposite results we're looking for," says Giannetos. "Rather than hydrating the hair, these ingredients can dry out the hair. People should lean towards leave-ins that contain glycerin, which protects the hair from the heat."
And for curl definition, he suggests "a leave-in that contains lots of natural oils." You should also consider investing in a silk or satin hair wrap to preserve your curls, prevent breakage, and maximize hydration between wash days.
Powell, meanwhile, explains, "The best ingredients to look for in a leave-in conditioner for curly hair are ingredients with moisture balancing properties that don't overdo it and create moisture overload. Some great ingredients are aloe vera, Kalahari Melon Seed Oil, Rosemary Extract, and fruits with Alpha Hydroxy Acid."
And when it comes to what you should avoid? Powell agrees with Giannetos, and adds, "You should avoid ingredients that weigh down the hair such as heavy oils, alcohols which dry out the hair, and silicones which can sometimes lead to product build-up."
If you're already struggling with product build-up, or if you're concerned that your leave-in conditioner is going to result in this scalp-suffocating phenomenon (which can also damage your curl pattern) incorporate a clarifying shampoo into your weekly or biweekly haircare routine.
The Best Leave-In Conditioners for Curly Hair
Best Damage-Repairing Leave-In Conditioner for Curly Hair
SheaMoisture Leave In Conditioner for Over-Processed Damaged Hair
"Sheamoisture is definitely at the top of my list for leave-ins for curly hair," says Giannetos. "It makes the hair so soft and protects the hair from heat and humidity." I, too, have used this leave-in for my curls, and love its thick-but-not-too-thick consistency. Just be aware: A little goes a long way!
Pros: expert-approved; editor-approved; affordable; cruelty-free; contains natural ingredients; frizz-fighting; clean; free of parabens, sulfates, and phthalates
Cons: strong fragrance
Customer Review: "I am so happy and proud that I did thorough research on maintaining my 2C hair better by purchasing this item!! It definitely has enhanced my curls significantly!! The smell is amazing!!" -Target
Best Color-Safe Leave-In Conditioner for Curly Hair
Kim Kimble Healthy Hair Repair & Renew Color Protection Grow/Heal Leave-in Conditioner
"I love the ingredients in this one!" raves Valles. "Kim Kimble's Healing Leave-in Conditioner is formulated with the finest natural ingredients to keep hair resilient and to bring dry, damaged hair back to a healthy state. It's infused with natural emollients of aloe vera, avocado oil, jojoba oil, and fortifying amino acids that moisturize, detangle, and condition, while gently hydrating your hair from root to tip daily. It helps stop breakage while nourishing and strengthening dry, damaged, and overworked hair. It's also safe for everyday use for wavy, curly, or kinky hair."
Pros: expert-approved; color-safe; contains natural ingredients, free of parabens, sulfates, and phthalates; affordable; effective for all curl patterns
Cons: none found
Customer Review: "This leave in conditioner has totally changed my hair. It feels and looks amazing. You will love the results. My hair looks so healthy and it smells awesome." -Walmart
Best Leave-In Conditioner for Curly Hair for Immediate Results
Kérastase Curl Manifesto Hydrating Leave-In Cream for Curly Hair
"I also like the Kérastase Curl Manifesto Hydrating Leave-In Cream for Curly Hair," says Giannetos. "It's a really great cream for curly and natural texture. It's like an IV for damaged and dry hair. I usually use this cream and leave the hair to air dry. It's like a mix between a leave in conditioner and a styling cream."
Pros: expert-approved; heat protectant; free of parabens, SLS, SLES, and sulfates; effective for all curl patterns
Cons: small tube for a high price
Customer Review: "This leave in cream is a really nice texture; it does not make my hair look greasy or give it any kind of crunchy feeling. It has a pleasant scent and leaves my hair feeling and looking hydrated and soft." -Sephora
Best Pre-Styling Leave-In Conditioner for Curly Hair
Oribe Hair Priming Lotion Leave-In Conditioning Detangler
"This silky, leave-in conditioning lotion instantly detangles to ease combing and prevent breakage," Valles says. "The ultra-hydrating formula, with cupuacu and mango seed butters, moisturizes and smooths strands for healthy, beautiful curls that are prepped for styling. It's best for those who need instant detangling and rich moisture, and works for curl types 2 through 4."
Pros: expert-approved; detangling; immediate results; works on all curl patterns; heat protectant; silicone-free
Cons: contains sulfates; strong fragrance
Customer Review: "Love this product for styling! I have mixed 3C/4A hair and its moisturizes and tames my thick curly hair. I wouldn't recommend for thin hair, as the cream does have a weight, but for thick hair it's great." -Sephora
Best Shine-Enhancing Leave-In Conditioner for Curly Hair
African Pride Coconut Oil & Baobab Oil Leave In Hair Cream
"My favorite leave-in is the African Pride Moisture Miracle," says Giannetos. "It makes the curls so shiny without any frizz and is a great affordable option!"
Pros: expert-approved; affordable; free of sulfates and parabens; contains natural ingredients like castor oil; made with natural hair in mind
Cons: may be too thick for loose curls and waves
Customer Review: "I love this leave in conditioner. Can be a bit on the heavier side, though. But great for my 3C-4A hair" -Walmart
Best Heat-Protecting Leave-In Conditioner for Curly Hair
dae Cactus Flower Leave In Conditioner
"I love this leave in conditioner because it also has heat protection up to 450 degrees," says Valles. "The botanical blend also prevents breakage, repairs damage, enhances shine, and increases softness. Not to mention it smells delicious!"
Pros: expert-commentary; heat protectant; clean
Cons: contains silicones
Customer Review: "My split ends were dull and breaking. After using this product only one time I've seen a SIGNIFICANT change in my hair. It looks almost as good as when I leave the salon! I'm certain with continued use it will look even better." -Sephora
Best Organic Leave-In Conditioner for Curly Hair
SheaMoisture All-Over Hydration 100% Raw Shea Butter
I swear by this raw shea butter for my 3A curls: It defines them beautifully, is easy to comb through my long hair, and leaves me with an incomparable shine without making my strands feel greasy or weighed down. To use this without going through the trouble of whipping it, you can microwave it, but my preferred method is as follows: Simply spoon a moderate amount (a little goes a long way!) into a bowl, and then set that bowl on top of another, slightly larger bowl filled with hot water. The raw shea butter will melt into an oil and be ready for use in just under a minute. Plus, this formula doubles as an all-over moisturizer for your skin.
Pros: editor-approved; organic; affordable; suitable for all curl patterns; generous size; cruelty-free
Cons: laborious to use
Customer Review: "Yes, having to microwave it is a pain but it was worth the extra step. There is not strong smell!" -Ulta
Best Oil-Based Leave-In Conditioner for Curly Hair
Naturally Drenched Watermelon Dreams
I absolutely love this oil from Powell's haircare line, Naturally Drenched. It's lightweight, but a little goes a long way in terms of defining my curls and keeping my strands shiny and hydrated. Plus, the oils doubles as a moisturizer for your skin and cuticles, too.
Pros: natural ingredients; editor-approved; gentle scent; versatile
Cons: small bottle
Customer Review: "It's one of the lightest oils I've tried so far. It doesn't make my hair greasy, but still gives it a gorgeous shine. It has an amazing subtle watermelon smell (because it's literally just watermelon oil - no added fragrance!). I've been using it for several months, and it quickly became my go-to hair oil to protect my hair from frizz and keep it healthy." -Naturally Drenched
Best Leave-In Conditioner for Natural Hair
Juices & Botanics The Quench Cream Fortifying Leave-In Conditioner
This cream was a bit thick for me personally, but when applied sparingly, it was fabulous for hydrating and adding shine to my curls. It worked even better on my friend's natural hair, and it smells divine without being too strong.
Pros: hydrating; Black-owned brand; made with natural hair in mind; gentle scent; protein-infused; affordable; editor-approved
Cons: small bottle
Customer Review: "LOVE the quench cream because it does just that, it quenches thirsty hair. I have extremely dry hair and it's the only product that seems to really do the job for my hair! Run, do not walk to get it NOW!" -Juices & Botanics
Best Curl-Defining Leave-In Conditioner for Curly Hair
Miss Jessie's Multicultural Curls Enhancing Texturizing Hair Styling Cream
This is my all-time favorite two-in-one leave-in conditioner and styler. It hydrates my hair, enhances shine, and effortlessly defines my curls without weighing them down. It transforms my curl routine into something quick and effortless—perfect for travel or for those mornings when I'm on the run.
Pros: free of parabens; cruelty-free; editor-approved; Black-owned brand; curl-defining; vegan; suitable for all curl patterns
Cons: contains silicones
Customer Review: "I'm a Latino with curly hair (3B) and it can be hard to find stuff for my hair at big box stores. This stuff makes my curls look good! I get lots of compliments and even my barber asked what I use. Try it out!" -Walmart
Best Spray Leave-In Conditioner for Curly Hair
Not Your Mother's Curl Talk Leave-In Conditioner Spray
This lightweight leave-in spray works great for my curls both when they're freshly washed and when they're in need of some revitalization between wash days.
Pros: clean; editor-approved; detangling
Cons: contains phosphates; strong fragrance
Customer Review: "I've tried other leave in conditioners and this one leaves my hair feeling soft and de-tangles quickly. I don't have to keep brushing and brushing to get knots out." -Ulta
Best Frizz-Fighting Leave-In Conditioner for Curly Hair
Moroccanoil Intense Curl Cream
This is another option I love for its ability to hydrate and define my curls without weighing them down. Plus, this formula enhances my hair's shine like nothing else, and has that fresh powdery scent that Moroccanoil has become so widely beloved for.
Pros: curl-defining; editor-approved; fights frizz; gentle scent
Cons: contains silicones
Customer Review: "I've been using this curl cream for years off and on and the verdict is, it's amazing at softening and enhancing your natural wave or curl. The softness it gives is unreal. I can't stop touching my hair and for the first time I'm not trying to flatten out the frizz like I usually do! This curl cream makes me feel so confident with my hair which normally isn't the case." -Sephora
Meet the Experts
Priscilla Valles is a celebrity hairstylist and extension expert. She has worked with a number of high-profile celebrity clients, including Christina Aguilera, Celine Dion, Britney Spears, and Chrissy Teigen. She is currently based in Los Angeles.
Originally hailing from Greece and enjoying a successful career there, Dimitris Giannetos has been a celebrity hairstylist in Los Angeles since 2013. He has worked with a number of haircare brands as a brand ambassador, has collaborated with photographers and magazines, and his client list has included Joey King, Megan Fox, Alessandra Ambrosio, and others.
Jamila Powell is the founder of Maggie Rose Salon, a top-rated salon for textured hair, and the founder of Naturally Drenched, a haircare brand focused on caring for curly and natural hair. In addition to being an entrepreneur and hair expert, she is also a successful attorney. Currently, she is based in Miami.
Gabrielle Ulubay is an E-Commerce Writer at Marie Claire and writes about all things beauty, sexual wellness, and fashion. She's also written about sex, gender, and politics for publications like The New York Times, Bustle, and HuffPost Personal since 2018. She has worked extensively in the e-commerce and sales spaces since 2020, including two years at Drizly, where she developed an expertise in finding the best, highest quality goods and experiences money can buy. As a film school graduate, she loves all things media and can be found making art when she's not busy writing.