11 Nourishing Products for High Porosity Hair
Make dry and brittle strands a thing of the past.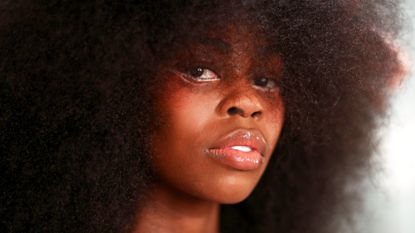 (Image credit: Sebastian Reuter / Getty Images)
Every hair type requires a unique regimen for optimal hair health. Low porosity hair tends to automatically repel moisture. High porosity hair, meanwhile, easily absorbs it—but has difficulty retaining nutrients. The most efficient way to test out the porosity level of your hair is to grab a bowl and fill it with water, then proceed to drop a strand of your hair inside of it. If the hair sinks to the bottom, it's high porosity. What that means is this: No matter how much you condition, your strands seem to forever seem dry, brittle, and frizzy. But you might just be using the wrong products. Narrowing down the best ones for your hair type can be a headache, but we're here to help. From an ultra-hydrating shampoo and hair mask to a stimulating scalp treatment and split end sealant, there are so many offerings guaranteed to lock in moisture for the long haul. Keep scrolling for the 11 best products that keep high porosity hair in its softest, shiniest, and most manageable state.
Chelsea Hall is the Assistant Fashion and Beauty Editor at Marie Claire, where she covers celebrity style, fashion trends, skincare, makeup and anything else tied into the world of fashion and beauty