Editors handpick every product that we feature. We may earn commission from the links on this page.
These 8 Hair Growth Oils Will Leave You With the Hair of Your Dreams
The "long hair, don't care" lifestyle awaits you.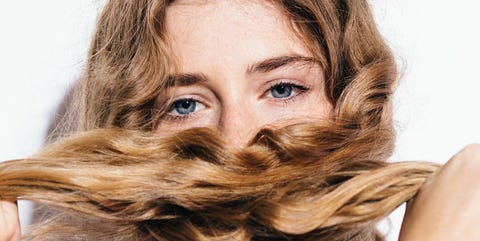 Ugh, waiting. Who has time for that? Okay, it's not like we always have a choice. Most things in life require patience, and growing out your hair can be one of them. But if your hair isn't growing as fast as you'd like, or if it doesn't feel healthy, I'm here for you. Topical products, like hair oils full of essential vitamins and nutrients, can jumpstart your strands and make everything better. Length? Check. Thickness? Check. Shine? Check. Honestly, you can't go wrong with implementing a good hair oil in your routine.
But if you're really trying to make your hair grow super-fast, you can't only use hair oil. In a perfect world, that'd be amazing, but the truth is, healthy hair growth is an inside-out process. You have to supplement these oils with good habits like filling your body with lots of lean, plant-based protein, being gentle with your hair, using the right tools, shampooing less, brushing consistently, and rinsing your locks with cold water weekly. Once you do that, while regularly using one of these eight oils (which have the most rave reviews!), you'll see length in no time. Mermaid locks, here you come.
This content is created and maintained by a third party, and imported onto this page to help users provide their email addresses. You may be able to find more information about this and similar content at piano.io