The 10 Best Drugstore Shampoos, According to Editors and Reviewers
Your best hair yet—on a budget.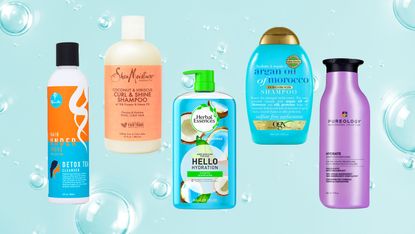 (Image credit: Future)
The world of shampoos and conditioners is vast, varying greatly in terms of the ingredients, scents, and customer bases. For instance, some shampoos are made to address scalp irritation, while others work best for clarifying sweat and buildup, growing hair, or enhancing brown or blonde coloring. And while there are a number of luxury shampoo brands out there that get the job done, not all of us can afford to venture beyond our local drugstores when shopping for our next go-to hair products. Thus, we've consulted expert hairstylists and editors alike to break down what to look for when you're cruising through the hair aisle and how to find the best drugstore shampoo for you. Plus, we've included a list of some of the very best drugstore shampoos so that you can easily achieve the 'do of your dreams, no matter your budget.
What To Look For in a Drugstore Shampoo
Celebrity Hairstylist & DIY Expert for Sally Beauty Gregory Patterson says that when figuring out what the best option is for you, you should "look for ingredients and solutions for where you're at right now. Think of your current hair state and condition." Thus, it may be best to keep a few shampoo options on hand so that your hair and scalp's condition can determine what you use each time you wash your hair.
"It's easier to look for ingredients that you never want to use, like color-stripping harsh sulfates," he adds. "Avoid sodium chloride if you're using keratin treatments, as well as parabens or low quality stabilizers and preservatives that ultimately build up on your hair."
And when it comes to finding a basic shampoo suited for consistent, regular use? Natural hair expert Antoinette Bullock says, "If you are looking for a simple shampoo that will actually cleanse your hair, then I would look for some key cleansing ingredients, such as surfacents, because they will effectively clean your hair. Some surfacents to look for are Ammonium lauryl sulfate, sodium laureth sulfate, ammonium laureth sulfate, and sodium trideceth sulfate, to name a few."
Finally, when considering the texture of the formula, Bullock and Patterson both advise users to ensure that their chosen formula lathers properly.
"Lathering is when water and shampoo mix and create air bubbles," explains Bullock. "This lather is important when it comes to shampooing the hair because the more there is a rich creamy lather, the more effective it is at cleansing the hair and scalp from build up, oil residue or impurities. Water and oil do not mix—the surfactant lather will cleanse the hair properly by dissolving things that can not be dissolved in water on their own."
"Want to know a little secret?" adds Patterson. "You can tell the quality of a cleanser by its foam (a.k.a. lather): The smaller the bubbles and creamier the lather, the more high quality and gentle it will be in your cleanse. The airier or foamier lather you have, the more detergent and low-quality ingredients are being used."
The Best Drugstore Shampoos
Best Drugstore Shampoo for Curly Hair
SheaMoisture Coconut & Hibiscus Curl & Shine Shampoo
I swear by this shampoo by SheaMoisture. Its thick, creamy formula quickly and effectively hydrates parched hair, making it ideal for curls and coils alike. I also love its smell, which lingers long after wash day
Pros: clean; cruelty-free; contains natural ingredients like coconut oil; protein-infused
Cons: strong smell may not be ideal for all users
Best Reparative Drugstore Shampoo
CURLS Blueberry Bliss Reparative Hair Wash
Janelle Sands, expert hairstylist and Senior Director of Marketing at CURLS, says that this formula "preserves the moisture of the hair while strengthening and reinforcing weak areas of the hair shaft." She explains, "This cleanser has a rich botanical-based lather and is so effective at preserving your hair's hydration."
Pros: stylist-approved; heals hair damage; moisturizing; works on all curl patterns
Cons: may be too thick for thin, straight hair; strong smell
Best Lightweight Drugstore Shampoo
Pureology Hydrate Shampoo
"This shampoo from Pureology (and the matching conditioner) is the one I go back to whenever my hair needs a complete refresh. I have hair that gets dry and flat in the winter but it's also pretty fine in texture and gets oily around day three, so I need something that will add moisture without weighing it down, and this is it. It's so hydrating while still being lightweight, and gives my hair the most incredible shine." -Julia Marzovilla, E-Commerce Editor
Pros: editor-approved; shine-enhancing; lightweight; works on all hair types
Cons: expensive; strong smell
Best Color-Safe Drugstore Shampoo
Herbal Essences Hello Hydration Shampoo
"Herbal Essences takes the crown for best-smelling drugstore shampoos, at least in my opinion. I'm pretty sure the coconutty scent of the Hello Hydration shampoo is permanently engrained in my memory—it's just that good. Aside from the lingering lush scent, I love how this shampoo leaves your hair oh-so-soft and feeling moisturized. The fact that this $8 shampoo (for the big bottle!) is color-safe and dermatologist-tested are major wins, too." -Brooke Knappenberger, Editorial Fellow
Pros: color-safe; editor-approved; clinically tested; free of parabens and mineral oil
Cons: contains sulfates
Best Overall Drugstore Shampoo
CURLS Sea Moss Powerhouse Sea Moss Cleanser
"This cleanser is infused with Sea Moss, the world's all-around hair and body improving ingredient that, well… does everything!" raves Sands. "Expect to have plump, glistening, juicy curls, and stimulated hair follicles."
Pros: stylist-approved; curl-enhancing; good for scalp support; detangling; anti-fungal
Cons: small bottle
Best Drugstore Shampoo for Protective Hairstyles
CURLS Hair Under There Detox Tea Cleansing Shampoo
Sands recommends this formula "for providing a clarifying cleanse when we most need it." She explains that it's "formulated for textured hair that also wears braids, wigs, weaves, and other protective styles. These methods of hair style and care can develop a build-up on the hair shaft. The remedy is a clarifying cleanse to be used before and or after a protective style install."
Pros: works on hair extensions and weaves; works on protective hairstyles; made with natural hair in mind; stylist-approved
Cons: small bottle
OGX Hydrate & Repair Argan Oil of Morocco Extra Strength Shampoo
This is another drugstore shampoo that I always gravitate to when I'm in a pinch. It effectively cleanses my hair and scalp without drying my curls out or turning them into a frizzy mess. Plus, its gentle, powder-like scent never clashes with my other products, like leave-ins, body oils, and perfumes.
Pros: protein-infused; works on all hair types; gentle scent; editor-approved; free of parabens and sulfates
Cons: contains silicones
Best Drugstore Shampoo for Scalp Health
Dr. Snehal Amin, a board-certified dermatologist, Co-Founder, and the Surgical Director of MDCS Dermatology, says that shampoos with irritants "often the culprit behind dry scalp." Thus, he recommends this option, explaining, "Try switching to this super gentle formulation, which is free of fragrances, parabens, sulfates, and other harsh ingredients."
Pros: free of sulfates, parabens, and gluten; dermatologist-recommended; made for sensitive skin; affordable; soothes and repairs scalp
Cons: contains pentylene glycol, which can be a mild irritant for some
Best Drugstore Shampoo for Hair Growth
Marc Anthony Grow Long Caffeine Ginseng Shampoo
Dr. Antonella Tosti, a Professor of Dermatology and Cutaneous Surgery at the University of Miami and the President of the American Hair Research Society, recommends both caffeine and ginseng for hair growth. While the former invigorates hair growth, the latter, provides antioxidants to the scalp area, which she says "are very important to prevent scalp and hair aging and to maintain healthy hair."
Pros: affordable; pollution-fighting; contains caffeine
Cons: can be drying
Best Clarifying Drugstore Shampoo
Neutrogena Anti-Residue Clarifying Shampoo
I love Neutrogena for their A+ skincare (their moisturizers never fail to balance my combination skin), so it makes sense that the brand produces an effective clarifying shampoo as well. Just as a high-quality facial wash cleanses oil and dirt from your face, this clarifying shampoo gently scrubs buildup from your scalp so that your hair looks and feels its best after every wash.
Pros: contains castor oil; editor-approved; works with all hair types and textures; clarifying; supports hair growth
Cons: contains propylene glycol
Meet The Experts