Editors handpick every product that we feature. We may earn commission from the links on this page.
The 22 Best Sulfate-Free Shampoos That Won't Wreck Your Hair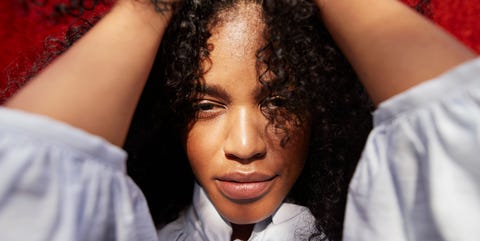 Klaus Vedfelt
Getty Images
Sooner or later, everything in beauty gets a bad rap (sorry, parabens, makeup wipes, and chunky, early-aughts highlights). And while whether or not that's warranted could, for the majority of these offenders, be debated for hours, some of them are simply not up for discussion, like sulfate-filled shampoos.
As a refresher: Sulfates are crazy-harsh detergents (the same ones found in dish soap) that strip all of the moisture from your hair, leaving it brittle, faded, tangled, and, yes, even oilier. They're old school and totally unnecessary, yet, for whatever reason, they're are still found in the majority of shampoos on the market (don't believe me? Go check how many of your hair products have sodium lauryl sulfate in the ingredients list). Before there were more elegant and gentle cleansers, sulfates were a go-to for sloughing away all manner of grime, oil, dirt, and debris. But now chemistry has advanced and it's the shampoo equivalent of using an anvil to place a thumbtack. And why should that bother you? Hair color can be dulled, texture can be frizzed, and split ends can be more present.
If you do find some sulfates in your favorite shampoo and you're not into the idea of damaging your hair for funsies, may I suggest trying one of my favorite sulfate-free shampoos, below? They contain all of the good, hair-hugging ingredients you want, without any of the damaging ingredients your hair doesn't. And yes, I promise they'll still get your hair really, really clean.
This content is created and maintained by a third party, and imported onto this page to help users provide their email addresses. You may be able to find more information about this and similar content at piano.io