The 17 Best Eye Creams of 2023
Designed to brighten, depuff, and firm—and everything in between.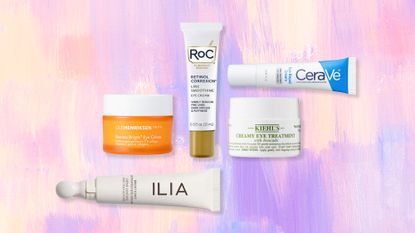 (Image credit: Future)
Maybe it's just me, but eye creams feel so adult. Despite being a beauty fan for most of my life, I didn't think about the skincare product until just recently. Once I hit 25, I realized my skin is nowhere near where it used to be in my teenage years. With perpetual dark circles and new fine lines cropping up, I knew it was time to amp up my skincare routine with one of the best eye creams.
After coming across dozens of variations, I found that not all eye creams are created equal. Sure, most formulas are hydrating, but different ingredients make for different results. Some eye creams help puffy eyes, some combat dark circles, others tackle fine lines and wrinkles, and some even do it all. No matter what your skin concerns are, however, understand that eye creams are formulated especially for the skin around your eyes, so don't be tempted to use any ole moisturizer sitting on your counter. "The skin around your eyes is more delicate, thin, and sensitive than the rest of the skin on your face," says board-certified dermatologist, Dr. Nazanin Saedi. "Many facial creams can be a little irritating around the eyes, which is why it's nice to use eye creams that are specifically formulated for this area."
Ultimately, the best eye cream for you is going to come down to skin concerns, which is why we rounded up the best options for all skin types. Ahead, you'll find 17 of the best eye creams on the market, including a favorite retinol eye cream from RoC, the TikTok viral OLEHENRIKSON Banana Bright+ Crème, and a few vetted picks by our editors and dermatologist friends. We've also included exactly what to look for when you're strolling the aisles of Sephora, plus answers to all of your burning eye cream questions.
What to Look For in an Eye Cream
Eye creams are not one size fits all, unfortunately. Different products are going to target different concerns with different combinations of ingredients. When looking for an eye cream, it's best to consider what exactly you need, and then look for ingredients that tackle those concerns. To make it easy on you, Dr. Saedi and Dr. Sobel break it down for you, here.
Dark circles: To combat pesky dark circles, Dr. Sobel recommends looking for clean, energizing ingredients that brighten and promote glow. "Caffeine, peptides, green tea, and antioxidants will help to shrink blood vessels and brighten the area," he explains. Meanwhile, Dr. Saedi says antioxidants like vitamins C and E will help to brighten the skin. She also notes that if your undereye darkness is caused by veins, an eye cream won't help. Instead, you can try undereye concealers for coverage or ask your dermatologist about laser treatments that effectively target and treat these veins.
Puffiness: To minimize puffiness, Dr. Sobel says to look for eye creams that use natural ingredients like cucumber, chamomile, and hyaluronic acid that will nurture the delicate area around your eyes. Caffeine is also a star ingredient that will also work to de-puff your under-eye area. Another pro-tip? Put your eye cream in the fridge. "The cold will cause vasoconstriction, helping to reduce any puffiness or congestion," explains Dr. Saedi.
Dryness: While Dr. Sobel says most eye creams contain humectants that will combat dryness, a few other ingredients will help as well. Hyaluronic acid and glycerin are hero ingredients when it comes to fighting off dryness as they will help increase the absorption of moisture in the skin. During the dry, winter months, Dr. Saedi says you can even add a thin layer of Vaseline over your eye cream to help lock in the moisture.
Wrinkles and fine lines: Wrinkles are a bit tricker concern to tackle and you'll more active ingredients that can smooth and tighten the area, says Dr. Sobel. "Peptides, collagen, gentle retinol esters, and vitamin C are all effective at targeting the signs of aging around the eyes and best applied in the evenings for maximum penetration and treatment."
The Best Eye Creams
Best Overall Eye Cream
A great eye cream doesn't need all of the bells and whistles of a high-end brand. Case in point: this Cerave eye cream for just $14. With over 36,000 five-star reviews on Amazon, it's safe to say reviewers are obsessed with this budget-friendly pick. It uses hyaluronic acid and ceramides to deeply hydrate the skin, plus a blend of marine and botanical ingredients to diminish dark circles. It also is very lightweight and absorbs quickly into the skin. All in all, you can't go wrong with this pick if you're on a budget.
Pros: Under $20; Hydrating; Brightening; Depuffing; Easy-to-use applicator; Ophthalmologist-tested.
Cons: May take longer to notice results.
Customer review: "I noticed dark circles under my eyes and researched what I could do to fix. This under eye cream seemed like the right balance (you can spend a fortune on creams) and I'm glad I ordered it. I use it at night before bed and I've seen a reduction in the puffiness and darkness of my eyes. Would definitely recommend this." — Amazon
Best Derm-Approved Eye Cream
Sobel Skin RX Oligo Peptide Eye Cream
If you want pro-level results, opting for an eye cream developed by pros is a safe bet. From Dr. Sobel's own clean skincare line, this eye cream is chock-full of potent ingredients. He says it "uses a unique blend of three peptides, hyaluronic acid, cucumber extract, and eyebright extract to quickly hydrate, depuff, and decrease dark circles and the look of fatigue around the eyes. Natural cucumber and hyaluronic acid deliver a comfortable cooling effect around the eyes."
Pros: Dermatologist-approved; Clean formula; Hyrdating; Depuffing; Brightening.
Cons: Expensive.
Customer review: "I have been using this in the morning and at night for about two weeks and love it! It's light and absorbs quickly making it okay to wear underneath makeup. I have noticed a difference in evenness under my eyes, fine lines, and brightness. Most eye creams I've tried around this price point are much heavier and feel like they are just sitting on top of my skin." — Sephora
Best Eye Cream for Wrinkles
RoC Retinol Line Smoothing Anti Wrinkle for Dark Circles Eye Cream
Shoutout to the brand I've been using since my twenties, which figured out how to 1. Package retinol in a way that wouldn't irritate the eyes and 2. Sell it at a price that twenty-somethings can afford. Powered by pure retinol, wrinkles and fine lines are instantly smoothed and visibly reduced with use. Don't let the notorious side effects of retinol dissuade you—this cream is gentle enough to use every day. Fair warning, though, that this does have a slight fragrance, but I find it non-irritating to my skin.
Pros: Under $10; Firms fine lines and wrinkles; Brightening; Dermatologist-tested; Gentle enough for sensitive skin.
Cons: Some reviewers note the packaging could be improved.
Customer review: "Highly recommend!!! I'm in my 40's. I've been using Roc for a couple of years. No one thinks I'm 40. Helps with fine lines and skin tone, delivering promised results, and it's budget friendly! I use all their products and am happy with them all." — Ulta
Best Eye Cream for Dryness
Kiehl's Since 1851Creamy Eye Treatment with Avocado
The satisfying texture and color of this avocado-oil-based cream is just a side benefit of one of the more deeply hydrating creams on this list. With a formula full of hydrating ingredients like shea butter, avocado oil, and castor oil, this top-rated cream is especially effective if deep moisturization is your primary goal. The avocado oil also works to depuff under-eye bags, while beta-carotene helps brighten up dark circles, making this eye cream a true multi-tasker.
Pros: Hydrating; Brightening; Depuffing.
Cons: Some reviewers note the formula separates after a while.
Customer review: "I have tried every eye cream out there it feels like and I always come back to this one. Really helps with the dark circles and brightens my under eye and concealer goes on very good. Love it! Will continue to always buy." — Ulta
Best Eye Cream for Dark Circles
OLEHENRIKSON Banana Bright+ Vitamin C Brightening Eye Crème
This eye cream has been blowing up on TikTok and for good reason—it has crazy good brightening powers. At the forefront of this pick is a triple vitamin C formula that works wonders on dark circles and fine lines. Inspired by brightening banana setting powder, this cream also contains light-reflecting yellow mineral pigments to instantly color-correct any darkness and perk up tired-looking eyes. And if you're worried that this cream will smell like bananas, don't be—this formula is totally fragrance and banana-free.
Pros: Brightening; Firms fine lines and wrinkles; Provides an immediate brightening effect; Fragrance-free.
Cons: May be drying to some.
Customer review: "The best eye cream I've ever used, I'm on my second jar. It diminishes my dark circles after one use, gets better over time with consistent use. I like the glow it leaves." — Sephora
Best Eye Cream for Puffiness
Dr. Loretta Tightening Eye Gel
After an especially restless night, I'll wake up with eye bags so big, they might as replace my carry-on luggage. On these days, I like to rely on Dr. Loretta's Tightening Eye Gel to help banish puffiness. This formula contains algae extract to boost collagen production, effectively firming and smoothing skin. Peptides also help to tighten under-eye skin, while the brand's Chromabright complex uneven pigment. All in all, you can't go wrong with this eye cream, especially to combat morning puffiness.
Pros: Depuffing; Brightening; Firms fine lines and wrinkles.
Cons: Expensive.
Customer review: "Been using this for a couple of weeks now. Product feels good and goes on great. Definitely feel like my under eyes look a little brighter, tighter and more alert!" — Dermstore
Best Eye Cream for Sensitive Skin
Ilia Bright Start Retinol Alternative Brightening Eye Cream
Allow me to draw your attention to this eye cream's unique applicator. The ceramic tip delivers a cooling sensation while you gently massage the cream into your skin, which is perfect to depuff your eyes in the morning or before applying makeup. Light-reflecting pearl creates an instant illuminating effect, while sea fennel extract (a plant-based retinol alternative) works to firm fine lines and brighten skin. Because this cream doesn't actually contain retinol, this is a great option for those with sensitive skin.
Pros: Brightening; Firms fine lines and wrinkles; Depuffing; Easy-to-use applicator; Provides an immediate brightening effect; Fragrance-free; Vegan and clean formula.
Cons: May pill if too much product is applied.
Customer review: "Cannot hype this up enough. Only been using this a few weeks & this is definitely a product i can no longer go without. The applicator is amazing and cooling and the product actually helps with my dark circles which has never happened with any other product." — Sephora
Best Morning Eye Cream
Innisfree Green Tea Caffeine Bright-Eye Serum
"This eye cream from Innisfree is the biggest game-changer in my skincare routine in recent memory. Its formula is infused with caffeine and green tea extract, which do wonders in hydrating my skin and lifting my dreaded under-eye bags so that I look healthier and more awake. Plus, its luxurious roll-on applicator has a cooling effect that de-puffs, soothes, and instantly puts me in a good mood. I stick my applicator in the fridge for enhanced results, and it's one of the best parts of my morning. Not only does it have an incredible effect on my skin, but it also makes me feel more awake." — Gabrielle Ulubay, E-Commerce Writer
Pros: Under $50; Hydrating; Depuffing; Brightening; Easy-to-use cooling applicator;
Cons: Can tingle upon application.
Customer review: "I've never had an eye serum, cream or mask actually help with morning puffiness. Shocked that this affordable product did just that within minutes. It is light, silky and hydrating. The roller ball is a treat too." — Sephora
Best Illuminating Eye Cream
Grande Cosmetics GrandeREVIVE Brightening Eye Cream with Wrinkle Defense
Another eye creme backed by Dr. Sobel comes from Grande Cosmetics. This eye cream uses a blend of peptides to hydrate and brighten up pesky dark circles, plus the addition of illuminating pigments help to give a more awake look by immediately brightening dark circles. Dr. Sobel is a fan of the applicator, especially, adding, "The targeted application makes it a gentle way to apply product directly to the eye area, dispensing the perfect amount of product with each use."
Pros: Dermatologist-approved; Easy-to-use applicator; Provides an immediate brightening effect; Protects against blue light; Hydrating; Firms fine lines and wrinkles.
Cons: Results take longer to notice.
Customer review: "I love this brand A LOT!!! I use a lot of products and this eye cream is everything! A little goes a long way and it brightens up my eye area a lot! I've noticed a different around my eye area! I do use it on top and bottom!" — Ulta
Best Eye Cream for Mature Skin
Shiseido Benefiance Wrinkle Smoothing Eye Cream
Botanicals backed by science? Count us in. The new-and-approved formula of this cult-favorite eye cream now tackles dark circles in addition to firming up wrinkles. Green brown and red algae slow wrinkle formation as a blend of extracts (mukurossi, chlorella gambir, turmeric) helps conceal the appearance of those already formed. A peptide complex highlights the skin's softness and enhances elasticity, while ginseng extract brightens eyes and reduces dark circles. A little goes a long way, too, so this jar will last you months and months.
Pros: Firms fine lines and wrinkles; Brightening; Hydrating.
Cons: Expensive.
Customer review: "My go too for my eyes . Reduces puffiness , and makes my eyes look smooth and subtle. Cannot go wrong with this eye miracle cream . I have sensitive skin and it works well on me. Somewhat thick, but use a small amount and spread it. Use in The am and before bed." — Sephora
Best Multi-Use Eye Cream
Doctor Babor Lifting Rx Dual Eye Cream Solution
Dr. Sobel also counts himself a fan of this day-and-night eye cream, explaining, "The unique double-sided packaging makes it easy to treat eyes during the day and evenings with a hydrating blend of ingredients to strengthen and support this fragile area." To get into the nitty-gritty, one side of this cream uses ingredients like glycerin, squalane, and niacinamide to plump fine lines and brighten dark circles, whereas the nighttime cream uses a tripeptide blend to visibly reduce the look of eye bags, puffiness, and dark circles. This cream really tackles it all.
Pros: Dermatologist-approved; Hydrating; Brightening; Firms fine lines and wrinkles; Depuffing.
Cons: Expensive.
Customer review: "I've purchased this three times now and I love it. It works really well to reduce lines and wrinkles around the eyes, as well as bags and dark circles under the eyes. Plus, it lasts for a very long time - it takes me several months to use the entire tube." Doctor Baber
Best Eye Cream on Amazon
If you're over dark circles, Dr. Saedi recommends this eye cream to fight them off. "It's filled with antioxidants that help target both puffiness and dark circles," she says. "It is also infused with collagen to help with the appearance of fine lines." Formula-wise, this cream tackles every front with hydrating squalane, soothing chamomile, and firming aloe vera. You can also take comfort in knowing this formula is completely clean, plus a little goes a long way so the bottle will last you a while.
Pros: Dermatologist-approved; Under $50; Depuffing; Brightening; Hydrating; Clean formula.
Cons: Some reviewers note the packaging could be improved.
Customer review: "This eye cream pushes all the right buttons: it's lightweight and absorbs well, not too scented, hydrating and the pump works fine, dispensing the right amount of cream. You don't need more than 1-2 pumps to get good coverage, so the cream will last for a while." — Amazon