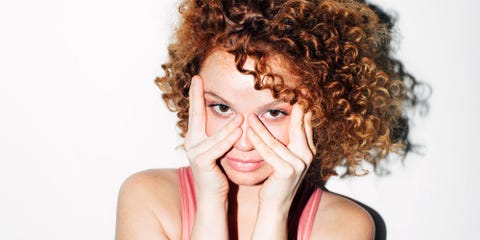 Sorry to burst your bubble, but most eye creams that promise to de-puff your eyes in seconds are actually kind of bullshit. Eye puffiness is actually just fluid retention caused by lack of sleep, allergies, excess salt, or the four margaritas you downed last night, which means you're kind of stuck waiting around until your body naturally breaks up and drains the fluid on its own.
Luckily, there are ingredients that can help speed up the de-puffing process, like caffeine (which constricts and tightens skin) and certain antioxidants (like aloe and green tea), which help reduce swelling after you massage them on. But rather than have you read every single ingredient label on every single product in the drugstore, we picked the five absolute best, most effective eye creams and serums that will shrink those bags down ASAP. Check them out, ahead.
1
For Puffiness + Dry Skin
Algenist Complete Eye Renewal Balm, $68
If I could mix every good-for-you ingredient into a single product, the result would be a lot like this silky, hydrating balm from Algenist. It not only soothes puffiness and irritation fast, thanks to caffeine, green tea, and aloe, but also helps to brighten dark spots and plump fine lines over time with its dose of vitamin C.

2
For Puffiness + Fine Lines
Clinique All About The Eyes De-Puffing Eye Massage, $33
Dry skinned fine-line haters, please meet your new best friend. This caffeine-spiked eye serum is loaded with glycerin and sodium hyaluronate (two jargon-y ingredients that pull water into your skin to plump your itty-bitty eye creases), plus a plentiful mix of brightening and calming antioxidants.
To amp up its cooling effects—and, therefore, its de-puffing effects—keep this stick in the fridge between uses.

3
For Puffiness + Even More Puffiness
100% Pure Caffeine Bean Eye Cream, $26
Really the only topical ingredient believed to help reduce under-eye puff is caffeine, which temporarily constricts blood vessels to tighten skin. So, naturally, the best option for ultra-puffed eyes is a formula that's filled with multiple coffee and green tea extracts (like this lightweight and fully organic cream) that work to deflate and tighten your eye bags as soon as you massage it on.
4
For Puffiness + Dullness
Garnier SkinActive Clearly Brighter Anti-Puff Eye Roller, $9
There's a reason you've seen this little stick everywhere for the last few years: It really, truly works, and it's also surprisingly affordable. The cool-tip rollerball helps break up fluid beneath the skin as you roll it across your bags, and the brightening vitamin C and tightening caffeine in the formula help reduce puffiness and illuminate your under-eyes.

5
For Puffiness + Chemical-Haters
Honest Beauty The Depuffed Eye, $32
Fact: Just because a product is "natural" doesn't mean it's somehow better. Because, sadly, most natural formulas actually contain ingredients known to irritate your skin. Thankfully, this eye cream isn't one of those.
The all-natural formula is packed with legitimate swell-reducing powerhouses, like antioxidant green tea and anti-inflammatory marigold extract, along with the a hefty dose of caffeine. So you can look bright-eyed and bushy-tailed, without compromising your clean routine.