The 15 Best Eye Creams for Puffiness in 2023, According to Editors and Experts
Who says you didn't get eight hours of sleep?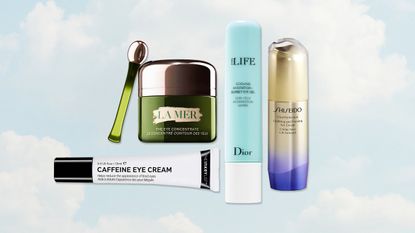 (Image credit: Future)
Ever wake up in the morning with puffy eyes? Yea, same. While dunking your entire face in an ice bath is a worthwhile solution (seriously, the technique is all over TikTok), slathering on one of the best eye creams for puffy eyes will work just as well—and be a heck of a lot more enjoyable. Whether you're partial to gel formulas and serums or gravitate towards rich, creamy creams that layer flawlessly under makeup, there's a de-puffing, cooling, and hydrating eye cream out there that will make your under eyes look fresher than ever.
That said, there are a ton of eye creams to choose from. It can be overwhelming to weed through all the claims and marketing jargon. And when eye puffiness is your primary pain point, you need a product that addresses the swelling. Caffeine and hydrating ingredients are going to be your BFFs. To make your shopping as easy as can be, we did our research to hunt down the best eye creams for puffy eyes.
What to Look For
Not only can retinol be a transformative ingredient for your entire face, but it can also substantially improve the look of your under eye area. "Retinol helps stimulate collagen and helps reduce the hyperpigmentation which is common in this area," says board-certified dermatologist Dr. Karan Lal. That in mind, you're not going to want to double dip—pick a retinol eye cream specifically designed for the delicate skin under the eye.
This is pretty much the baseline for any good eye cream. Dry and dehydrated skin is only going to contribute to puffiness. Moisturizing ingredients are far and wide, but it's best to make sure your eye cream has been proven to boost moisture. "Ceramides and hyaluronic acid will make sure the skin is hydrated," says board-certified dermatologist Dr. Morgan Rabach. "Peptides can also help repair damaged collagen, which is prevalent in the aging eyelid region," adds Dr. Lal. Glycerin, fatty acids, and squalane are also worth noting.
"Caffeine is another great ingredient which helps shrink blood vessels in the skin which reduces puffiness, albeit temporarily," says Dr. Lal. If you want to up the ante on the puffiness-reducing power, pop your caffeine-infused eye cream in the fridge before application.
While in large part fragrance in a product is personal preference, just be warned that it can exacerbate puffiness via an allergic reaction. Fragrances can also react with the sun and cause hyperpigmentation. "Hyperpigmentation in this region can last for months to years," says Dr. Lal. A product that contains fragrance isn't necessarily bad, but just use extra caution if you have sensitive skin or eyes.
The Best Eye Creams for Puffy Eyes
The products on this list have been vetted by Marie Claire's Beauty Editor, Samantha Holender (aka yours truly) and Marie Claire's Beauty Director, Deena Campbell; or have been hand-selected by a board-certified dermatologist. Each and every one includes ingredients clinically proven to deliver de-puffing results, is highly rated by reviewers, and provides hydration. While the *best* eye cream for you will vary based on personal preference, you truly can't go wrong with one of the items on this list. For a more personalized recommendation or if you have any concerns, check with your board-certified dermatologist.
The Best Do-it-All Eye Cream
La Roche-Posay Redermic R Anti-Aging Retinol Eye Cream
If you're on the hunt for an eye cream that's going to check off all your boxes (think: Hydrating, anti-aging, and de-puffing), just pop on over to the drugstore. "This has everything you need to target everything," says Dr. Lal. With retinol, caffeine, and the brand's proprietary hydrating Thermal Spring Water, it's going to take a multi-action approach to your under eyes. You can expect some *very* gentle exfoliation (Dr. Lal says this one is great for all skin types), a brightened appearance, and a smooth and soft texture on the delicate eye contour.
Pros: Derm-approved; Contains retinol and caffeine; Good for all skin types
Cons: Can tingle upon application
Customer Review: "I like that it is really easy to use and suitable for sensitive skin. I have very sensitive skin and while it initially tingles for about 10 seconds after first applying it, I have not had an allergic reaction to it. I've been using this every night and do feel like my eyes don't look as tired all the time, but Ihaven't seen a real noticeable reduction in dark under eye circles. The skin around my eyes feel more moisturized and I'm hoping with continued use, I can notice more of a difference." — Ulta
The Best Eye Cream for Discoloration and Puffiness
(opens in new tab)
Revision Skincare Revox™ Line Relaxer
"This is my go-to," says Dr. Lal. It has peptides and neuropeptides to soften lines, and arnica to reduce bruising, swelling, and discoloration. It is costly, but it lasts and is 100 percent worth it." Unlike other eye creams on the market, this particular product is designed to amp up results from in-office under eye treatments—be it Botox or laser resurfacing. When it comes to puffiness, the applicator is going to be your BFF. The metal tip feels cool upon application, and with a little massaging action, can help drain excess fluid.
Pros: Derm-approved; Softens lines; Helps with swelling; Reduces discoloration
Cons: Expensive; Some report difficulty with applicator
Customer Review: "I've only been using Revox for a short period of time, but so far it has been great! It's very lightweight and goes on smoothly. I'm starting to see some results and can't wait for what is in the future with it!" — Dermstore
The Best Splurge-Worthy Eye Cream for Puffiness
(opens in new tab)
La Mer The Eye Concentrate
"I tend to shy away from beauty brands that are cult faves—they can be too trendy, lack efficacy, and are more than likely incongruous with my beauty staples. But that's not the case with La Mer The Eye Concentrate. When I started noticing traces of crow's feet around my eyes this eye concentrate deeply penetrated the area and reduced puffiness after a few applications. I also adore that the silver applicator brings coolness to my eyes, which is great on sweltering hot days." — Deena Campbell, Beauty Director
Pros: Editor-approved; Great applicator
Cons: Expensive; Contains fragrance
Customer Review: "So far this is the best eye cream I have ever used (and I have tried a ton of them). I have really dark circles and this is the only eye cream that has made a difference for the better. I love the applicator, as well—like a little massage each time." — Sephora
The Best Cooling Eye Cream for Puffiness
(opens in new tab)
ISDIN Isdinceutics K-Ox Eyes
If your puffiness is rooted in inflammation or more prominent in the morning, you should seriously consider an eye cream with a cooling applicator. Case in point? The ceramic tip that accompanies the highly effective (and dermatologist approved) ISDIN eye cream is a game-changer. "It has a cooling application, smells great, and contains eyeliss, which targets puffiness, haloxyl, which targets dark circles, and vitamin K oxide, which brightens eyes," explains board-certified dermatologist Dr. Morgan Rabach of LM Medical.
Pros: Derm-approved; Cooling; Contains de-puffing ingredients
Cons: Expensive
Customer Review: "I really love this eye cream. Once I apply it to my skin, it absorbs right away. I have noticed that my dark circles are less noticeable. I will be buying it again and I can also say that it makes your eyes look younger." —ISDIN
The Best Eye Serum for Puffiness
(opens in new tab)
The Ordinary Caffeine 5% + ECGC Depuffing Eye Serum
Given that the main ingredient here is caffeine, it shouldn't come as a surprise that this lightweight serum landed on our list. "This is a nice temporary way to reduce puffiness," says Dr. Lal. "Use it every morning to keep your eyes looking refreshed." The vegan formula can be used solo or layered underneath one of the thicker creams on this list. Just be warned: It has a very watery texture, so only release a little product at a time.
Pros: Derm-approved; Contains caffeine; Affordable
Cons: Very liquidy and can be messy to apply
Customer Review: "This works great on puffy, baggy eyes. It's not a cure all and it doesn't fix things for good, but it's a great quick fix to brighten your morning or look fresh and well-rested for a night out!" — Sephora
The Best Fast-Acting Eye Cream for Puffy Eyes
(opens in new tab)
Dermalogica Awaken Peptide Depuffing Eye Gel
If you want to watch a wild transformation happen in the mirror, you're going to want to scoop up this eye cream for a lil science experiment. Within 10 minutes, your swelling will go down and your puffy eyes will look brighter and tighter thanks to a strategically curated combo of ingredients. "This has peptides and caffeine both of which reduce puffiness," explains Dr. Lal. "It has an elegant gel texture and goes on smoothly."
Pros: Derm-approved; Contains caffeine
Cons: Some report pilling under makeup
Customer Review: "Really works! when I wake up with puffy eyes or after crying, I use this and it actually depuffs within minutes. It's not claiming to be anti-aging or anything else, so for what it is I'm happy. The one downside for me is that it pills heavily under makeup. So if I'm using it in the morning I'd have to wash it off after it does its job and before applying makeup." — Sephora
The Best Eye Cream for Anti-Aging and Puffiness
Versed Smooth Landing Advanced Retinoid Eye Balm
Hydration is half the battle when it comes to fighting a puffy appearance—and rest assured this eye cream delivers. "This is an ultra-gentle balm full of retinoids to help soften fine lines and de-puff your eyes," Dr. Lal explains. While the retinoid works to reduce signs of aging, ingredients like shiitake mushroom extract, vitamin E, and black current seed oil swoop in to provide antioxidant protection and reinforce the skin barrier. In fact, this little guy works so good, that 90 percent of people said it reduced their puffy-eyed appearance after six weeks.
Pros: Derm-approved; Contains retinoids; Hydrating
Cons: Only for nighttime use; Feels greasy
Customer Review: "I loved how the product felt like butter once it made contact with my under-eye-area. Super easy to apply, non-greasy, hydrating to the skin and fast absorbing. I was like wow!!! Yes! I would love to use this formula over and over again. Now, I'm not going to lie, I was a bit concerned when I read it contained retinoids. Sometimes retinoids can irritate your skin, and the under-eye-area is very sensitive so I was praying I did not get irritated, and I did not." — Versed
The Best Silky Eye Cream for Puffiness
(opens in new tab)
Shiseido Vital Perfection Uplifting and Firming Eye Cream
Just like puffy eyes can occur from having an extra salty dinner, they can creep up with age. Fall into the latter category? Don't sleep on this Shiseido eye cream. The brand's chemists cooked up an exclusive complex designed to target the puffy effects of aging by increasing under eye circulation. It also strengthens the skin, lifts, and firms—all in one week. Plus, it has one of the best textures in the game. It's silky and smooth, doesn't pill, and layers flawlessly under makeup.
Pros: Editor-approved; Great texture; Fast-acting
Cons: Contains fragrance
Customer Review: "I love this eye cream! I used to use the Benefiance Wrinkle Resist 24 Eye Cream until I was 32 and then it stopped getting rid of my wrinkles. I tried 20 other eye creams and this is the best. It smoothes just under my eyes where I was getting wrinkles, but I can only apply it once a day." — Sephora
The Best Smoothing Eye Cream for Puffiness
(opens in new tab)
Biossance Squalane + Peptide Eye Gel
If you haven't caught on by now, let me make it plain and clear: The key to a bright and youthful under eye is hydration. Squalane, peptides, and hyaluronic acid make up the nourishing triple threat in this ultra-clean cream. Caffeine is also in the mix, so you know you'll look less puffy when all is said and done. Dab a bit of this gel-based cream underneath your eyes for a seamlessly smooth appearance. Personally, I'm obsessed with this in the morning—it's uber-lightweight and wears flawlessly under makeup.
Pros: Editor-approved; Great under makeup; Smoothing
Cons: Bottle doesn't last very long
Customer Review: "I've tried a variety of creams, gels, what have you, but most of them make my eyes burn, and they never feel like they're really doing anything preventative or otherwise. This eye gel is the real deal. It's delightfully lightweight, and it really helps reduce the puffiness and bags under my eyes. I keep this in my tiny beauty fridge so it's nice and cold when I apply it, and it's really worked wonders. Highly, highly recommended!" — Sephora
The Best Strengthening Eye Cream for Puffiness
(opens in new tab)
Dior Hydra Life Cooling Hydration Sorbet Eye Gel
Replace that ice cube you've been rolling around on your eyes with this refreshing upgrade. The circular ceramic applicator has an ice-cube-effect that will coat your eye contour area with more than just H2O. The silky, sorbet texture contains cornflower water, which instantly wakes up tired eyes and deflates puffiness. Bonus: there's also a bit of abyssinica oil, which is clinically proven to strengthen your brows and lashes overtime.
Pros: Editor-approved; Great applicator; Added brow benefits
Cons: Not moisturizing enough for super dry skin
Customer Review: "This eye cream works like magic. After 10 minutes of application, my under eyes feel cool, refreshed, and there is a noticeable reduction of the puffiness and dryness. It illuminized the skin where it was applied, lessening the darkness of my eye bags. Highly recommend it to anyone." — Sephora
The Best Caffeine-Infused Eye Cream for Puffiness
(opens in new tab)
The INKEY List Caffeine Eye Cream
This cult-favorite eye cream from The INKEY List is jam-packed with caffeine to reduce the look of puffiness from the very first application. It also doesn't skimp in the hydration department thanks to a special peptide complex, and as a result, plumps up fine lines and under-eye wrinkles. It's super lightweight and great for the daytime, but if you run on the dry side you might want to layer something a little thicker on in the evenings.
Pros: Editor-approved; Instant de-puffing
Cons: Contains fragrance
Customer Review: "Very light and smooth eye cream. I use it in the morning and have had no problems with burning or sensitivity. I see a decrease in puffiness too. Works as well as much more expensive eye creams!" — Sephora
The Best Radiance-Boosting Eye Cream for Puffiness
(opens in new tab)
JUARA Miracle Tea Eye Creme
While you won't find the usual suspects like caffeine or retinol in this eye cream, I promise it's loaded with de-puffing ingredients inspired by Indonesian herbal medicine. Turmeric, clove flower, Indian gooseberry, and kombucha all power this supercharged eye cream. Use this EWG-approved cream morning and night to completely reinvent your eyes. In just a few weeks, you'll notice brighter, firmer, less puffy skin. It feels silky and lightweight, dries down to a matte finish, and creates a gorgeous canvas for makeup.
Pros: Editor-approved; Matte finish; EWG-approved
Cons: Fragrance-free, but has a natural scent
Customer Review: "I was blessed with puffiness under my eyes. I have been using this for only a short time morning and evening, and it seems to reduce the appearance of the puffiness. It smooths the fine lines around the corner of the eyes. You only need to use a small dot." — Juara
The Best Firming Eye Cream for Puffiness
(opens in new tab)
Peter Thomas Roth Instant FIRMx® Eye Temporary Eye Tightener
Remember when this eye tightener went viral on TikTok last year? We can confirm that the formula lives up to its internet hype. It instantly does away with loose or puffy skin in under three minutes, leaving you with a smooth appearance. The magic powers lie in the formula, which is packed with peptides and special complexes designed to give a temporary lifting effect that will only increase with time.
Pros: Fast acting; Temporarily lifts and tightens
Cons: Leaves a white residue
Customer Review: "This stuff is amazing!! Apply and let it dry before using moisturizer and/or make-up. You can also mix it with a concealer but haven't tried that. Magically smoothes out the puffy bags under my eyes...thank you, thank you, thank you!!" — Sephora
The Best Retinol-Infused Eye Cream for Puffiness
(opens in new tab)
Glow Recipe Avocado Melt Retinol Eye Sleeping Mask
This sleeping masks boasts encapsulated retinol and coffeeberry, both of which work overnight to de-puff your under eye. The star here is really the avocado (in case you couldn't tell from the green jar). It's rich in antioxidants (we love environmental protection) and has a soothing and calming effect, making it a great option for dry skin types. To top it all off? The entire formulation is vegan.
Pros: Vegan; Soothing; Good for dry skin
Cons: Difficult to get product out of the jar
Customer Review: "Literally is my holy grail. After using it for just a few days, my dark circles and under eye bags diminish. However, you have to keep using the product as cease of use can bring back the eye circles." — Sephora
The Best Eye Cream for Dark Circles
(opens in new tab)
SkinCeuticals A.G.E. Eye Complex
This eye cream is loved by editors and dermatologists alike—it's an anti-aging powerhouse. It's going to reduce puffiness, while also reducing little crows feet, and dark circles. How it does this, you ask? A combination of proxylane, blueberry extract, and peptides boost radiance and create a youthful appearance.
Pros: Effective; Anti-aging; Clinically proven
Cons: Expensive
Customer Review: "This eye cream has completely changed the way my under eyes look and feel. Everything is brighter, smoother, and my makeup goes on great!" — Skincare Essentials
What Causes Puffy Eyes?
First things first: Puffy eyes are normal. Dr. Rabach explains that people can have a genetic predisposition to puffy eyes as a result of fat piercing through the muscle. So, if you've inherited under-eye bags from your family, don't expect your puffiness to disappear overnight. But (and this is a biggie) sometimes puffy eyes are the result of easy-to-change lifestyle habits. "Eating salt can cause water retention and seasonal allergies, or allergies to eyes creams, can cause swelling and fluid build up around the eye," explains Dr. Rabach. Another possibility? You're not getting as much shut eye as you should. "Poor sleep also contributes to puffy eyes," adds Dr. Lal.
When Will I See Results?
In short: The best eye creams can reduce puffiness. That said, it's important to have reasonable expectations. A few pats of product isn't going to completely remove the puffy under eyes you've had your entire life. The right ingredients can, however, make a visibly noticeable difference—it's just going to take time.
"Don't expect overnight miracles and don't expect 100 percent improvement," says Dr. Lal. "Eye creams and serums are great for those that want something to do at home, but they do not replace in-office procedures. Eye creams and serums are a supplement to procedures and take, on average, eight to 12 weeks to see improvement. It just takes that long to stimulate collagen and improve skin quality."
Meet the Dermatologists
Dr. Morgan Rabach is a board-certified Dermatologist and media expert with hundreds of opinion articles on skincare and the use of injectable cosmetic procedures. Dr. Morgan is known for her expertise in cutting edge techniques for Botox and Fillers and the savy use of skin products. Additionally, she deeply enjoys helping people eliminate acne scarring. Dr. Morgan is ranked "#1 dermatologist" in NYC by RateMDs, featured as a "Superdoctors" in NYTimes Magazine for the last five years, granted "TopDoctor" designation by Real Self and is an advisor for Gerson Lehrman Group and Guidepoint Global. In addition to her private practice, she is a Clinical Assistant professor of Dermatology at The Icahn School of Medicine at Mount Sinai Hospital. She graduated from Brown University with Honors in Biology, earned her medical degree from New York University School of Medicine, and completed her medical internship at Yale New Haven Hospital and her dermatology residency at SUNY Downstate Medical Center where she served as chief resident.
Originally from New York City, he grew up in Queens and attended Hunter Science High School in Manhattan. He graduated summa cum laude from the New York Institute of Technology, where he completed a rigorous seven-year accelerated combined medical program. He was selected to be an academic medical scholar, during which he received a Master of Science in neuroscience and a scholarship for three years of medical school and graduate training. He was elected to the Sigma Sigma Phi and Psi Sigma Alpha medical honor societies. He completed his internal medicine internship at the University of Connecticut Medical Center where he was elected intern of the year. He completed a three-year dermatology residency at the University of Massachusetts, where he was elected chief resident. He continued at the University of Massachusetts to complete a pediatric dermatology fellowship, where he gained an interest in vascular anomalies, pediatric laser, and dermatologic surgery of pediatric patients. Dr. Lal specializes in pediatric and adult dermatology, laser surgery, soft tissue filler augmentation, body sculpting, melanocyte keratinocyte transplant surgery for vitiligo and hypopigmentation, pigmentary abnormalities of the skin and enjoys treating patients from birth onwards. He is an expert in atopic dermatitis, vitiligo, melasma, psoriasis, and hidradenitis and has worked in specialty clinics among experts. He is the only board-certified pediatric and fellowship-trained cosmetic dermatologist in the country.
Samantha Holender is the Beauty Editor at Marie Claire, where she reports on the best new launches, dives into the science behind skincare, and keeps up with the latest trends in the beauty space. She has previously written for Us Weekly, Popsugar, Makeup.com, Skincare.com, and Philadelphia Wedding. Follow her on Instagram @samholender.