My Eyes Are Insanely Sensitive—These Are the Mascaras I Swear By
Long lashes, without irritation.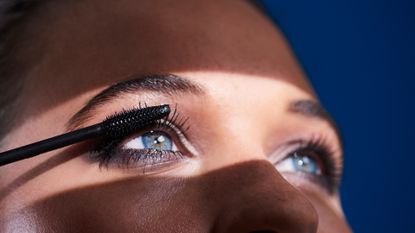 (Image credit: Getty)
As someone with chronic dry eye and allergies galore, I'm well acquainted with the mascara woes for sensitive eyes. The wrong formula can make the whites of my eyes go bloodshot and leave me tearing, puffy, or irritated for hours on end. I'm not alone either—46 percent of people report having sensitive eyes. That in mind finding the best mascara for sensitive eyes (read: ophthalmologist-tested, hypoallergenic, and fragrance-free) is of utmost importance for general safety—and comfort.
"Some people may experience allergic reactions, manifesting as eyelid swelling, watery eyes, and itching, while continuous use can also lead to eye irritation and dryness," explains board-certified optometrist Dr. Inna Lazar. "These symptoms can range from mild to severe, including redness and inflammation, itching paired with a burning sensation, watery or teary eyes, swelling of the eyelids and the under-eye area, dryness and flakiness, sensitivity to light, and blurred vision."
While your best bet is always going to be a consult with your dermatologist or ophthalmologist, I've consulted the pros and done my fair share of (safe) mascara testing. Whether volume and density or length and pigmentation are your top priority, I promise there's a sensitive eye-approved mascara out there that will deliver great results sans the itching side effects. Read ahead for the best mascaras for sensitive eyes.
What to Look For
Ingredients
First and foremost, always look at the ingredient list. "A significant number of mascaras available today harbor ingredients that could cause trouble for your eyes, particularly for those with heightened sensitivities," explains Dr. Lazar. While it's hard to know exactly what every ingredient means, here are the biggest culprits for irritation:
Benzalkonium chloride (BAK)
Argireline (Acetyl Hexapeptide-3 or Acetyl Hexapeptide-8)
Formaldehyde-releasing compounds
Fragrance
Isopropyl cloprostenate
Parabens
Phenoxyethanol
Waterproof vs Regular
While waterproof mascaras are certainly enticing thanks to their long-wearing capabilities, they're honestly not the best for sensitive eyes. "These products frequently contain PFAS chemicals that are not only toxic to our ocular surface but also present a challenge to our overall health," says Dr. Lazar. "The tenacity of waterproof formulations often means vigorous rubbing, further exacerbating irritation and leading to dryness and premature aging."
Safety Testing
You'll always want to seek out a dermatologist-tested and ophthalmologist-tested label, according to board-certified dermatologist Dr. Nava Greenfield. This will ensure the formula is safe for the delicate eye area.
The Best Mascaras for Sensitive Eyes
The Best Mascara for Volume
MakeWaves Lengthening + Volumizing Mascara
Tower28 Beauty was founded to solve sensitive skin woes, so it's no surprise that they took every sensitivity into account when formulating their first-ever mascara. No box was left unchecked—this product has been ophthalmologist and allergy tested, approved to be contact lens safe, and has the clinical seal to be used on sensitive eyes. More than that though, it's truly just a top-notch mascara. It lengthens and volumizes, contains conditioning ingredients such as castor oil, and has a special ingredient that quite literally helps your lashes hold their curl throughout the day. I promise: There's no mid-day droop with this guy.
Pros: Clinically tested; Vegan; Good for contact lenses
Cons: Can get a little clumpy
The Best Nourishing Mascara
GrandeMASCARA Black Conditioning Peptide Mascara
"Grande Cosmetics GrandeMASCARA Conditioning Peptide Mascara has been tested for safety and uses hydrating ingredients to keep your skin and lashes healthy. Lipids are a great added ingredient for that purpose. In addition, I love the way it appears on the lashes. The hydrating peptides support the health of the lashes and eyelids." — Dr. Nava Greenfield, Board-Certified Dermatologist
Pros: Dermatologist-recommended; Hydrating ingredients
Cons: A little clumpy
Monsieur Big Volumizing Mascara
"Not only do I have sensitive skin (rosacea, contact dermatitis, allergies) but I also have sensitive eyes that react easily to irritation. A lot of mascaras can feel uncomfortable—either because they're causing a reaction or because I can see redness when I remove them. But these give me gorgeous lengthening without clumping or flaking onto my skin or into my eyes. It's a long-lasting formula, meaning it won't come off even when I rub my eyes. They basically act like a second, lightweight, delicate layer to my natural eyelashes." — Katherine Igoe, Contributing Sydnications Editor
Pros: Good for allergies and redness; Easy to remove
Cons: Weird smell
The Best Ophthalmologist-Tested Mascara
Twenty / Twenty Clean Sweep Mascara, Pitch Black, 10ml
"I have seasonal allergies that can make it nearly impossible for me to apply makeup, so I've long been searching for a mascara that won't further irritate my eyes and that won't come off easily when allergens have reduced me to tears. This mascara exceeds all of my expectations: Because it was developed by an ophthalmologist, it prioritizes eye health, using a formula that includes hyaluronic acid, Vitamin E, and biotin, but doesn't have any irritants like parabens or tar dyes. It also gives my lashes plenty of length and lift without ever clumping." — Gabrielle Ulubay, E-Commerce Writer
Pros: Editor and ophthalmologist-tested; Good for uber-sensitive eyes
Cons: None
The Best Mascara for Length
Liquid Lash™ Extensions Mascara
I can't even articulate the cult-following this mascara has developed since launch—it's attracted fans by the hundreds and counts a handful of celebrities as loyal users. There's a good reason: It contains conditioning ingredients like castor oil and shea butter, while steering clear of nasty ones like synthetic fragrance. The team has invested in clinical trials so you can swipe without fear. They also figured out the key to a water resistant formula that doesn't require tugging and pulling in the removal process.
Pros: Dermatologist and ophthalmologist tested; Clinically proven to be safe for sensitive eys
Cons: Can be a bit clumpy
The Best Mini Mascara
Eyes are the Story, Eye Proof Mascara Trio Set (3 Non-Flaking Mini Mascaras for Sensitive Eyes)
"My top priority as an eye doctor who frequently diagnoses and treats dry eye and other eye conditions is to ensure my patients use makeup products that won't exacerbate their condition. I highly recommend the brand Eyes Are the Story. All of their products are safe to use around the eyes and designed to be gentle on and around the delicate eye area. As noted above, it's important to be mindful of the ingredients in your makeup and choose products that are free from harsh chemicals and irritants that can cause discomfort or damage to your eyes." — Dr. Inna Lazar
Pros: Small bottles minimize bacteria; Ophthalmologist-approved
Cons: Might run
The Best Mascara for a Dark Finish
Clean Lash Lengthening Tubing Mascara
If clumpy lashes are your biggest pain point, allow me to direct your attention to this life-changing mascara. In part because of the wand's shape and in part because of its innovative formula, this Merit product manages to separate and define every individual lash. You're left with a fluttery and soft look that still feels high impact courtesy of the uber-black pigment. To build up length, you'll probably want to go for two coats (don't worry, it won't flake), but I like just one quick flick for the day-to-day.
Pros: Doesn't clump or flake; Very dark
Cons: Can be a little difficult to remove
The Best Subtle Mascara
If you need a do-it-all, this is your guy. It has the ability to lengthen, volumize, and define, all while remaining buildable and flake-free, whether you do one swipe or three. I know, it sounds too good to be true, but after actually testing Gucci Westman's innovative formula, I can confirm it follows through on every promise. It's free of common irritants and washes off with just a bit of warm water so my eyes don't get irritated or watery before bed.
Pros: Great for every concern; Vegan formulation
Cons: No clinical tests
The Best Mascara for Little Lashes
Chances are you've never seen a wand with this deep of a curve. It's untraditional for sure, but it's the innovation that lands this product on this list. Because of the u-like shape, it's flexible enough to pick up the little lashes that live on the outer and inner corners. Once all those babies get a nice coat, my lashes look instantaneously fuller. On the sensitivity scale, I found this to be extremely tolerable, which likely has a little something to do with the anti-inflammatory and hydrating properties of the mascara's star ingredient: Vitamin E.
Pros: Densifying; Anti-inflammatory
Cons: Not ophthalmologist-tested
The Best Everyday Mascara
Ilia Limitless Lash Lengthening Mascara
This is the mascara that put Ilia on the map—it's that good. It's my personal everyday go-to. It doesn't leave me red, watery, or irritated, but still delivers insane length to my lashes. It's never clumpy, rather it separates every individual lash. The biggest pro however is that no matter how hot, muggy, or emotional I am, the formula never runs or smudges into my under-eye. It holds a curl and looks just as good at the end of a long day as it did first thing in the morning.
Pros: Smudge-free; Editor-tested
Cons: Smells a little harsh
Meet the Experts