13 Beauty Gadgets Worth Investing In
See ya never, salon.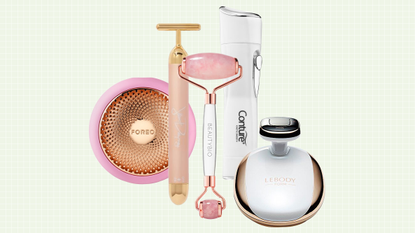 (Image credit: Courtesy)
Shiny pieces of technology are enticing, but ultimately only one question matters: Is the gadget worth it? For the devices below, the answer is a resounding yes. From LED lights that zap away acne to steel rollers that sculpt your face, these products are truly the cream of the crop when it comes to avant-garde beauty gadgets. Read on for the most necessary beauty and skincare tech to add to your arsenal.
Selfkaire - Kairetool Essential Matte
The Kairetool may look like it belongs in a repairman's kit instead of on your vanity, but this new gadget is a serious skin saver. Want an instant glow? Use it to massage in your favorite serum, boosting circulation in the process. Need to relax? Glide it over your entire face and the strategically placed pins will trigger acupressure points to relieve tension. Need to depuff? Roll the cool steel along your under-eyes in the morning. All that and you won't feel the soreness sometimes associated with other facial massage tools.
You no longer have to lounge around waiting for a face mask to do its job—the Foreo UFO works in just 90 seconds. From calming heating therapy and cooling cryotherapy to LED treatments, the handheld device infuses active mask ingredients into the skin with temperature, vibrations, and light—making it more effective in less time. Just connect your Foreo to the app, scan your mask, and follow the automatically generated treatment. It's the most indulgent masking experience.
BeautyBio - Rose Quartz Roller
The rose quartz stone roller is designed to drain the lymphatic system and boost circulation, making it the perfect option to depuff and calm inflamed skin. Roll in upward motions over your face to tighten pores, improve texture, and minimize under-eye circles.
Conture - Kinetic Smooth Hair Remover & Skin Polisher
This handy device has two heads: one that shaves with two rotating blades and another that exfoliates. It can be used anywhere hair grows for a painless, water-less alternative to shaving.
Lebody - Mid-Frequency Body Massager Device
The LeBody vibrates at a frequency of 1,000 Hz to increase cell metabolism and blood circulation (a fancy way of saying it helps you lose weight and gain muscle). It has two modes: gym and slim, and six different intensity levels. Simply apply the massage cream to the targeted area, wear the device, and turn on the desired level. You can even strap it to your waistband or arm band for on-the-go sculpting.
Dr. Dennis Gross Skincare - SpectraLite FaceWare Pro
It might seem overwhelming to strap on what looks like a deconstructed cyborg face, but the SpectraLite FaceWare Pro's skincare benefits are far from fictional. A full spectrum of therapeutic red and blue light improves composition, clears wrinkles, and zaps away acne-causing bacteria.
Dr. Dennis Gross Skincare - SpectraLite EyeCare Pro LED Device
Tired, saggy eyes are a surefire way to bring down even the glowiest of faces. The SpectraLite EyeCare Pro targets the problem by hitting the eyes with 72 LED lights. All you have to do is place the headband around the eye area for 3 minutes for reduced wrinkles, fine lines, and crow's feet.
NuFACE - Trinity Facial Trainer Kit
The NuFACE Trinity is a vibrating device topped with cooling metal spheres that you roll over your face. Apply the hyaluronic acid primer and glide the device in smooth strokes along the jawline, neck, and forehead. Just 5 minutes every day is said to improve facial contour and skin tone, and lessen the appearance of wrinkles.
PMD - Clean Smart Facial Cleansing Device
This silicon, battery-operated face washer uses heat and vibration to cover all your skincare needs. Use the bristled side on modes 1 and 2 to cleanse, and the grooved side on modes 3 and 4 to massage in serums and creams. The heated pulsation frequency helps stimulate blood flow to tighten skin.
Jillian Dempsey - Gold Sculpting Bar
The ultimate picture of opulence, this 24K gold sculpting bar vibrates over skin to stimulate blood circulation. Its vibrations mimic the soothing effects of micro-massages while sculpting and lifting at the same time. Use it on the cheeks, jawline, and neck to smooth over tech lines (the wrinkles that come from looking down at phones all day).
Gillette Labs - The Heated Razor
The newest advancement from Gillette is a major upgrade to your morning routine. Designed to simulate the soothing effects of a hot towel shave, it features warming technology that heats up in less than a second to provide continuous warmth to your skin.
ZIIP - Beauty Microcurrent Facial Device
ZIIP is a small device that shoots electrical microcurrents through the skin to stimulate collagen production, making for a tighter, firmer complexion. It works by increasing ATP levels (stored energy to repair damaged skin cells), allowing cells to communicate and repair themselves. And don't worry–it's completely painless, even for the most sensitive skin types.
While you can't pocket your dermatologist, you can get pretty close with the Neutrogena Skin Scanner. Attach the camera to your phone, hook it up to the app, and hold the zooming lens to your face. The system will measure pores, fine lines, and moisture to generate a unique skin score. You can use the analysis to maximize the benefits of skincare products and treatments. Perfect selfies just got a lot easier.
•••
For more stories like this, including celebrity news, beauty and fashion advice, savvy political commentary, and fascinating features, sign up for the Marie Claire newsletter.
Celebrity news, beauty, fashion advice, and fascinating features, delivered straight to your inbox!
Hana Hong is the beauty assistant at Marie Claire, where she covers skincare, makeup, and haircare, and is identifiable by her signature cateye.