The 12 Best Skin Extractor Tools in 2023
Blackheads, be gone.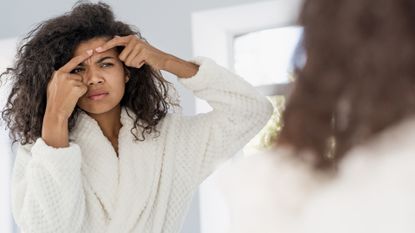 (Image credit: brizzmaker/Getty)
I love popping pimples. And yes, I'm well aware that every dermatologist would recommend letting a whitehead or blackhead heal on its own. But sometimes I'm wayyyyyy too tempted to get all the gunk out of a blemish. When those times come to pass (I have a nice, juicy one on my chin as we speak), I without fail reach for one of the best skin extractor tools. Because whether it's a pore vacuum with suction powers or a sharp stainless steel lancet, these pimple removers and pore suckers are one of the most hygienic ways to pop a pimple if you *really* can't resist.
In order to make the whole skin extracting process as clean as possible and reduce the chance for infection or irritation, you're going to want to make sure your pimple is already at a head. Then, slip on some gloves and clean affected area with alcohol before you get to work. "You should not face much resistance if the pimple is ready to pop, so you should not be using much pressure at all," explains Dr. Muneeb Shah, who is also known as @doctorly on TikTok. "If you're experiencing pain with the extractions, you're probably using too much pressure."
Now that the guiding principles to pimple popping have been laid out by a pro, read ahead to shop for the best skin extractors on the market. While I definitely recommend proceeding with caution, these 10 pus-removing tools and devices can work wonders when used properly. From my personal favorites that I've tried in the comfort of my own bathroom to fan-favorites, keep scrolling for the best of the best.
Samantha Holender is the Beauty Editor at Marie Claire, where she reports on the best new launches, dives into the science behind skincare, and keeps up with the latest trends in the beauty space. She has previously written for Us Weekly, Popsugar, Makeup.com, Skincare.com, and Philadelphia Wedding. Follow her on Instagram @samholender.
With contributions from