The 14 Best Pore Vacuums of 2022 for Sucking Out Gunk
Pretty please proceed with caution.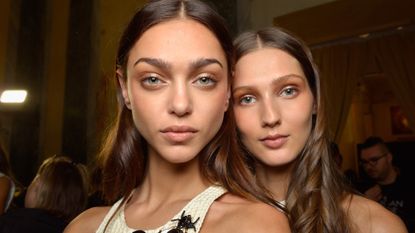 (Image credit: Matteo Valle/Getty )
Comedones are wild. Seriously—think about it. All this gunk (read: dead skin cells, oil, leftover makeup) just gathers together, decides to clog up your pores, and eventually turns black or, if pus and inflammation also decide to join the party, turn white. The best blackhead removers and acne products can certainly help create a clearer complexion over time, but the best pore vacuums may come in handy if you're looking for a quick-fix-meets-deep-clean. "Pore vacuums use a gentle suction force to pull out debris, oil, and dead skin cells clogged in pores," explains board-certified dermatologist Dr. Brendan Camp. "They can help improve the appearance of skin and minimize the appearance of pore size."
In short: Pore vacuums work—and are oddly satisfying (don't judge, please and thanks). That said, they need to be used with an ~extreme~ abundance of caution. Technique is key, patience is going to be a virtue, and sensitive skin is unwelcome. Most importantly, using a well-vetted tool is key. Otherwise, you can be left with broken blood vessels, irritation, and a heck of a lot of redness. To make sure your purchase is up to par, scroll ahead. We're sharing all the info you need to know about using the techy tool and the best pore vacuums to shop, below.
How Does a Pore Vacuum Work?
In the same way that a real vacuum will suck up dust from the floor, a pore vacuum will suck up pore-clogging materials. "Pore vacuums usually have three levels of suction that work like a vacuum for your pores," explains BeautyBio founder and CEO Jamie O'Banion (opens in new tab). "The suction power increases with each level, so you can customize your treatment based on what's best for your skin." In the end, your whiteheads should be de-pused and your pores should be cleaner and look smaller.
Should I Use a Pore Vacuum?
PSA: Pore vacuums are not for everyone, nor are they for every type of pimple. "Patients with sensitive skin may want to use a pore vacuum with caution," warns Dr. Camp. Use can lead to irritation, inflammation, or broken blood vessels, especially in people who have rosacea. Pore vacuums are *ideal* for people who have oil or acne-prone skin, specifically those with blackheads or whiteheads that are already at a head. "These devices are best used on comedones once they have developed," he adds. "Those with more inflammatory acne, such as pustules and cystic lesions, will need a different form of treatment."
How Do I Use a Pore Vacuum?
Whatever you, don't just turn on the power button and go to suction town. Bad idea. You'll want to read the instructions uber-carefully, as they'll differ from tool to tool. The key to a successful treatment? "Always keep the tool moving and avoid hovering over a singular spot," advises O'Banion. "If a tool is left on a single area, it can cause redness as circulation is pulled to that area."
How Long Will It Take to See Results?
The suction should take care of whiteheads in one treatment, but you might need to be patient on the blackhead front. It can take time to dislodge all the gunk. That said, Dr. Camp feels that "if your acne is not responding to at-home treatments and you find yourself turning to your pore vacuum often, it's time to schedule an appointment with a board-certified dermatologist who will help you establish a better understanding of the cause of your acne and develop a treatment plan."
What Are the Risks Associated With a Pore Vacuum?
The most common risk factor here is going to be skin irritation and redness, which is why sensitive skin types should steer clear. "Pore vacuums can exacerbate existing skin conditions like acne or rosacea," explains Dr. Camp. "It can also cause discoloration in the form of hyperpigmentation, which can take a long time to resolve." Some reports also indicate that pore vacuums can lead to superficially dilated blood vessels, or telangiectasias. That's why it's important to start out slow and consult with your dermatologist if you have concerns.
The Best Pore Vacuums
The Best Hydrating Pore Vacuum
(opens in new tab)
BeautyBio GLOfacial Hydro-Infusion Pore Cleansing + Blue LED Clarifying Tool
"Our hydration facial pore cleansing tool is much more than the average pore vacuum. With most pore vacuums, you are only getting extractions. With a GLOfacial treatment, your skin is also simultaneously infused with the GLOfacial concentrate, which is packed with clarifying salicylic and plumping hyaluronic acid for a satisfying cleanse and pro-level results with every use," explains O'Banion. "The treatment tips are designed to provide gentle extractions and exfoliation, so it's perfect for all skin types. Skin is left velvety soft so makeup glides on like glass. It also has 415 nm blue LED to clarify skin. Remember a clean pore is a less noticeable pore. I recommend adding this game-changing tool to your skincare routine one to two times a week to maintain a healthy, hydrated glow."
Pros: Gentle; Infuses skin with hydrating and acne-fighting ingredients, contains LED light
Cons: Complicated instructions
The Best Microdermabrasion Pore Vacuum
(opens in new tab)
PMD Beauty Personal Microderm
This is as close to an in-office microdermabrasion treatment as you're going to get. "This product uses spinning disc technology and vacuum suction to both gently exfoliate skin and clean pores," explains Dr. Camp. In the end, your skin is going to be exfoliated, brighter, and prepped for product absorption. You can choose from three caps, which have varying levels of intensity, to customize how intense your blackhead-sucking treatment will be. That said, there's only one speed. If you're looking for a wider variety of options, check out the Elite version. (opens in new tab)
Pros: Derm-recommended; Customizable tips
Cons: One speed
The Best Ultrasonic Pore Vacuum
(opens in new tab)
Dermaflash Dermapore Ultrasonic Pore Extractor & Serum Infuser
You've heard the praise and read the rave reviews, but does this pore-busting product live up to the hype? The answer is yes, according to Dr. Camp. "This product does not use vacuum suction to clean pores. It uses ultrasonic vibrational technology to gently tease and push debris and oil out of clogged pores," he says. The swiveled spatula works in two modes: Extract and infuse. The extract mode pushes out gunk from your pores, like excess oil and blackheads, while the infuse mode penetrates products deeper into the skin, like your go-to serum or moisturizer, past the skin's barrier. The result is nearly invisible pores.
Pros: Derm-recommended; Multi-purpose; Easy to use and clean
Cons: Can be too intense if you press too hard
The Best Budget Pore Vacuum
(opens in new tab)
Spa Sciences Bella Wet/Dry Diamond Microdermabrasion & Pore Extraction
Don't let the affordable price tag fool you: This pore vacuum has a heck of a lot of fancy features. First and foremost, it has a diamond microdermasion tip to slough away dead skin cells, get rid of dry patches, and reveal fresher, glowier, and dewier skin. But that's just the start. There's also three speeds to choose from, as well as an alternate tip that really sucks out the gunk. Plus, it has an innovative wet feature that allows for a more refreshing and significantly less intense treatment.
Pros: Affordable, Safe for sensitive skin
Cons: Others are more powerful
The Sleek Pick
(opens in new tab)
Nurse Jamie Dermascrape Ultrasonic
This sleek white tool from Nurse Jamie is designed to clean your skin while unclogging your pores. It comes with three extremely easy to use features: Cleanse, enhance, and extract. The first is pretty self explanatory—just pair the setting with your favorite cleanser. The second setting should be used in tandem with your favorite skincare products; it'll help push the actives deeper into the skin. The third, while optional, is really where you'll get to work on your blackheads. And because there's no suction, you're less likely to irritate the skin—just start off with soft pressure.
Pros: User friendly; Multi-purpose
Cons: Expensive
The Gentlest Pore Vacuum
(opens in new tab)
Vanity Planet Exfora Microdermabrasion Wand
This microdermabrasion wand is designed to be gentle, so it's great if you have sensitive skin. In fact, you can use it every single night and still shouldn't have a problem. The customizable suction shape means that you won't feel it tugging on your skin—and you can opt for the softest setting. In addition to the blackhead-removing properties (the most important, obviously), you'll also experience an uptick in circulation and a boost in collagen production, both of which will give you a more youthful-looking complexion.
Pros: Good for sensitive skin; Customizable; Smart screen
Cons: Expensive
The Best Pore Vacuum for a Deep Cleanse
(opens in new tab)
Rodan + Fields Pore Cleansing MD System
This pore extractor features a targeted tip that's made for you to gently glide across the skin in circular motions for a deep cleanse and exfoliation. Just be careful to not work it across one area more than three times. It also comes with a blackhead tip that applies just the right amount of pressure to properly extract pimples. Start by incorporating this into your skincare routine once per week to reap the benefits.
Pros: Powerful; Deep cleaning
Cons: Expensive; Might be too harsh for some
The Best Travel-Size Pore Vacuum
(opens in new tab)
Microderm GLO Mini Blackhead Remover Pore Vacuum & Facial Tool
This device is actually the miniature version of the beloved Microderm GLO (opens in new tab)—an entry-level version without some of its add-ons (and its hefty price tag). With hundreds of five-star reviews, fans gush that this tool can replace costly in-office treatments. It comes with a blackhead suction tip, which can be set to three different speeds. That said, if you want more of a variety of tips, you'll have to purchase them separately.
Pros: Affordable; Easy to store; Gets rid of blackheads
Cons: Only one tip
The Best Pore Vacuum for Mature Skin
(opens in new tab)
This hefty tool has high-frequency vibration and several modes to serve specific ailments. Along with its cleanse and lift mode which gets rid of oil, dead cells, and debris, it also has an Ion+ and Ion- setting. Ion+ lifts unwanted oil and build-up from environmental elements. Ion- allows a deeper product penetration, so save your favorite serum for this. It also tightens sagging skin and promotes blood circulation for an extra plumped face.
Pros: Plumping; Good for mature skin
Cons: Not as powerful as other options
The Best Acne-Fighting Pore Vacuum
(opens in new tab)
Skin Gym Porie Pro Blackhead Remover Tool
This cute device comes from celebrity-loved brand Skin Gym, which specializes in tools that de-puff and firm your skin. This specific tool is designed, like majority on this list, to get rid of all the pore-clogging grossness that's made a home in your skin. It does that extremely effectively—and more. Most notably, it comes with and red and blue LED light, which can address concerns like fine lines, wrinkles, and acne.
Pros: Cute design; Red light and blue light
Cons: Might be irritating to some
The Most Powerful Pore Vacuum
(opens in new tab)
Hotsch Blackhead Remover Pore Vacuum
Get a deep clean with this skincare tool. The well-reviewed product offers three different powerful suction levels, and the LED screen makes it easy for you to select what you want. It gets to work removing everything from blackheads and whiteheads to dead skin and grease, leaving you fresh-faced. It comes with four tips, and three intensity levels, so you can truly customize your treatment. While it is one of the stronger pore vacuums, it does have a cold blue LED light to help soothe irritation.
Pros: Gives a deep clean; Great for whiteheads
Cons: Might be too powerful for some
The Best Customizable Pore Vacuum
(opens in new tab)
Zoe Ayla Blackhead Extractor and Pore Vacuum
If you're looking for a low-cost way to deep clean your skin right from your own home, check out this under-$40 device. This handy tool will get the job done and help you achieve a healthy-looking complexion. It comes with five heads, and a few focus on unclogging pores, while another is for gentle exfoliation, and the final one is for skin firming. Just make sure you keep the tool moving—not hovering—to avoid bruising or irritation.
Pros: Affordable; Customizable; Multi-benefit
Cons: T-zone setting is too strong for most
The Best Multi-Purpose Pore Vacuum
(opens in new tab)
Michael Todd Beauty Sonic Refresher Wet/Dry Sonic Microdermabrasion & Pore Extraction System with MicroMist Technology
This two-in-one device has both sonic microdermabrasion and pore extraction systems that'll help you get the firmer, radiant, and clean skin you desire. It includes a built-in micronized mister, three diamond microdermabrasion treatment heads, and three pore extraction tips. It'll leave your skin insanely soft when all is said and done. Your makeup will go on like a dream. You can keep the device charged and ready to go on your bathroom counter, thanks to the wireless charging cradle.
Pros: Multi-benefit; Customizable
Cons: Expensive
The Best Pore Vacuum With a Camera
(opens in new tab)
Prabensei Blackhead Remover Pore Vacuum
If you're all about pimple popping videos, this one is for you. It comes with a camera (you just sync it up to your phone), so you can see the pore vacuum sucking out your blackheads and whiteheads *really* closely. Seriously, you can enlarge the surface of your skin by up to 20 times. There are three suction heads to choose from and a range of intensities, so you can customize your treatment. That said, this baby is pretty powerful, so it's probably not best for super sensitive skin types.
Pros: Comes with a camera; Customizable
Cons: Can bruise sensitive skin
Meet the Experts
Jamie O'Banion is the CEO and founder of BeautyBio, a clean-clinical skincare brand focused on science-backed solutions. She was recently featured in Forbes as one of four female entrepreneurs to watch in their issue highlighting the most successful female entrepreneurs in America.
Brendan Camp, MD, is double board-certified in dermatology and dermatopathology and sees patients at MDCS Dermatology: Medical Dermatology & Cosmetic Surgery, which has locations in Upper East Side, Hampton Bays, Commack, Smithtown, Plainview, and Midtown East of Manhattan, New York. Patients have been coming to him for his expertise managing medical conditions like acne, rosacea, eczema, warts, psoriasis, moles, and skin cancer, as well as cosmetic concerns and treatments with Botox®, fillers, lasers, and other skin rejuvenation devices. Dr. Camp graduated with honors from Cornell University, earning a degree in biochemistry. As a medical student at SUNY Upstate Medical University in Syracuse, he participated in a one-year epidemiology fellowship at the Centers for Disease Control and Prevention (CDC) in Atlanta, Georgia, where he participated in viral outbreak investigations. He completed his internship in internal medicine at the University of Chicago and later completed additional residency training in dermatology at New York-Presbyterian Hospital/Weill Cornell Medical Center. He also completed a fellowship in dermatopathology at Memorial Sloan-Kettering Cancer Center in 2012. He has previously served as an assistant professor of dermatology at George Washington University School of Medicine and Health Sciences and worked in private practice just outside Washington DC in Northern Virginia. Dr. Camp is the author of several scientific articles that have been published in the Journal of the American Academy of Dermatology, the Journal of Cutaneous Pathology, and the Journal of Clinical Oncology. He has also presented at meetings of the American Academy of Dermatology, the American Society of Dermatopathology, and the Society for Investigative Dermatology. Additionally, he is a reviewer for the Journal of the American Academy of Dermatology Case Reports, a member of the Curriculum Task Force and previous member of the Public Education Committee of the American Academy of Dermatology, and a contributor to Men's Health magazine.