The 9 Best Dip Powder Nail Kits, According to Beauty Editors
Long-lasting, shiny, chip-free nails coming right up.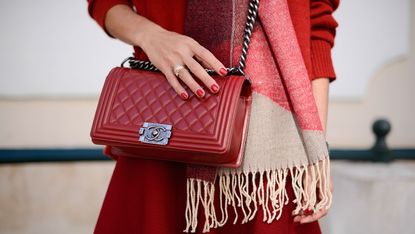 (Image credit: Getty Images, Vanni Bassetti)
Marie Claire Newsletter
Celebrity news, beauty, fashion advice, and fascinating features, delivered straight to your inbox!
Thank you for signing up to Marie Claire. You will receive a verification email shortly.
There was a problem. Please refresh the page and try again.
When I need a DIY alternative to a great manicure, dip powder nail kits are my go-to. If you're not familiar, dip powder manicures utilize finely milled powders, top coats, base coats, and adhesives to create a set of nails that lasts longer than a regular manicure and are just as durable as acrylics. While you certainly can go to the salon for a dip manicure, the best dip powder nail kits will come out just as well—and save you the damage.
Now don't get me wrong, an at-home dip manicure does require a bit of reading, patience, and trial and error—not to mention the process of removing your dip nails. But on the flip side, doing it at home is cost-effective, keeps your hands out of the LED light, and decreases your dry time by half. And yet, it gets better: "On average, the dip manicure is going to last you two to three weeks," says KISS global ambassador and nail artist Gina Edwards.
What to Look For in a Dip Powder Nail Kit
Powder Density
"Make sure the powder is fine," says Edwards. A finely milled powder is going to ensure that when all is said and done your nails don't feel—or look—too thick or heavy.
Color Selection
A handful of dip kits are going to come with one color and one color only, which is A-ok if you're a creature of habit. But if you find yourself switching things up on the regular, or like a little gradient action with your manicure, you might want to consider a more comprehensive dip nail kit.
Essential Tools
At a bare minimum, every dip kit should come with a handful of polish jars, including a base coat, an activator, and a top coat. Then, of course, you'll need the dip powder color. Anything after that, while appreciated, is extra. Your kit might also come with a dip powder remover or eraser, a nail file, or a cuticle clipper.
How to Apply
"Dip powders are made up of a polymer (powder) and Resin (glue) to create a bond on the nail which comes in a variety of colors," says Edwards. Here, she walks us through exactly how to create a salon-worthy dip manicure.
Apply the base coat to freshly buffed nails.
Dip your nails one by one into the pigmented nail powder container of your choice. Be sure to coat the nail evenly with the product.
Tap away or brush away the excess pigmented powder between each application for a smooth and even coat.
Repeat the dipping process on each nail for two rounds before coating your nails with a clear dip powder for more even layers. (Pro tip: "Don't over dip," says Edwards. "Twice should be sufficient but three times is fine as well. When you over dip and apply too much product it breaks down quickly and chips off.")
Using the activator polish, apply a generous coat and let it settle for two to four minutes.
After your nails dry, buff and gently file for a smooth finish.
Apply another coat of activator, and wait for two to four minutes again.
Once your nails are dry, seal the deal with the top coat and follow up with your favorite cuticle oil.
Best At-Home Dip Powder Nail Kits
The Best At-Home Dip Powder Nail Kit for Beginners
Gelish Mini Xpress Intro Kit
Gelish is what I get at the nail salon, so being able to have a little kit at home makes DIY manicures, or even touch-ups, feel truly professional. This set comes with a dip base coat, activator, top coat, and two shades—although you can always purchase additional powders separately (I'm all for having options). What sets this five-piece collection apart from the pack is its ability to actually strengthen your nails in the process. While some other powders or gel polish will leave your nails feeling brittle, these powders are infused with biotin and calcium to improve nail strength.
Pros: Promotes healthy nails; Lasts three weeks
Cons: Limited color options
The Best Luxe At-Home Dip Powder Nail Kit
Le Chat Professional French Dip Kit
Are you an acrylic girl through and through? This 11-piece dip kit is going to challenge your status quo. It gives the heavy-duty strength and long-lasting finish you know and love, but avoids the nail-weakening damage that comes along with fake nails. One of the best parts about this particular set is that it quite literally has everything you need. In addition to the polishes and powders (you'll receive four), you'll also get a cuticle oil, brush cleaner, and three dipping trays.
Pros: Contains everything you need; Lasts four weeks; Extra strong
Cons: Expensive
The Best Drugstore Dip Powder Nail Kit
Kiss Nails False Nails Salon Dip Set
If you want a good bang for you buck, look no further. For just $13, you'll get all the essentials for a natural looking nail that'll last up to two weeks and come off in a quick soak. There's the obvious necessities, along with a nail file, sponge, and stick so you can prep your nails to perfection. KISS also provides a handy, very detailed instruction guide to walk you through every single step. Edwards also gives this kit her stamp of approval, so you know it's the real deal.
Pros: Affordable; Easy to use; Nail artist-recommended
Cons: Doesn't last as long as others
The Best Long-Wear Dip Powder Nail Kit
Red Carpet Manicure Color Dip Starter Kit
Fact: Chipping a nail is not cute. This brand guarantees you won't have to deal with that for up to 21 days—and it doesn't get much better than that if I'm being completely honest. And when your three weeks are up? Grab the dip polish remover from your kit. Just be warned: You do have to buy the powder separately—but there's dozens of dozens of shades to choose from.
Pros: Long-lasting; No chipping; Affordable
Cons: Dip color not included
The Best Odor-Free Dip Powder Nail Kit
ASP Quick Dip Starter Kit
With a nail primer, base and top gel, two dip colors, gel activator, and a dipping bowl, this set equips you with everything you need to get a professional-grade manicure. Just prep your nails with a coarse nail file (this will help your polish stay on longer), and dip away. The best part? Unlike some other options, these polishes and powders don't have any harsh smell.
Pros: Great color selection—especially in pinks and nudes; easy to use
Cons: Doesn't last as long as others
The Best Dip Powder Nail Kit With a Large Shade Selection
Aikker Acrylic Dipping Powder Nail Starter Kit
This starter kit is a cost-friendly option for beginners—and it contains a massive color selection. It comes with eight options, six of which fall in the pink-to-white range, and two of which are glitter toppers (and perfect for the holiday season. You'll also have full access to four glues and one recycling tray for the dipping powder. According to rave reviews in the comments section, these shades are incredibly long-lasting and the kit is super simple to use so you'll feel like a pro in no time.
Pros: Long lasting; Wide color selection
Cons: Some report polish cracking at two weeks
The Best Vegan Dip Powder Nail Kit
The Nailboo kits are entirely vegan and cruelty free. What looks like a rather ornate collection of items is actually a comprehensive and easy-to-use kit for dip manis at home. The best part about this set however is that you're not locked in to a certain color collection—it's entirely customizable. You build your own set and choose your own colors from more than 50 options, so you aren't stuck with shades you'd never use. It also comes with little nail clamps that make removal a breeze.
Pros: Customizable; Clear instructions; Great shade selection
Cons: Slight scent
The Best Dip Powder Nail Kit for Weak Nails
Dipwell Dip Powder Nail Kit
The beauty of this kit is its nail-strengthening capabilities. Dipwell's dip powder system is free of questionable chemicals and is formulated with powerhouse ingredients like calcium to build up weak nail beds over time. So as long as you follow proper removal instructions, your nails will actually become stronger and healthier over time. The brand promises that each set will last you three to six (!!) weeks.
Pros: Strengthens nails; Long lasting
Cons: Slightly confusing instructions
The Best Dip Powder Nail Kit for Bold Shades
Honey Joy Fine Dipping Powder Kit
If red is your color, you just met your match. From deep bordeaux to cherry red, this set spans the spectrum of the cult classic color to take through the holiday season and beyond. Naturally, a little glitter, purple, and pink also made it into the mix. Just a note: You will need to purchase the base coat, top coat, and activator separately. That said, the powders are great quality and have amazing pigment payoff.
Pros: Great color selection; Vibrant
Cons: Some report chipping; polishes not included
Meet the Expert
Gina Edwards, a native New Yorker, first discovered her passion for nails during her studies as a psychology major to help pay for college expenses. It was there her personality shone, her eye for detail developed, and her love for nail art consumed her. Her clientele began to grow, she secured credits with top magazine and commercial clients, which led Gina into other areas of the industry. Gina has left her finishing touch on the nails of celebrities such as Taraji P Henson, Priyanka Chopra, Rosie Huntington Whiteley, Tiffany Haddish, Gigi & Bella Hadid, Demi Lovato, Rita Ora and Mary J. Blige. Her work has graced the covers of US Vogue, Italian Vogue, Vogue Japan, Allure, Harper's Bazaar, Elle Magazine. She has been the global brand ambassador for Kiss products for many years and has led numerous fashion shows from Calvin Klein, Rebecca Minkoff, Alice and Olivia & Burberry to name a few. Gina continues to collaborate and forecast nail trends with brands in the industry.
Celebrity news, beauty, fashion advice, and fascinating features, delivered straight to your inbox!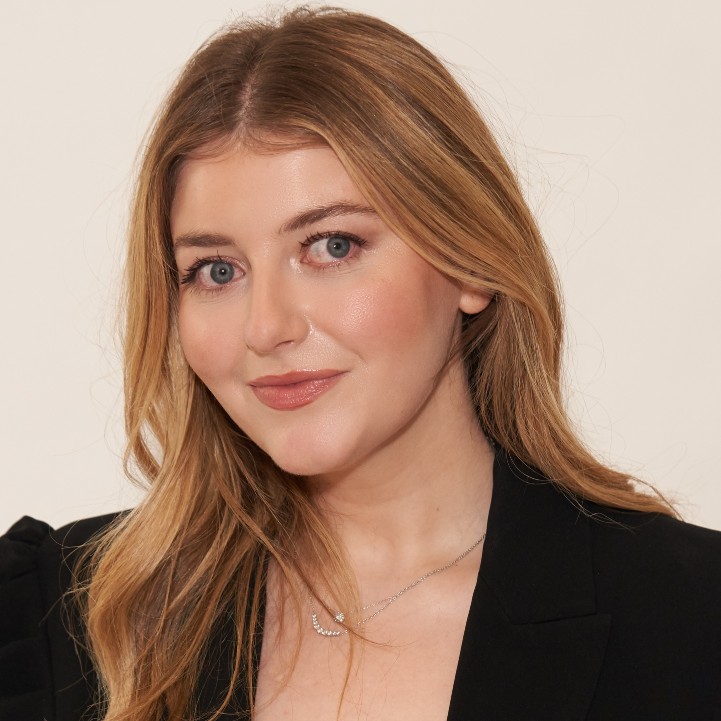 Samantha Holender is the Beauty Editor at Marie Claire, where she reports on the best new launches, dives into the science behind skincare, and keeps up with the latest trends in the beauty space. She has previously written for Us Weekly, Popsugar, Makeup.com, Skincare.com, and Philadelphia Wedding. Follow her on Instagram @samholender.