These 25 Silver Balayage Hair Looks Are Works of Art
Prepare to be obsessed.

(Image credit: Future)
Silver balayage is the popular older girl that younger you desperately wanted to be as a kid. The hue is cool but subtle, gets along with everyone (read: looks freakin' great on all hair types), and is easy to maintain a healthy relationship with, meaning you can go months without seeing your hairstylist and it'll still look like you just walked out of the salon doors. If you're unfamiliar with balayage, let me break it down for you: Unlike ombré, balayage is a longstanding pro colorist highlighting technique, and not a gradient of color (as Pinterest boards may have you believing). Trust me. I've been there. What happens is that your angel sent from heaven above (a.k.a. your colorist) hand-paints bleach onto your hair in a sweeping motion. This results in an incredibly stunning, heat-free dye job that requires little upkeep. There are tons of colors to choose from—browns, blondes, neon hues—but most recently, we've become obsessed with silver. It's just the right amount of cool-girl that the kids on TikTok praise, but simple enough to take into the office. But before you sit in the salon chair, check out these 25 seriously stunning silver balayage examples featuring all kinds of hair types, below. Here's to a new hair do.
This Face-Framing Highlights Silver Balayage
Bring even more attention to that gorgeous face of yours with some silver framing highlights. It's the perfect balance that can take you from work to a weekend brunch with ease.
This Straight Edge Silver Balayage
Sleek styles are never off-trend, and this blunt edge cut delivers on that promise. Feel free to blow-dry the ends with a curl brushing to add some drama.
This Undercover Silver Balayage
Going outside your comfort zone and picking a hue like silver can be scary. We get it! If you want to ease into it, opt for a barely-there tint, as seen here, to help you decide if you're going all-in in the future.
This Unbelievably Gorgeous Silver Blend
You don't have to give up your dark roots when transitioning to silver. This blend lets your roots hang for a bit without being the main focus.
This Pop of Color Silver Balayage
When we say every hair type, we mean it. Just look at how gorgeous this curly style is with the streaks of silvery blonde throughout.
This Smoky All Over Silver Balayage
If you're worried your silver balayage might be too light for your liking, tell your stylist you're looking for something smokier, like this look pictured here.
This Blonde Layered Silver Balayage
In the midst of all your soon-to-be gorgeous blonde layers, add hints of silver. It'll look like you're a platinum blonde, and only you will know the hidden secret.
This Subtle Ends Silver Balayage
Dark-haired girls can jump in on this trend too—don't fret! Ask for a light tint at your ends to create a gorgeous transitioning effect.
This Tousled Layers Silver Balayage
You can see the power of good layers here with this tousled short haircut. It has me suddenly wanting to give myself a quick cut at home.
This Two-Shade Silver Balayage
Bright colors like this neon purple aren't for everyone, I'll admit. But if you decide to take the plunge and combine it with silver, the results will be seriously stunning.
This Stickin' to Your Roots Silver Balayage
Just because you're buying a one-way ticket to silver balayage doesn't mean you can't represent your original roots. Whether you have dark or light roots, silver blends beautifully with whatever color.
This Coily Silver Balayage
This two-toned style is next-level stunning. The mixture of ashy blonde with silver leaves a result we can't wait to show to our stylist.
This Smoke-Out Silver Balayage
Give your dark brown hair some extra depth with silver balayage on the ends to create the illusion of smoke going out. Who knew you could be so indie?
This Metallic Wonder Blue Silver Balayage
This perfectly icy look with silver and blue shades is #goals. The beachy waves give it an ultra soft and glam result we're ready to add to our hair inspo Pinterest boards.
This Barely-There Silver Balayage
Go for your regular dye job with bits of silver underneath and on the ends—it looks amazing with beachy waves or styled pin-straight.
This Dark Ash Silver Balayage
Ashy platinum blonde is the superior dye job, and with hints of silver peeking out at the ends, we're totally crushing on this style.
This Curly Cool Silver Balayage
A dye job as stylish as this deserves a luscious head of curls to match. The borderline blondish silver roots at the top are a nice touch, too.
This Stormy Silver Balayage
This color combination of grey with silver for this wavy style deserves an A+ in teamwork because I can't get over how gorgeous her hair looks!
This Ashy Brown Silver Balayage
Dip your toe into the wonderful pool that is silver balayage with this crossover. I's so into the subtle hints of silver and light brown throughout.
This Icy Silver Balayage
These striking waves have hints of platinum blonde at certain points and are giving me some major hair envy. They're also a great reminder that going blonde can work on all shades.
This Ghostly Blue Silver Balayage
Commitment-phobes have no fear: You can get in some silver locks without spending hours in the salon chair. Here, this client had been dyeing her hair black for years, so the stylist added dyed-silver hair extensions. I'm seriously in love with the results.
This Pastel Silver Balayage
Pastels aren't just for spring anymore. Adding them in with hints of silver creates the perfect amount of edge without going overboard.
This Borderline Blonde Silver Balayage
Take what you love about your platinum blonde highlights and do it up a notch with silver balayage ends. Chances are, you'll get all kinds of love on Instagram.
This Bangin' Silver Balayage
Signature cuts like wispy bangs need a little spice every now and then. Brighten up your canvas by making this shimmery hair color a new addition.
This Partial Silver Balayage
The best part about a silver balayage is all the cool undertones that are possible. I'm talking hints of blue, pinks, and purples that can give your silver even more depth.
Celebrity news, beauty, fashion advice, and fascinating features, delivered straight to your inbox!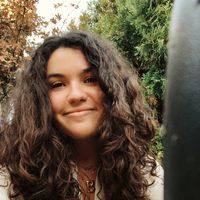 Bianca Rodriguez is the Fashion & Luxury Commerce Manager at Hearst Magazines, covering fashion, beauty, and more for Cosmopolitan, Elle, Esquire, Harper's BAZAAR, and Town & Country. She likes lounging about with a good book and thinks a closet without platform sneakers is a travesty.