TikTok Has Become the Official App of Skincare Truthers
Dermatologists are flocking to the app to debunk skincare 'fake news.'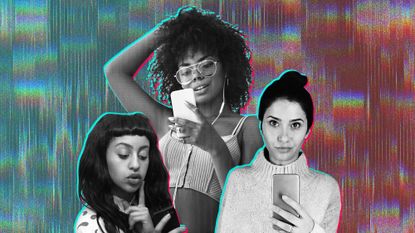 (Image credit: MORGAN MCMULLEN)
Marie Claire Newsletter
Celebrity news, beauty, fashion advice, and fascinating features, delivered straight to your inbox!
Thank you for signing up to Marie Claire. You will receive a verification email shortly.
There was a problem. Please refresh the page and try again.
For years, I wrote off TikTok as 'the sing-along app.' Having worked at Snapchat, I was required to do a certain level of recon on anything that interested teens. After five minutes of Disney lip syncs, I felt like a voyeuristic Methuselah. Scared I'd eventually get an "Ok Boomer" push notification, I archived the app and designated it in my mind as something for young people that enjoy choreography. I don't sing and I don't dance so, I figured, I didn't need an app that highlighted these skills. It wasn't until recently when a friend told me that there was a community of dermatologists using TikTok to educate the masses that I got off my proverbial lawn and back into the infinite scroll.
For the uninitiated, TikTok isn't like other social apps—you don't need to follow anyone to see content, so there's no pressure to create; endless scrolling is encouraged. Unlike Snapchat, which emphasizes content creation by opening with a camera, or Instagram, where you need to follow people to generate your main feed, TikTok takes a page from streaming platforms. Upon opening the app, you're thrown into a "For You" page that auto-advances through content faster than Netflix with zero chill. This makes it extremely effective at keeping you captivated: think 14 year olds dancing, chefs cooking recipes, memes you'll send to your increasingly annoyed text thread, and, surprisingly, a growing community of dermatologists.
Wanting some control over my algorithm, I decided to look for doctors, chemists, and estheticians. I dove into TikTok's endless personalized scroll knowing that every time I'd engage with skincare content, more posts about pores would populate. What I found was experts debunking skincare trends better than Reddit's hallowed Skincare Addiction. Followed by only four other users and curious as to how I could use TikTok's editing tools, I decided I would test filming a few things. This was a mistake.
Within a week, I had racked up more than 400,000 views and a lot of "thank you"s and "eff you"s regarding my retinol journey, Bon Appetit's lemon brown butter pasta, and a video explaining the low molecular weight hyaluronic acid. This last piece was my first skincare video, and while I was half joking with the title (I don't actually think hyaluronic acid universally ruins skin), it's how I learned there is no such thing as "test content" on TikTok. Anything can blow up depending on the blend of timing, trends, and hashtags you use. It's for this reason that a growing community of dermatologists are making TikTok their platform of choice.
I first discovered Idaho-based dermatologist Dustin Portela (@208skindoc) when I saw him "duet" with another TikTok user. (Dueting is when you post your own reaction to a video posted by another user.) In this video, he called out an influencer who didn't fully understand the difference between cetyl alcohol and denatured alcohol (one is fatty and in most skincare products, the other can dry out and irritate skin). In a modern skincare world populated by an overwhelming amount of questionable advice and #ads, being privy to Dr. Portela's viewpoint was like entering a secret derm group text. I've seen doctors bemoan influencer culture and the irrational cult of clean beauty before, but this unfiltered correction was raw, direct, and more entertaining than tempered versions I'd seen on Instagram. Was this what accountability on a social media platform looked like?
"Instagram remains a highly curated platform; TikTok is off the cuff," Dr. Portela explains. Considering Instagram can at times feel like an aesthetic LinkedIn, it was a surprise to see Dr. Portela on TikTok in a wig made out of paper towels to playfully spoof influencers shilling expensive skincare across platforms. Recognizing the app's potential to reach people with humor and personality injected into education, he's taught thousands of teens (and this 33 year old) how to take better care of their skin. As someone who writes about beauty and is in the early stages of getting my esthetician's license, seeing science go viral is refreshing. Observing dermatologists have very human reactions to influencers praising essential oils while bemoaning parabens feels like vindication. Where other platforms rarely hold creators accountable, watching doctors clarify what's scientifically sound and what's marketing speak in such a scalable and public way feels apropos in the age of COVID-19 conspiracy theories.
Dr. Joyce Park (@teawithmd), another dermatologist on TikTok, credits this kind of engagement as why she finally joined the app. While Instagram shows you curated content from people you follow, TikTok feeds you never ending content that's based, in theory, on what you like. After five years on Instagram, Dr. Park has around 45,000 followers; just two months since joining TikTok, Dr. Park has more than 122,000 followers. Unlike myself and Dr. Portela, the dancing is what first attracted Dr. Park to the platform, she just makes sure to teach people skincare tricks and debunk myths along the way.
I still have my reservations about TikTok. While it's a perfect content vortex to get sucked into, I'm nervous about how my information will be used and how I might be participating in an app that, according to a report by The Intercept, actively censors the poor, disabled and "ugly" people in a quest to drive more downloads. That's a dark and dystopian corporate charter. That said, in a world in which most influencers dwarf the followings of doctors and scientists, the accountability I see on TikTok is refreshing. How I frame content, making sure it's clear where and how I source my information, is different from how I normally create content on other platforms. Also, it was nice to see content based on facts and science go viral, even if it's just for the "youth."

For more stories like this, including celebrity news, beauty and fashion advice, savvy political commentary, and fascinating features, sign up for the Marie Claire newsletter.
RELATED STORIES
Celebrity news, beauty, fashion advice, and fascinating features, delivered straight to your inbox!
Charlotte Palermino is the co-founder of Nice Paper and is a freelance beauty and food writer based in Brooklyn. Obsessed with carbs and a sharp cat-eye, she was formerly the editorial development lead at Snap Inc., and prior to that an associate director at Hearst Digital Media where she ate a lot pizza.