The 17 Best Eye Creams to Try In 2023
Find your perfect match.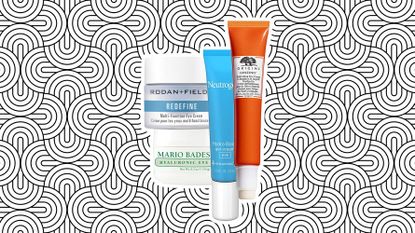 (Image credit: walmart.com, sephora.com, ulta.com, rodanandfields.com)
Marie Claire Newsletter
Celebrity news, beauty, fashion advice, and fascinating features, delivered straight to your inbox!
Thank you for signing up to Marie Claire. You will receive a verification email shortly.
There was a problem. Please refresh the page and try again.
Eye cream feels so adult! And yet, if you ask dermatologists, the sooner you start a grown-up skincare routine—which includes SPF, daily cleansing, a nighttime treatment, and yes, eye cream—the better off your complexion will be today, tomorrow, and every day in the future. If the past year has given you decision fatigue (among all the other kinds of fatigue), good news: We've combed the market, tapped experts, and read countless reviews to find the very best eye creams on the market today.
When looking for an eye cream, consider first what exactly you need. Go for thicker ones that have ingredients like shea butter or glycerin if you find that the delicate skin around your eyes tends to get roughy or patchy. If your skin tends to be itchy or reactive—and the dermis around your eyes is biologically the most sensitive—neutral oils like avocado or grape seed might be a good bet. And of course, hyaluronic acid is a solid idea for most anyone.
Then, start thinking about other concerns you want to address. Soothing anti-inflammatory ingredients can help minimize redness around your eyes, and skin brighteners like vitamin C may address dark marks caused by sun damage. And anti-aging ingredients like retinol, niacinamide, and other workhorses can help to downplay wrinkles and re-establish strong, taut skin structures.
You'll also want to consider your budget. Price isn't indicative of quality, but do keep in mind that a little eye cream goes along way—most derms suggest tapping the tiniest amount both above and below the eye with your ring finger. Which is to say: If you want to splurge, you'll likely be able to enjoy your spoils for quite some time. Ahead, our definitive guide to the best eye creams around.
1/17
Retinol Correxion Eye Cream
Best Retinol Pick
Shoutout to the brand I've been using since my twenties, which figured out how to 1. Package retinol in a way that wouldn't irritate the eyes and 2. Sell it at a price that twentysomethings can afford. This does have a slight fragrance, but I find it non-irritating to my skin.
2/17
Creamy Eye Treatment with Avocado
For Dehydrated Skin
The satisfying texture and color of this avocado-oil based cream is just a side benefit of one of the more deeply hydrating creams on this list. It's especially effective if deep moisturization is your primary goal.
3/17
Hydro Boost Eye Cream
For Smoothing Skin
Gel-like formulations aren't just fun and Jell-O-reminiscent. They're also the quickest topicals to absorb, thanks to their high water content. Here, a generous dose of hyaluronic acid soaks-in on impact in this oil, dye, and fragrance-free winner.
4/17
Anti-Wrinkle Firming Moisturizing Filler
For Sensitive Skin
As you review this list, you'll see a lot of repeat ingredients—and for good reason. (They work.) This one makes use of a few novel players, among them neurosensine, an anti-inflammatory and madecassoside, a deep wrinkle filler, alongside old standbys brightening vitamin C and water-mongering hyaluronic acid.
5/17
Intensive Eye Repair
Most Intense
Phytonutrients—a fancy word for plant-based chemicals, antioxidants and botanicals diminish fine lines in this highly effective, almost Rx-grade formulation. (It's also a longtime bestseller on Amazon.)
6/17
All About Eyes Cream
For Dark Circles
This clean, gel-like cream has been plumping up lines for more than a quarter century. It's non-reactive, simple, and highly effective at getting the job done. So it's your mom's eye cream, and in this case, that's a good thing.
7/17
Ultimate Eye Cream
For Fine Lines
A pigmented cream works with niacinamide and peptides to conceal dark circles you may have on nearly any skin tone, and minimize future lines and puffiness from taking hold.
8/17
Génifique Eye Cream
For Anti-Aging
Here's another with intriguing ingredients that actually work—most notably bio-lysat, an active bacteria that the company says stimulates the genes that repair damaged or degraded skin, and buckwheat wax, which brightens and deflates poufed bags. It's like sourdough starter, but for your eyes!
9/17
Refreshing Eye Cream to Brighten and Depuff
For Brightness
What if the puffed, sagging, and tired skin around your eyes could have a double shot (or a matcha, or an oatmilk Americano) every morning? It kind of can, with this caffeine and ginseng wonder that encourages zonked skin to hop to.
10/17
Wrinkle Smoothing Eye Cream
Most Moisturizing
Botanicals backed by science? Count us in. Green brown and red algae slow wrinkle formation as a blend of extracts (mukurossi, chlorella gambir, turmeric) help conceal the appearance of those already formed. A peptide complex highlights the skin's softness and enhances elasticity.
11/17
Anti-Wrinkle + Firming Eye Cream Treatment
For Delicate Skin
A gentle form of retinyl palmitate absorbs readily into the delicate skin of the eyes without leaving them inflamed, as centella asiatica, a herbaceous Indian plant, enhances cell turnover and boosts collagen production.
12/17
Pro-Collagen Advanced Eye Treatment
For Natural Enthusiasts
If you're looking for a natural-based option that works, Elemis, with its padina pavonica and blue flower lindseed extract, might just be for you. The natural amino acids and humectants leave eyes quenched and softened.
13/17
Resurgance Renewing Eye Cream .5 oz
For All-Over Benefits
A single pump of this clean-smelling wonder delivers brightening satsuma extract and the wrinkling and puffiness reducing effects of a vitamin A adjacent. Wild yam and soybean work to firm and hydrate.
14/17
Lift & Luminate Triple Action Eye Cream
For Bright Eyes
You don't have to travel across the pond—and also you really can't, whoops—to enjoy the British benefits of this brightening cream. Ceramides and peptides team up to cinch up vessels, pushing dark pigments away from the eye area.
15/17
Q10 Power Anti-Wrinkle + Firming Eye Cream
For Skin Boosting
In this range—there's also a body and face cream—Nivea pairs creatine, a naturally-occurring skin compound that works to enhance your body's energetic effects, with the antioxidant coenzyme Q10. The result is a highly effective cream that leaves skin replenished and operating at 100.
16/17
Hyaluronic Eye Cream
For All Skin Types
Hyaluronic acid is everywhere right now, and for good reason. Allow this simple, straightforward formulation to be your go-to dose of the deeply effective humectant.
17/17
Multi-Function Eye Cream
For Firming and Shaping
A few key botanicals—grape and daisy flower extract—plus proven vitamins C +F work to strengthen the bonds between skin cells, meaning any complexion laxity is tightened up. You'll also appreciate some moderate brightening and overall hydration.
Celebrity news, beauty, fashion advice, and fascinating features, delivered straight to your inbox!
Hannah Morrill is a writer and editor based in Portland, Maine. She's an avid reader, an indifferent face-washer and a sunscreen/retinol evangelist.