The 10 Best Hair Dryer Brushes in 2023
Is it a brush? Is it a blow dryer? It's both!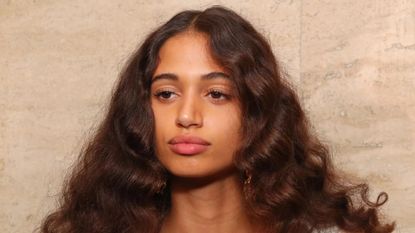 (Image credit: Astrid Stawiarz/Getty Images)
Let it be known that I am no hair pro. Yes, I've invested in the best blow dryer for my hair. Yes, I've watched countless tutorials on how to blow dry hair to achieve a bouncy '90s-era blowout. And yet, somehow, I can't get the effect of a professional blow-dry with just a hair brush and a dryer. Hope is not lost for me, though—because I can just use a hair dryer brush for the same effect. Which brings me to: Marie Clarie's definitive list of the best hair dryer brushes that are going to make styling my (and your!) hair a little easier.
When to Use a Hair Dryer Brush
Allow me to make the case for adding this shiny new tool to your repertoire. Hair dryer brushes are great if you're looking to add volume, cut both your drying and styling time in half, and achieve a shiny, finished look—or just trying to figure out how to blow dry your hair at home. Using a traditional round brush can take a long time (and can cause your arm to hurt in the process if you have a lot of hair), and hair dryer brushes are designed to make a blowout more achievable.
How to Use a Hair Dryer Brush
As with any hot tool, using a hair dryer bush requires some know-how. Just because I had to fumble around in the proverbial dark to master my own skills doesn't mean you have to. Ahead, I turned to the experts to break down exactly what you should do once you bring a hair dryer brush home.
How Wet Should Your Hair Be?
If you've been on TikTok at all over the last few years, you've no doubt seen videos of users advising you not to use your hair dryer brush on fresh-from-the-shower hair. They were right. "First make sure your hair is not soaking wet," says celebrity stylist David Lopez, who has worked with Ashley Graham and Hailey Bieber. "It's best to have it very towel dried, at least 50 percent air dried—meaning water is not dripping from it, but it's still pretty wet."
Their best pro tip before you start out? "The frizzier your hair is, the more wet you want your hair to be when you begin," they say. If volume is your ultimate goal, either rough dry your hair first or let your hair dry completely before you use the device.
Proper Hair Dry Brush Technique
To get the most out of your hair dryer brush, follow Lopez's lead. "Use it the same way a pro stylist would use a round brush and blow dryer," they say. "Take nice, clean sections, and smooth each section out, wrap the hair once around the barrel and then slowly work the brush down the section with tension. Then when you get to the end, really roll the ends around the brush as you are heating it up to get a really smooth bouncy finish. If you want you can roll it back up to the base and let it sit there for a second to get a bit more bounce out of it."
How We Chose the Best Hair Dryer Brushes
There are a few key details that separate the best hair dryer brushes from other options on the market. (Trust me—I'm an E-Commerce Editor who shops for a living and is only here to recommend the best products.)
Weight: If a round brush and blow dryer are too heavy, you're going to want to invest in a hair dryer brush that's lightweight. Especially if you have longer hair or thicker hair, you're going to be holding the tool for a few minutes at a time. (Most of the tools on this list are some of the lightest brushes on the market.)
Heat Settings: As with any hot tool, you're going to want a hair dryer brush that doesn't get too hot but still has a good variety of heat settings, plus a cool shot to set your style. The majority of the options on this list have the classic three settings, while some have more. This will allow you to customize your drying routine based on your hair type, curl pattern, hair texture, and more, without exposing it to too much heat. Let me use this time to remind you to invest in a great heat protectant product.
Barrel Size and Shape: Hair dryer brush barrels (try saying that five times fast!) come in all shapes and sizes, and each one gives you a different look. Traditional round barrels are great for giving defined curls. The smaller the barrel, the tighter the finished curl will be. Oval-shaped barrels are great for providing bend to the hair and giving a boost of volume higher up on the hair shaft.
Shop Deals on Hair Dryer Brushes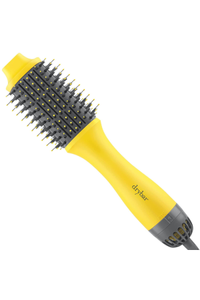 Drybar Double Shot Oval Blow-Dryer Brush, $154 $132 at Amazon
E-Commerce Editor Julia Marzovilla loves this blow dryer brush from Drybar because it has made every single haircut she's ever had—from a French bob to grown-out curtain bangs—look amazing. Shop it for $22 off right now at Amazon.
The Best Hair Dryer Brushes
Best Rotating Hair Dryer Brush
BaBylissPRO Nano Titanium Hot Air Brush
Now you never have to worry about correctly rotating your wrists while you attempt to give yourself an at-home blowout. The brush on this blow dryer from BaByliss spins on its own, so you won't have to move a muscle. The ceramic heat protects your hair from damage, while iconic technology keeps your hair looking frizz-free after you style. This tool also has three temperature settings and weighs 1.72 pounds, so it's super lightweight.
Pros: Has a rotating brush; Lightweight; Has three heat settings; Uses ion technology; Ceramic heat fights damage.
Cons: Some reviewers say it has a learning curve; Some reviewers say it doesn't reach the root.
Customer Review: "It may have a learning curve, but this tool is well worth it. The brush with its soft and seemingly splayed bristles keeps your hair from tangling on the tool. My hair looks soft, fluffy, and well styled." — Walmart
Best Pricey Hair Dryer Brush
Dyson Special Edition Airwrap™ Multi-Styler Complete Long
The attachments on this updated version of the original, best-selling Dyson Airwrap is officially beauty-editor approved."The Dyson round brush attachment is by far the best attachment—don't fight me on it. It gives me next-level volume (at the root too) and creates such an effortless blowout," says Beauty Editor Samantha Holender. "It can take a minute to get a hang of, but once you master the twist-and-pull motion, you'll be left with bouncy, gorgeous curls that last all day."
Best Thin Hair Dryer Brush
REVLON One-Step Volumizer PLUS 2.0 Hair Dryer and Hot Air Brush
"I, too, got sucked into the Revlon One-Step Volumizer craze thanks to TikTok, but the 2.0 version took everything about the original and perfected it. Firstly, it has a rounder and much smaller barrel, meaning it's easier to handle. It also added another heat setting so I no longer feel like my hair is frying with every brush through, plus, the head detaches now for better storage. It definitely feels like an upgrade in every sense of the word, not to mention it actually gives my hair volume." — Brooke Knappenberger, Editorial Fellow
Pros: Editor-approved; Good for volume; Has a smaller barrel; The head detaches from the body of the tool for storage.
Cons: Some reviewers say the brush gets too hot.
Customer Review: "This is one of the absolute best hair dryers I've ever used. I have thick, curly hair and it blows it out smooth in a fraction of the time. This is my second hair dryer brush by Revlon. I purchased the original one a while back, however, after using both, I prefer the 2.0 (this one). I definitely recommend buying this! You won't be disappointed." — Amazon
Best Hair Dryer Brush for Bounce
Drybar Double Shot Oval Blow-Dryer Brush
"I currently own this hair dryer brush from Drybar and I've loved it, no matter my hair length. My hair is currently in that tricky in-between stage that hits just above my shoulders, and this is great to give it a little bit more shape while it grows out. I rough dry my hair with a regular drying brush until it's roughly 80 percent dry and then go in with the Drybar Doubleshot to add volume at the roots and add a little flick at the ends. Think: Lucia from The White Lotus but not as pronounced." — Julia Marzovilla E-Commerce Editor
Pros: Editor-approved; Good for most hair lengths; Great for volume; Heats up quickly.
Cons: Some reviewers found it too heavy.
Customer Review: "I LOVE my Drybar Double Shot Blow Dryer. I use it almost daily. After washing my hair it blow dries quickly, while also straightening and eliminating frizz. I have fine, but thick hair that usually takes a long time to dry, but with the double shot blow dryer, it probably takes me half the time to do in the morning. With my fine hair texture, it tangles very easily, so this was a concern for me. Not once has my hair tangled while using the dryer. I also use this to refresh my hair in between washes. This dryer is also light weight and easy to use." — Amazon
Best Viral Hair Dryer Brush
Shark Beauty Shark FlexStyle™ Hair Blow Dryer & Multi-Styler for Straight & Wavy Hair
This new-to-market hair dryer brush from Shark is making waves all over social media because it claims to provide both volume and sleekness for all hair types. The nearly-$300 device comes complete with four styling attachments—two brushes, a concentrator, and an extra barrel—for a versatile finished look. Plus, it's lightweight at just 1.5 lbs. Better yet, the arm of the device itself snaps to a 90-degree angle that makes styling the back and undersides of your hair a breeze.
Pros: Comes with several styling attachments including brushes, concentrator, and more; Good for all hair types; Top-rated.
Cons: Some reviewers say it comes with a learning curve.
Customer Review: "This product is amazing!! I did my hair on Saturday and it's lasted till Wednesday. No other hair product has been able to do that for me!! It helps so much with frizz as well and the blow dryer works great!" — Sephora
Best Hair Dryer Brush for A Smooth Finish
Hot Tools 24K Gold Charcoal Infused One-Step Blowout
Gold is a incredible conductor of heat, so expect this 24-karat blow dryer brush from Hot Tools to warm up in seconds. This brush even comes with charcoal-infused bristles, so it's great for second-day hair. It's designed with a heat-resistant base and tip that won't burn your hands whenever you touch them as you style, and the oval-shaped brush makes for a smoother finish rather than a curled one. So, if you're looking for a blow dryer brush that will give you an all-over smooth look with flipped-out ends rather than complete curls, this one's for you.
Pros: Great for a smooth finish; Heats up quickly; Has a heat-resistant top and handle.
Cons: Not great if you're looking for perfectly-curled ends.
Customer Review: "What an amazing product! It is so easy to maneuver and it left my hair feeling soft. I have long and thick hair, so the size was perfect. I used it when my hair was a bit more wet than damped, and after about three swipes, it instantly looked salon-quality with great volume! My hair did not get tangled whatsoever with the brush bristles as it used to with a regular round brush, and it brushed through effortlessly with no pulling on the hair. It does make noise like a regular blow dryer, but it's way less loud than your typical blow dryer. My hands did not get tired like they used to when I would blow dry my hair with a regular blow dryer, so it really is perfect for everyday use. I also like that it has an extra heat setting ("medium") for when your hair is already dry but want to retouch the ends. The oval shape also really does capture your roots, so I did not need to go back and dry them off with another dryer." — Ulta
Best Celebrity Stylist-Approved Hair Dryer Brush
T3 AireBrush Duo Interchangeable Hot Air Blow Dry Brush
This fancy-looking white hair dryer brush from T3 comes with two different heads for two different styling opportunities. The rounder brush option delivers bounce, while the flat brush one will give you a smoother finished look. This tool is also celebrity stylist-approved. "The Airbrush Duo from T3 is awesome just because it does have two attachments, a paddle brush for general smoothing and a round brush attachment if you want to create more of a blow-dry finish," says Lopez.
Pros: Stylist-approved; Has two interchangeable heads; Has 15 heat and speed combinations; Increases shine; Gentle on fine hair.
Cons: Some reviewers say the handle is too big for their hands.
Customer Review: "I got this because I was looking for something to round brush my hair since I'm not coordinated enough to do it myself rather than blow dry my hair and flat ironing it. I didn't have high hopes since I have thick, wavy hair and lots of it but was pleasantly surprised when I tried this. My hair is shiny and straight with volume. It doesn't feel frazzled and over heated the way it does after I flat iron. I didn't have to use a flat iron after which was my goal. I did have to blow dry to 80% with a traditional dryer which was recommended, although, if you don't have a lot of hair, or you have thin hair, you might be able to get away with not doing that. I also had to section my hair and straighten it that way with the AireBrush the way I would with a flat iron. It didn't reduce the time it took to do my hair but I definitely got the result I wanted. I would recommend this for anyone looking for that just stepped out of the salon with a blow out look and isn't coordinated enough to do it themselves like me." — Sephora
Best Hair Dryer Brush for Maximum Volume
L'ange Hair Le Volume 2-in-1 Volumizing Brush Dryer
If you're dying to achieve bombshell-level volume from the comfort of your own home, the L'Ange brush hair dryer has you covered. With three heat settings, including a cold air shot that sets your style, this hair dryer brush cuts down on your styling time and leaves you with enough bounce to make a Victoria Secret angel jealous. The barrel measures nearly three inches in diameter for a blown-out voluminous look that will last hours, but it's made to be lightweight enough to not hurt your hand as you go.
Pros: Has three heat settings; Has an LED indicator light; Has a nine-foot chord, good for volume.
Cons: The larger size won't give you defined curls.
Customer Review: "Every time I use this people think that I just had a blow out. Easy to use and bristles are perfect for thick hair." — Ulta
The Best Big Hair Dryer Brush
REVLON One-Step Hair Dryer And Volumizer Hot Air Brush
With more than glowing 260,000 five-star reviews (and counting!) on Amazon, the original version of the mega-popular hair dryer brush from Revlon has rightfully earned its spot as one of the most beloved tools on the internet for creating easy, voluminous waves. Its unique oval shape allows for those with super thick hair to dry easily without the hassle of having to maneuver multiple tools. It has three heat settings with a cool shot button to secure your style in place after you're finished.
Pros: Top-rated; Has three heat settings; Great for volume; Good for most hair types.
Cons: Some reviewers say it gets too hot.
Customer Review: "I didn't realize how good this was until I started to use myself. My hair looks healthier and and more controlled. It doesn't have that frizzy hair dryer blown look. I can't get enough use out of this. Definitely need to get one if you don't have one already." — Amazon
Best 4-in-1 Hair Dryer Brush
CHI Volumizer 4-in-1 Blowout Brush
If you're looking for a one-size-fits-all hair dryer brush that's great at achieving every look in your Instagram saved folder, the CHI Blowout Brush has you covered. It comes with several different attachments such as a paddle brush, an oval brush, a nozzle concentrator, and a diffuser, so almost every single hairstyle imaginable is at your fingertips. Plus, the ion generator inside the machine emits enough negative ions to stop frizz before it starts. Plus, the smaller diffuser head is great for boosting volume at the root without static.
Pros: Comes with multiple attachments; Good for volume; Good for shine; Good for smooth styles; Fights frizz; Lightweight; The style lasts days; Good for curly hair.
Cons: Some reviewers found it difficult to change heat settings as they style.
Customer Review: "I have used everything to get more volume in my fine, thinning hair. I have used rollers, round brush, thickening gel. You name it, I've tried it and nothing worked until I tried this. It is unbelievable how much volume I get just from the diffuser alone! Plus it even looks good on day two." — Ulta
Meet The Expert
David Lopez is a top fashion & celebrity hairstylist and Beauty Expert based in New York City. Originally from the island of Puerto Rico, David's childhood was spent living in many different cities across the globe, inspiring an inclusive, open-minded approach to his future. Equally comfortable in front of the camera as they are behind the chair, David provides commentary on today's trending styles for a variety of media outlets including PEOPLE Magazine, Glamour, Harper's Bazaar, Elle, Essence, Self, WWD, Vogue, and New York Times. David is also a creative consultant and product developer for various beauty brands which includes roles as Creative Director for Glam Seamless Hair Extensions, Artistic Ambassador for Kenra Professional and T3, and a part of the Ulta Beauty Pro Team. Recent projects include work with Chrissy Teigen, Ashley Graham, Nikkie de Jager, Kristin Stewart, Ava Max, and Hailey Bieber. As a content creator, David blends their expertise in hair with their mission of de-genderizing the beauty and self care space, using their Instagram platform to offer advice on how to keep all aspects of your life beautiful. From skin and hair to makeup and self-care, and everything in between- @davidlopezzz is a "feel good" space for inclusive beauty. When not on set or with a celebrity, David can be seen hosting on QVC, on professional hair trade show stages, and numerous other entertainment television segments dishing out his style secrets.
Julia Marzovilla is the E-Commerce Editor at Marie Claire, where she covers everything from the latest beauty and fashion launches and sales to celebrity outfits and news. She also creates shopping guides that span every vertical on the site. Prior to joining the Marie Claire team, she contributed similar shopping stories to sites such as Bustle, InStyle, The Zoe Report, Who What Wear, and STYLECASTER. In her spare time, Julia can be found creating shopping guides for all of her friends, spending too much money on yet another pair of black boots, and cooking in her far-too-small kitchen.