Yes, The Dyson Airwrap Is Worth All Your Money
You might stop hitting the salon.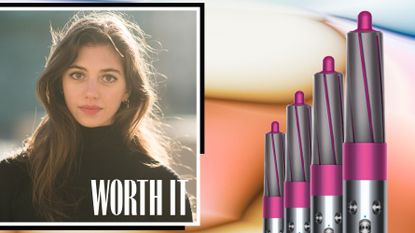 (Image credit: Edward Berthelot)
Marie Claire Newsletter
Celebrity news, beauty, fashion advice, and fascinating features, delivered straight to your inbox!
Thank you for signing up to Marie Claire. You will receive a verification email shortly.
There was a problem. Please refresh the page and try again.
Welcome back to Worth It, a bi-weekly breakdown of the new beauty products I've tested and adored: I'm talking that drain-it-to-the-bottom-and-tell-my-friends-I've-found-The-One kind of love. If it's featured here, consider this my permission to splurge on it. Read on for the product you don't want to live without, and catch up on the latest Worth It breakdown here.
---
THE PROMISE
Ah, the infamous Dyson Airwrap. This dryer/styler hybrid has been the darling of Instagram since its launch in 2018, and more recently, it's taken over #curltok, inspiring thousands of tutorials and hacks. It's been said to give its lucky owners salon-caliber blowouts at home with its revolutionary Coanda air styling technology, which curls and smooths your hair as it dries it without extreme heat. It's also about $600, depending if you can snag it on sale.
WHY I'M OBSESSED
I might be a beauty editor, but I'm pretty shitty at doing my own hair. Makeup? Come sit in my chair and let me work some magic. I can cat eye and contour like a champ. But when it comes to hairstyling, on both others and myself, I'm kind of useless. My hair is stick straight and has absolutely zero texture to play on, so the extent of my skill is a 10-minute blow dry with my fingers, and maybe adding the occasional (and rarely symmetrical) wave with a curling wand. Otherwise, most of my grander styling attempts have failed. My plaits are messy and fall out after minutes (zero braiding dexterity). My high pony never seems to sit in the right place on my head. And don't even get me started on using a round brush. This also explains why, despite the Airwrap launching three-ish years ago and setting the internet aflame with rave reviews and viral tutorials, I'd never gotten around to trying it until now. I always just assumed it would be another exercise in futility which would again leave me standing in the mirror disappointed. But this morning, I finally went for it.

The kit comes with an arsenal of styling heads, which seems intimidating, but a quick video on Dyson's Youtube channel showed me that it was all rather straightforward. After showering and towel drying, I attached the pre-styling drying head to the device, which looks a bit like the mini version of the brand's iconic Supersonic. I flipped my head over and gave my roots a blast for what felt like just two minutes—that thing is powerful. Then, I split my hair into sections and attached one of the curl-creating heads. It took a couple minutes to figure out which side of my head to start on (each head blows your hair in a different direction, so you want to go for the one that will wave your strands away from your face.) But once I did, it was quick business. I will say there's a learning curve—I had to play around a bit to get the wrap started for each piece, and I was definitely not paying close attention to the sections being symmetrical in size. But none of that ended up mattering, because by the time I set the device down on my sink, it looked like I'd just gotten a true salon blowout...in about twenty minutes, and on my very first try.
The style was obviously not perfect, but once I get the hang of it, it'll be easier to control curl size and shape. (It actually impresses me more that even the crappiest, clumsiest handling of this device still yields waves this polished.) The brand also recommends some modifications to switch up the look, like swapping the heads out and alternating directions for a more natural, beachy shape, or tilting the device at the roots to give you more volume. Aside from styling, Dyson's hairdryers are known for keeping your hair healthy. My strands looked super shiny post-dry, which made the style appear even more sophisticated. In short, if you're the type of person who loves those perfectly smooth, loose, salon-style waves and hit up s blowdry bar on the regular, this thing will end up paying for itself over and over. Worth it? Big, huge, resounding yes.
Related Story
Celebrity news, beauty, fashion advice, and fascinating features, delivered straight to your inbox!
Taylore Glynn is the Beauty and Health Editor at Marie Claire, covering skincare, makeup, fragrance, wellness, and more. If you need her, she's probably roasting a chicken, flying solo at the movies, or drinking a bad Negroni at JFK.