The 12 Best Heat Protectants for Hair in 2023
Healthy hair incoming.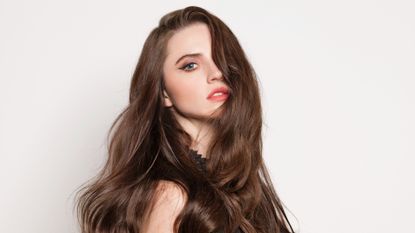 (Image credit: Getty)
Marie Claire Newsletter
Celebrity news, beauty, fashion advice, and fascinating features, delivered straight to your inbox!
Thank you for signing up to Marie Claire. You will receive a verification email shortly.
There was a problem. Please refresh the page and try again.
Use your blow dryers, flat irons, and curling wands—I'm not here to judge, I use 'em too. But if we're going to town with 300+ degrees, we need to do so with hair drenched in one of the best heat protectant sprays. "I like to think of heat protecting sprays like sunscreen for your hair cuticle," says celebrity hairstylist Sunnie Brook. "They create a protective barrier between your strands and heat tools, while locking in moisture and slowing down the penetration of the heat." In turn, you'll have less breakage, fewer split ends, less frizz, and stronger, more resilient strands, explains TRESemmé Partner and Celebrity Stylist Lacy Redway.
With healthy hair as the overarching M.O., I set out to find the most protective, cuticle-friendly, deliciously-smelling heat protectants in existence. I've tested my fair share, consulted the pros, and asked fellow Marie Claire editors to profess their love for their go-tos. To see which hair products made the cut, keep scrolling. And remember: Extreme heat damage is optional, as long as you have one of these heat protection products.
Do I Need a Heat Protectant?
I'll be honest: There is a lot of debate among hair professionals about heat protectants. Some stylists swear by their protection powers, while others can take them or leave them. The truth about heat protectants falls somewhere in the middle. "Heat protecting sprays minimize damage from heat—they don't eliminate damage," explains Brook. Having a dedicated heat protecting product is a set in stone way to ensure your hair is being protected, but more often than not, other styling products in your regimen will have a built-in heat shield.
When Do I Use Heat Protectant?
Heat protectant isn't one-and-done. Just because you use it on damp hair ahead of your weekly blowout, doesn't mean the protection lasts through day two styling. You need to reapply the product before using a hot tool. "Ideally you limit your heat styling to only one to two times a week to keep your hair healthy," says Brook. Follow the instructions on the bottle, but typically you want to give use a generous amount of product and put a focus on your ends.
What to Look For in Heat Protectants
Most heat protection products will work for all hair types, but some nozzles are better suited for thick versus fine hair. "If you have thick, curly hair you want to use a spray bottle that covers more area when used," says Brook. "If you have fine hair, you are going to want to use a product that has a fine mist spray so that you don't over saturate your hair with the product."
Pay extra close attention to the instructions on your heat protectant. Some are designed to be used exclusively on damp hair, in which case they're only suited for people who heat style their hair once per wash. Otherwise, you need to search for a product that can be used on dry hair. "The way you should apply your heat protectant depends on the formula of it, so I recommend following the instructions on the package," emphasizes Redway. "If it calls to be used on damp hair before blow drying, do so! If it's an aerosol and can be used on dry hair, apply it as you work on styling your hair."
"Heat protection is designed to work across all hair types, but some have built-in benefits that may be better for your hair type, like moisturizing properties," says Redway. "If you have textured hair that reverts, it's important to consider heat protection that will not counteract by reverting your hair."
The Best Heat Protectants
The Best Stylist-Recommended Heat Protectant
Biolage All-in-One Multi-Benefit Spray
"My longtime go-to is Biolage All in One Multi-benefit Spray. I always have it in my kit on set or when I'm doing salon clients. I tell my clients it is the number one product they need to have. It works on all hair types and textures, and is not only heat protecting, but also seals split ends. It adds incredible shine without weighing your hair down, and eliminates frizz." — Sunnie Brook, Celebrity Hair Stylist
Pros: Professional-approved; Works on all hair textures; Good for split ends
Cons: Some say it's greasy
The Best Repairing Heat Protectant
Olaplex No 9 Bond Protector Nourishing Hair Serum
"This hair serum is like a step down from hair oils in terms of weight. My hair tends to get oily, so I use this after I hop out of the shower in the summer for a touch of hydration that doesn't weigh it down. Aside from being a heat protectant, it also protects against stressors like pollution and adds shine. Plus, when I use this consistently, I found that my hair looks less damaged over time, meaning that I don't need to get it trimmed as often" — Julia Marzovilla, E-Commerce Editor
Pros: Editor-approved; Repairs and protects
Cons: Expensive
The Best Heat Protectant Overall
Bumble and Bumble Hairdresser's Invisible Oil Heat & UV Protective Primer
"I may love a lot of heat protectants, but without fail I will *always* go back to this tried and true formula. Its main allure is that it provides a multitude of benefits. It has magic detangling powers that let me brush through knots with ease, controls my frizz (especially in the summer humidity), and gives a conditioning boost with a combination of six different oils. As an added bonus, it comes with UV heat protection, which helps me maintain my color in the sun." — Samantha Holender, Beauty Editor
Pros: Multi-benefit; UV protection
Cons: Too heavy for some
The Best Heat Protecting Hair Oil
Oribe Gold Lust Nourishing Hair Oil
"This hair oil from Oribe has the added benefit of giving you some heat protection alongside a boost of shine. It's lightweight so it doesn't make my hair feel weighed down or overly greasy, and makes it feel noticeably softer after I use it. I apply it when my hair is still damp so I can use it before I blow dry. When I had longer hair, I would also use it as a finishing oil after I was done styling. My bathroom is too small for a ton of products, so this two-in-one is a winning combo." — Julia Marzovilla, E-Commerce Editor
Pros: Editor-approved; Adds shine
Cons: Expensive
The Best Drugstore Heat Protectant
TRESemmé Heat Protection Spray
"The TRESemmé Heat Protection Spray is designed to guard against high temperatures. Some hot tools can get as high as 446°F, and the heat protectant spray helps protect against damage from harsh temperatures, so you can use your favorite hot tools with the support of this spray." — Lacy Redway, TRESemmé Partner and Celebrity Stylist
Pros: Professional-approved; Affordable; Protects against extreme temperatures
Cons: Some say it's slightly sticky
The Best Anti-Frizz Heat Protectant
SWAIR SweatShield Multi-Tasking Hair Protector
"This heat protectant goes a long way in terms of keeping my hair frizz-free and my curls defined. Plus, its milky formula is thick and moisturizing, so a little goes a long way. In addition to using it before blow-drying, I also like carrying this little bottle with me so I can touch up my look on the go." — Gabrielle Ulubay, E-Commerce Writer
Pros: Editor-approved; Great for frizz; Moisturizing
Cons: Pump can be messy
The Best Heat Protectant for Dry Hair
Maria Nila Cream Heat Spray
If you whip out your hot tool on day two (or even three, or four), you need to find a heat protectant that can be spritzed on dry hair. Enter this Maria Nila Cream Spray, which creates a layer of protection between the heat and your cuticle. It actually repairs damaged hair, while simultaneously protecting against split ends and infusing moisture. My personal favorite aspect of this product is the intoxicating scent. It's a mix of peach, apple, and rose that's that perfect fruity-floral blend.
Pros: Can be used on dry hair; Great scent
Cons: Too heavy for fine hair
The Best Detangling Heat Protectant
Rahua Hydration Detangler UV Barrier
"My obsession with this detangler is next level. I've been using it religiously for a couple of years now and can't say enough positive things about it. That in mind, bare with me while I sing its praises. Just a few sprays and a wide tooth comb will work through any knot or tangle—without causing breakage or creating damage. A blend of oils (including rahua and sachi) block out humidity and keep frizz at bay, while a special UV protector keeps my blonde from turning all kinds of brassy in the summer." — Samantha Holender, Beauty Editor
Pros: Editor-approved; Humidity resistant; Good for Color
Cons: Not as moisturizing as some
The Best Heat Protectant for Shine
ColorWow DreamCoat Supernatural Spray
The DreamCoat doesn't lead with its heat protecting properties, but rest assured they're an essential part of the formula. In fact, this particular product doesn't work without a hot tool—it's heat activated. Just spray a generous amount through your damp strands and get to styling. The extreme temperatures activate the frizz-fighting technology and create an uber-shiny, glass hair effect, all while protecting the strand from damage. Unlike other products, the protection properties last through up to four shampoos.
Pros: Gives shine; Humidity proof
Cons: Only use on damp hair
The Best Heat Protectant for Curly Hair
While the technology behind heat protection works with all hair types, some formulas are inherently better suited for specific textures. Take this Patter spray, for example. It's designed to be particularly lightweight, so it won't weigh down curls or coils. You'll maintain your bounce through the diffusing or curling process and lock in moisture with sunflower and jojoba seed oil.
Pros: Very lightweight; Good for curly hair
Cons: Too much product makes hair oily
The Best Priming Heat Protectant
LolaVie Glossing Detangler
"Jennifer Aniston co-created this hair product, so rest assured it's not going to disappoint. The fresh-scented spray is designed to detangle hair, provide thermal protection, enhance shine (thank you, lemon extract!), and hydrate with ceramides. It's intended to be used on damp hair, but my favorite hack is to use it as a dry hair refresh. I just spray a little bit into the palms of my hands and work it through my mid-length and roots for an extra shine boost." — Samantha Holender, Beauty Editor
Pros: Editor-approved; Hydrating
Cons: Slightly tacky
The Best Heat Protectant for Fragile Hair
If you're dealing with a lot of breakage, it's probably best to lay off the hot tools. Now, if you can't fathom a life without your straightening iron, turn your attention to this heat protectant. It's the real deal with a sole purpose to repair your fried strands. The formula is packed with lentils and glutamic acid, two amino acids determined to protect and rebuild split ends and weak cuticles. It's not actually a miracle worker, but in my experience it's the next best thing.
Pros: Good for damage; Hydrating
Cons: A little sticky
Meet the Experts
Known for her creativity and passion for serving others, Sunnie Brook has been at the forefront of the beauty industry for over 20 years. As an experienced Celebrity Hairdresser, previous Salon Owner, and Educator, she infuses her artistic knowledge into creating styles that are innovative and exude relaxed luxury. Sunnie has a client list that includes Elisabeth Moss, Amy Poehler, Hailey Bieber, Rita Ora, Nicole Scherzinger, Debby Ryan, Jared Leto, Noah Centineo and Imagine Dragons. Her work has been featured in numerous publications including Vogue, Vanity Fair, Marie Claire, Allure, Glamour, Harper's Bazaar and L'official. She is also the brand ambassador for Biolage. Her successful beauty blog and YouTube channel led to her evolving into a content creator for beauty and lifestyle brands that she continues to work with today. Sunnie's love for design and visual aesthetic goes far beyond her talents as a hairdresser. In 2017, she and her husband created MiroHaus, a multi-dimensional brand offering custom handmade furniture, an online home goods store, and a staycation experience. Sunnie Brook remains committed to her clients in Los Angeles and New York delivering timeless, relevant styles, and inspiring beauty that impacts her community.
Lacy Redway is a New York-based hairstylist. After studying at The Aveda Institute in Manhattan, her career quickly took off. A combination of Lacy's proficiency with all hair textures as well as her magnetic personality have earned her an esteemed roster of clients including Tessa Thompson, Laura Harrier, Priyanka Chopra, Anne Hathaway, Karlie Kloss, Sarah Paulson, Elizabeth Olsen, Ruth Negga, Gabrielle Union, and Diane Kruger, among many others. Lacy has collaborated with respected photographers like Rankin, Gavin Bond, Alexander Neumann, Warwick Saint, Ben Hassett, Michael Schwartz, Alexei Hay, Micaela Rossato, and Erik Madigan Heck. Her work has appeared in Allure, ELLE, Glamour, Teen Vogue, V Magazine, Vanity Fair, Vogue and Vogue Italia. Lacy is currently a Celebrity Stylist for Nexxus.
Celebrity news, beauty, fashion advice, and fascinating features, delivered straight to your inbox!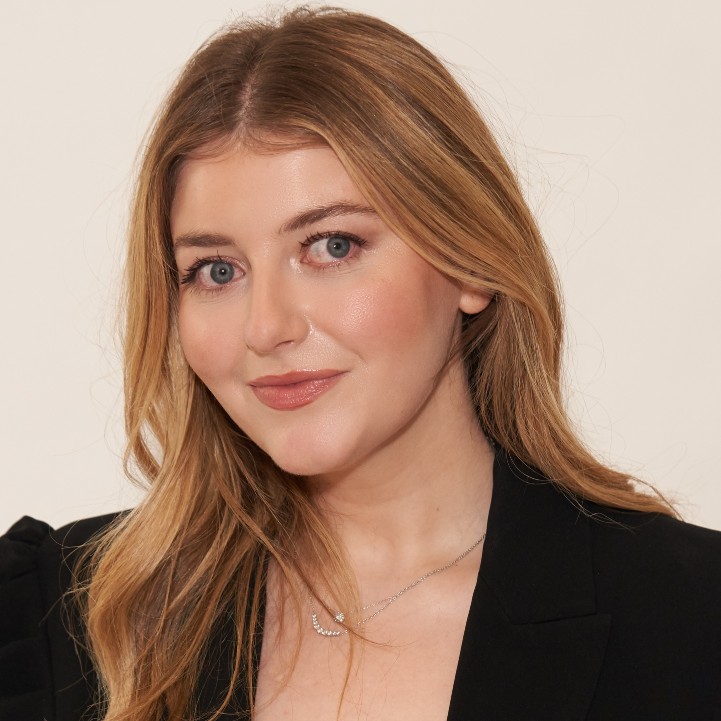 Samantha Holender is the Beauty Editor at Marie Claire, where she reports on the best new launches, dives into the science behind skincare, and keeps up with the latest trends in the beauty space. She has previously written for Us Weekly, Popsugar, Makeup.com, Skincare.com, and Philadelphia Wedding. Follow her on Instagram @samholender.