The 12 Best Heat Protectants to Shield and Nourish Your Hair
Damaged strands, who?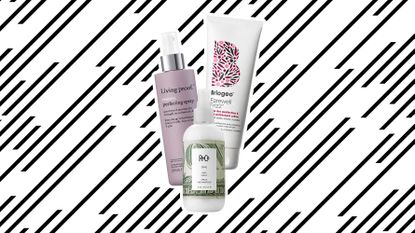 (Image credit: Design by Morgan McMullen)
Look, I'm not here to judge you for your hot tools. I own plenty, from flat irons (opens in new tab) to curling wands (opens in new tab) to dryers (opens in new tab) whose heat settings could probably cook an egg. Use all the tools you want to achieve the style you're looking for. Just...don't use them without heat protectors. I learned this lesson early, having had to cut a staggering six inches off my hair when the ends were fried, quite literally, from daily styling. That kind of damage is traumatic, both for your hair and for you. So take a cue from hairstylists and those who, like me, have seen firsthand what unprotected styling can do.
If you're thinking, "But I don't have enough time!" or, "They don't work!" or even, "They make my hair look worse!", let me address some of those concerns. First, taking an extra thirty seconds to protect your hair will pay off when the alternative is scheduling hours-long salon appointments to try to reverse the damage. Second, they do work. Are they miracle workers that will let you use 450 degrees on your hair daily with no damage at all? Nope. All heat will cause damage. But they do make it so that the damage is far less than what it would be without any protection.
Finally, while the heat protectants of your youth often left greasy residue or made styling harder, the technology has come a long way. With so many great options, there really isn't an excuse for not having one of these sprays in your repertoire. So go forth and style, peaceful in the knowledge that your hair isn't being fried in the process.
Best for High Heat
(opens in new tab)
1. Pantene Heat Primer Pre-Styling Spray
For those of us who like our heat, pick up this product. It protects hair up to 450-degrees while the micro-polymers (think protein but for your strands) help shield hair from damage and give a healthy glow. This heat primer is not only easy to work with but easy on the wallet too.
For Serious Styling Prep
(opens in new tab)
2. GHD Heat Protect Spray
On days when you're getting ready to use every hair product under the sun, start with this one for good measure. (If you use only one hair product, I envy you.) This spray can be layered with other products and will still have your hair looking oh so smooth. How's that for versatile?
Best Drugstore Buy
(opens in new tab)
3. TRESemmé Thermal Creations Leave-In Heat Tamer
If you and your flat iron see a lot of each other, a drugstore buy might be the best option for you and your wallet. This gem sprays as a fine mist and has a moisture-locking complex that continues working through all the steps of your styling routine.
Best for Dry Hair
4. Moroccanoil Perfect Defense Thermal Protection Spray
Moroccanoil products are known in the beauty world for their talents in hair nourishment. This spray leans on the talents of argan oil, which is known to provide some serious shine, hydration, softness, protection, and elasticity to your precious strands. Spray before using your hot tools to give it the boost your dehydrated hair needs.
Best Lasting Results
(opens in new tab)
5. John Frieda Frizz Ease 3-Day Flat Iron Spray
You know that feeling when you spend ages styling your hair, it looks great, then the next day it's just…not great anymore? This spray aims to make that disappointing feeling a thing of the past. With keratin proteins, this spray won't weigh down the hair, and instead allows your style to last for three days without needing any touch-ups.
Best Ant-Pollution Spray
(opens in new tab)
6. Living Proof Perfect Hair Day (PhD) Heat Styling Spray
News flash: Pollution affects our hair just as much as our skin. Not only does this spray protect your hair from heat styling up to 450 degrees (!), but it also repels dirt for a smoother, healthier look. You can spray it either on wet hair before blow-drying, or on dry hair pre-irons. The result? Non-damaged locks that look gorgeous for days.
Best for Glossy Locks
(opens in new tab)
7. Color Wow Dream Coat Supernatural Spray
Dying for that model-esque, glossy blow-out? This spray is the only product you need to achieve that look. Sprayed on wet hair pre-dryer protects hair from looking straw-like and dehydrated. Instead, it makes styling faster and glossier.
Best Lightweight Protector
(opens in new tab)
8. Drybar Hot Toddy Heat Protectant Mist
If you're trying to avoid that sticky residue that so many heat protectors leave on your hair, reach for this mist. It's what Drybar uses at all their salons, so you know it can handle serious heat. It's so lightweight that it almost feels like nothing, but it definitely protects hair from extreme heat damage.
Best for Fine Hair
(opens in new tab)
The cucumber extract in this spray is the star of the show. One quick all-over spritz and your scalp practically sighs in relief. The magic ingredient's soothing powers keep your scalp calm even if it's going through some serious irritation. Plus, it also helps increase your hair's elasticity, a key benefit people with fine hair will be extra grateful for.
Best for Curly Girls
(opens in new tab)
10. Briogeo Farewell Frizz Blow Dry Perfection & Heat Protectant Crème
Hello, curly hair ladies! Blow-drying our hair either results in a fairy tale ending of smooth locks or the horror story that is non-stop frizz. Using this styling cream before you turn your dryer on will help you say goodbye to unwanted frizz once and for all. The nourishing rosehip, coconut, and argan oils in this formula, along with the algae extract, give nonstop hydration throughout your dry time.
Best for Color-Treated Hair
(opens in new tab)
11. Pureology Color Fanatic Multi-Tasking Leave-In Spray
Just because you colored your hair a few times here and there doesn't mean you should miss out on the luxuries of a good blowout. This is made with all our favorite kinds of oils: camelina, coconut, and olive. The three musketeers of haircare, if you will, are known across the land for their nourishing, moisturizing, and shine-inducing techniques.
Best All-Natural Formula
(opens in new tab)
12. AVEDA Heat Relief Thermal Protector & Conditioning Mist
It's the 21st century, and recognizing ingredients on your beauty products is a necessity. This heat spray from Aveda not only coddles your hair from the big bad wolf (read: heat), but it's free of other bad guys like petrolatum, parabens, mineral oil, synthetic fragrance, sulfate, and phthalate known to bring hair down.
Tatjana Freund is a Beauty Commerce Writer, covering makeup, skincare, and haircare products and trends. She's a fan of vodka tonics and creepy Wikipedia pages.