25 Secretly Awful '00s Beauty Trends You Most Definitely Forgot About
From Hilary Duff to Paris Hilton and Lindsay Lohan, we rounded up the best and worst hair and makeup trends from the '00s.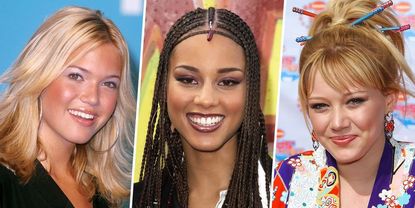 (Image credit: Getty Images)
Ah, the '00s. A truly glorious time when boy bands were still relevant, blow-up furniture topped your wish list, Limited Too was the holy grail of happiness, and every single girl in your class lived by the following wonderfully awful beauty trends. And you better get your comfy shoes on, because we're about to take a long, uncomfortable walk down memory lane.
1/25
Britney Spears' Crimped Hair
Part crimped, part curled, part flat-ironed, and 100-percent the hair you dreamed of in middle school.
2/25
Anne Hathaway's Glittery Prom Curls
Thick sausage curls in need of a good finger-raking, topped with a layer of glitter hair spray? Your mom has this same photo of you currently sitting on her mantel.
3/25
Tia Mowry's Blushed-Out Cheeks
Basically the same as you when you got your first blush compact from Claire's.
4/25
Kelly Clarkson's Chunky Highlights
But...why? Why?!
5/25
Paris Hilton's Bejeweled Hair
Let us have a moment of silence for the little crystals that twisted into your hair, but never actually stayed put.
6/25
Amanda Byne's Flat-Ironed Hair
This photo represents the first time you ever flat-ironed your non-layered hair, leaving you with a triangular, semi-poofy finish. Also, please note the hardcore powdered skin and lavender shadow.
7/25
Melissa Joan Hart's Woven Hair
Ah, the art of splitting tiny ponytails and rubber-banding them to other tiny ponytails, creating a woven hair web that was actual hell to take out.
8/25
Gabrielle Union's Center Part
Flipped out ends with a super-straight center part? Yup, we lived there.
9/25
Hilary Duff's Chopsticks
Duff's (hardcore culturally appropriated) chopsticks defied gravity by staying in a perfect X shape that yours never would.
10/25
Mischa Barton's Beachy Waves
BEHOLD! THE OG (OC) BEACHY WAVES! The hairstyle that, even to this day, you still can't master!
11/25
Mandy Moore's Cali-Girl Look
Shimmery purple eyeshadow, overly-bronzed skin, shiny lips, and choppy, flipped-out layers? This was everything we ever wanted and more.
12/25
Beyoncé's Hair Flower
We mean, why *wouldn't* you wear a fake flower in your hair in October, and November, and December, and every single other day for the entirety of the early aughts?
13/25
Britney Spears' High Pigtails
Britney Spears wore high pigtails, so you wore high pigtails.
14/25
Brenda Song's Headband
Chunky plastic headbands, stretchy mesh headbands, bandanas tied up like handbands—it didn't matter to 2005 you. As long as it was a headband, you were wearing it.
15/25
Ashley Tisdale's Hair Bubble
The tinier and pointier the pouf, the better. Bonus points if you tricked yours out with a ridiculously bright clip.
16/25
Ashley Olsen's Half-Up Waterfall
Perfectly swooped, clipped, and splayed out, Ashley's half-up hair was a thing of '00s dreams.
17/25
Rachel Bilson's Copper Cheeks
Since you couldn't live in the sun-soaked OC like you wanted, you had to settle for swirling heavy layers of orange-y copper bronzer across your cheeks and forehead.
18/25
Alicia Keys' Dark-Lined Lips
Why use a lip liner that matches your lipstick—or, let's get real, lipgloss—when you can use one approximately five shades darker?
19/25
Lindsay Lohan's Rimmed Eyes
If you didn't mash black eyeliner across your upper lash line, your lower lash line, your water line, your inner water line, and any other piece of skin that might possibly peek out from your eyes, you were not an '00s kid.
20/25
Jessica Simpson's Face-Framing Layers
Why have a soft cascade of layers when you could have two long, narrow strips of hair that hung straight in your face?
21/25
Evan Rachel Wood's Low Pigtails
Ostensibly the first hairstyle you were able to do by yourself, the pigtails were almost never even, and almost always had a wonky part down the back.
22/25
Kelly Rowland's Glossy Lips
These ultra-shiny lips have been brought to you by a dozen layers of sticky lip gloss that attracted pieces of hair like a magnet.
23/25
Gwen Stefani's Butterfly Clip
Unlike classic, itty-bitty butterfly clips, this mega clip was just a singular metal butterfly, with springy wings that jiggled as you walked. You had three.
24/25
Michelle Trachtenberg's Barrettes
You owned at least 30 of these snap-clip barrettes, and you wore them daily until the cloth covering came off, the paint chipped, and the metal scraped your scalp.
25/25
Paris Hilton's...Everything
Spray-tanned, glittery skin, blue smoky eyes, flat-ironed bangs, and the waterfall bun. The only thing that could make this look more '00s is if there was also a spray-painted shirt and—oh.
Celebrity news, beauty, fashion advice, and fascinating features, delivered straight to your inbox!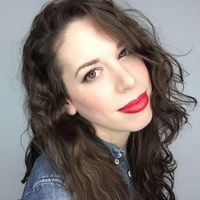 Chloe Metzger is the deputy beauty director at Cosmopolitan, overseeing the editorial content and growth strategy of the hair, makeup, and skin space on digital, while also obsessively writing about the best hair products for every hair type (curly girl here; whattup), and the skincare routines that really, truly work (follow her on Instagram to see behind-the-scenes pics of that magazine life). She brings nearly a decade of writing and editing expertise, and her work has appeared in Allure, Health, Fitness, Marie Claire, StyleCaster, and Parents. She also has an unhealthy adoration for Tom Hanks and would like to please meet him one day, if you could arrange that. Thanks.