Davines' Newest Shampoo Took 203 Years to Make
The natural and eco-friendly launch is totally worth the wait.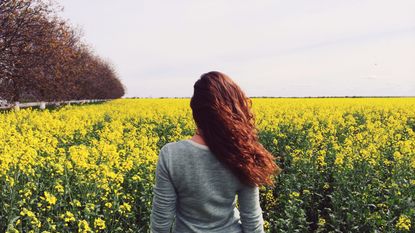 (Image credit: Alexander Spatari)
Americans in Europe are told to slow down a lot. At least this American is. In Paris, my speed walking earns me side-eye. When I ask for coffee to-go in Madrid, the baristas look at me like I'm crazy. And things are no different in Italy. On a recent trip to Parma, I was excited to stop by the headquarters of the sustainability-minded beauty company Davines Group. I wanted to check out the eco-friendly hair salon, then visit the green chemistry lab where the in-house research and development team works, and of course I couldn't leave without a quick tour of the scientific garden. But that's not how things work in Italy. First, we had to eat—in the glass-vaulted greenhouse restaurant, where the (free!) employee lunch is four courses, complete with brass flatware and fizzy water that flows from a fancy spigot into real glasses.
There's no such thing as a sad desk salad in Italy, especially not at Davines, a B Corp that encourages work-life balance for its employees and takes the time to do things right. After lunch, company creative director Maria Vittoria Mangiarotti explains that the brand's newest launch, A Single Shampoo, had been in development for more than three years. Made with 95 percent natural ingredients, it's quite possibly the least-synthetic salon product ever made. It also comes in a recyclable bottle—made from polyethelene derived from sugar cane—that weighs 48 percent less than a traditional bottle to reduce shipping weight and decrease carbon emissions. "This shampoo is our company manifesto," says Mangiarotti. And it's not just product development that took time; some of the botanicals in the bottle are hundreds of years in the making. Case in point: Quercetano olive oil, which Davines chemists used to formulate a gentle cleansing agent.

The next day, I drive south through Tuscany to Seravezza, one of the only places on the planet where Quercetano olive trees grow. The variety was almost wiped out by bombing during World War II, but a grove with some 200-year-old specimens remains on the land of Cristina Pellizzari, a restaurateur whose family has grown olives for three generations. In 2017, Davines and the Slow Food Foundation for Biodiversity, an organization that helps protect local agricultural traditions, began working with Pellizzari to preserve and plant more of her trees, which are resistant to a fly that plagues other olive varieties in Italy. The tiny black olives make a beautiful golden oil rich in fatty acids and renowned for its fruity aroma. Davines uses the oil and other "slow foods," like polyphenol-rich Salina capers and antioxidant-packed Fiaschetto tomatoes in its products. (The capers go into the Minu color-protecting line, and the tomatoes are in the Nounou collection for damaged hair.)
As Pellizzari and I wind our way through her grove, she says she's happy her olives are being used in a shampoo but that the oil on its own is a pretty good beauty treatment too: Her mother and grandmother used it to moisturize their hands. And many women used to spread it on their stomachs during pregnancy to hydrate and soothe itchiness. I ask if I can buy a bottle for myself, so we head back to Antico Uliveto, the restaurant she runs on the ground floor of her family's 19th-century farmhouse. My plan is to take this "green gold," as it's known to devotees, back to my hotel so I can smooth it on my skin after I shower and wash my hair with the new shampoo. But that will have to wait. First, says Pellizzari, we eat.
This story appears in the May 2019 issue of Marie Claire.
RELATED STORY
Celebrity news, beauty, fashion advice, and fascinating features, delivered straight to your inbox!
Jennifer Goldstein is the former beauty & health director of Marie Claire and co-host of the award-winning beauty podcast Fat Mascara. In her quest to uncover the world's beauty secrets, she's gotten tattooed in New Zealand, dug up turmeric in India, harvested shea nuts in Ghana, and squeezed enzyme-rich eggs from salmon in Norway. She can pluck eyebrows like a pro and has read the FDA monograph on sunscreen labeling and effectiveness—but she still can't get liquid eyeliner to look the same on both eyes.