How to Get Blake Lively's Cool-Looking Ponytail
The plotlines aren't the only things heating up this season on Gossip Girl - we're OMFG obsessed with the hairstyles.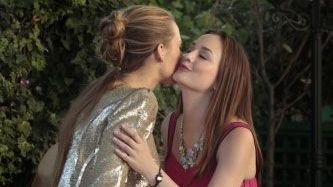 (Image credit: )
Two weeks ago, Gossip Girl made a fiery television comeback, and we're not just talking about the heated post-breakup tension between Chuck and Blair. We're talking hair. In previous seasons, Blake Lively's Serena has sported the occasional updo, but nothing like the sexy ponytail we saw last week. We had to find out how to achieve the style, so we went straight to Jennifer Johnson, the on-set hairstylist at Gossip Girl. Here's how to get Serena's "smush tail" look (that's what Lively and Johnson call the 'do) in four easy steps:
Step 1: Wash and Protect

After you've washed your hair, it's important to apply a heat protector. Johnson's fave? Miracle Leave-In from It's a 10.
Step 2: Dry and Moisturize

After drying, add a little cream to give your hair some oomph. Johnson uses Kérastase Nutritive Crème Nutri-Sculpt on Lively's because "it gets rid of the dryness without making it sticky or weighing it down," she says.
Step 3: Start Styling

Begin by parting your hair into three ponytails: one at the top of your head, one in the middle, and one at the base. "Take the top ponytail and 'smush' it into a messy bun, placing bobby pins wherever your fingers are folding the hair. Do the same with the middle ponytail," Johnson says. "It's important that the buns aren't perfectly round." Then flat-iron the bottom ponytail straight, to give it a sleek contrast to the buns.
Step 4: Keep It Together

Make sure your hair lasts with a spritz of hairspray. "I love Kérastase Double Force Hairspray because it allows hair to move without losing its shape," Johnson said. "This isn't a very 'moveable' hair look, but I still like hair that moves, so to me this is the best hairspray, and I use it all the time with Blake."
Keep an eye out for more Serena-chic ponytails and braids, which Johnson says are all the rage this season and have been added to Serena's "natural effortless look."