Is Your Hair Color Keeping You from Mr. Right?
Frustrated with the dating scene, Erin Hosier bravely swaps hair colors to see if she can attract the kind of guy you can take home to mom.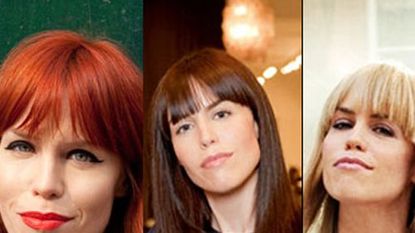 (Image credit: Ashley Macknica)
Marie Claire Newsletter
Celebrity news, beauty, fashion advice, and fascinating features, delivered straight to your inbox!
Thank you for signing up to Marie Claire. You will receive a verification email shortly.
There was a problem. Please refresh the page and try again.
I've always felt like a redhead, though I certainly wasn't born one. In fact, I've been dyeing my once-mousy hair this crazy red shade — think Moira Shearer in The Red Shoes — for the past decade. Do you know how difficult this color is to maintain? Within two weeks there's more bright sienna on my towels than on my head, and the whole effect is muted considerably. And while maintenance may be cheaply and easily acquired (thanks, Garnier Hot Tamale), finding a man who can commit is not. I live in New York City, which has a surplus of 200,000 single women to available men, and I have a history of attracting musicians on tour, homeless artists, polyamorist DJs, and, well, you get the picture. Until my male friend brought it up, I never considered the fact that my hair could be partly to blame.
"Red hair is usually a handicap, as far as I'm concerned," my divorced and dating friend Adam tells me over brunch. "I mean, for you it's some kind of fashion statement or whatever, but to most guys it says that you're wild and ... different."
"Go on."
"Well, when your hair is so vivid a color, it's kind of like a tattoo. It suggests an alternative lifestyle."
"Alternative to boring!"
"Alternative to serious. A lot of men are just intimidated by flashy. They want understated and down-to-earth."
He has a point. My personality seems big enough without the added Lucille Ball reference. And while it suited me as a girl of 29, now that I've entered my 30s, I'll admit it: I actually want to find a nice doctor to settle down with. A mere glance at my Facebook wall reveals that all my friends in new relationships are blonde, and all the engaged-to-be-marrieds just happen to be brunette. Coincidence? I think not! It is clear: I have to change my hair color.
My journey begins at Eva Scrivo's Bond Street salon, a welcoming space with very few men around. (I love an all-female environment when it comes to my salons — blame Steel Magnolias.)
In the flesh, Eva is one of the most glamorous-as-she-is-brilliant women I've met. Imagine Catherine Zeta-Jones wielding scissors with surgical precision and mixing color like Vermeer. When I confess my newfound theory that my hair color might be a man repellent, Eva suggests I test more than one makeover: Over several weeks, I would try both blonde and brown hair colors and see what happened to my love life.
In college, my platinum hair went with all my vintage dresses. My hair muse then was Courtney Love, and I exclusively dated guys who rode skateboards. I loved the look of the punk debutante, but bleach is a bitch on hair, and I eventually had to cut mine super-short to prevent the breakage that came with repeated use. Eva and I agree that in the interest of not changing its length, she will dye my hair a less damaging brunette, and that we'll try out a honey-colored wig in the interim.
Made of human hair, the wig is custom dyed and highlighted before Eva cuts it into my usual style. It's a shade that will transform me into something of a California girl, albeit without a tan. In order to ease my transition, Eva's cool makeup artist sister, Vinnetta, gives me some beauty tips for blondes looking to catch a husband.
"Men like dewy skin," Vinnetta says as she applies a mix of serum and moisturizer to my face after misting it with water. "It works on their subconscious to remind them of what you might look like after sex. Like you just finished running up a hill — flush and moist." This means a focus on skincare and less makeup overall.
"Your date probably doesn't appreciate your expertly applied Russian Red lipstick," Vinnetta continues. "They just want a little gloss. Nothing to interfere with the kissing."
I like the sound of that, but I wish that men understood that modern technology now allows us to attain a matte, nontransferable stain, because red lipstick looks so pretty with a little black dress. Alas, their subconscious minds have not gotten that memo.
In public, I don't really recognize myself with light hair. I suddenly feel much older, like the kind of woman who doesn't walk her own dog. I worry the rest of my look doesn't really live up to my hair.
"You look like a lady attorney who just had a couple of drinks, and I'm a little intimidated by you," says Adam when I see him for dinner.
"Well, I am a lady, and I did just have a couple of drinks," I reply. "But is this a different kind of intimidating than the red?"
"It's more sexually aggressive, and yet, it's kind of icy at the same time," Adam says.
Undaunted, I say yes to a guy who randomly asks me out online. I just updated my profile picture and clearly, the blonde is working! "I date mostly brunettes, but I tend to notice blondes more often," Sean, a carpenter with a full head of curly brown, tells me over tapas. "They're just brighter somehow."
I suppose this is why I stood out on nerve.com? I ask Sean, who probably thinks I am oddly obsessed with my hair (wait, I am!) if he thinks brunettes are more relationship-oriented.
"I think the issue is hair dye," he says. "Everybody does it, but with brunettes, you often can't tell. I usually associate blonde with 'fake,' and that leads to this presumption of unwholesomeness. I would guess that most men have a blonde fantasy, but brunettes seem closer to nature."
This is a polite way of saying that women who appear to dye their hair seem sluttier to dudes, even if they are naturally towheaded. Watch out, Swedes! And "streaky-stripey" hair (Sean's word for highlights) also connotes a loose woman. Definitely the image I was happy to project back in the day, but I'm starting to think going blonde might not be the change I'm looking for.
The day I go brunette, my hair undergoes three processes. First, a balancing shade of red is applied to fill in the accidental two-toned look on the bottom of my hair. Then, Eva mixes a rich, neutral brown by L'Oréal Professionnel INOA, and follows with a shine-boosting glaze. Because INOA is ammonia-free, you can color your hair till the cows come home and there won't be that telltale burn on your scalp. As I contemplate the reality that these curtains might finally match the drapes, Eva offers up her patented dating advice.
"You really should be dating four or five guys at once. How else are you to know what attributes are most important to you? Most people only click over one thing — intelligence, conversation, adventure, great sex, whatever — it doesn't mean you'll fall in love. The person you give up all the variety for should be spectacular."
Four or five guys — was she for real? Single, qualified, willing men in New York City are notoriously hard to find. But my friend Janet, a natural blonde who owns an art gallery, assures me it's easier for brunettes.
"I'm the first blonde my fiancé ever really dated. His preference has historically been for Little Browns. That's America's Girlfriend right there." Janet is convinced the transition will be the best thing I've ever done for my love life.
After the blowout, my hair is super-glossy. I never expected a color I'd always associated with mice could have such a dramatic effect. It's sophisticated yet approachable. Perhaps I can assimilate into "natural beauty" territory after all! Guy next door, here I come.
It doesn't take long before I have ample evidence that men are in fact down with the brown. Guys openly flirt on the elevator and in line at Chipotle. I get several compliments on my eye color. It's as if stripping away the distractions allows people to notice my face.
My newfound confidence inspires my engaged bestie to set me up with a single friend of hers. Elliot is a handsome English teacher who — hold the phone! — seems really, really nice. We meet at a crowded restaurant, and the hours fly as we quickly realize we have a lot in common. As it gets late, we even make plans to see each other again, and I'm feeling comfortable enough to tell him that I'd recently made a drastic change to my look. I ask him what he thinks of my newly dyed dark-chocolate-brown hair.
"It's nice," he says. "I don't know that it makes a difference, though. I think I would have been into you no matter what."
When he says it, I realize it's something I really needed to hear. I've always used my beautifully fake, bright hair as a way to stand out, and wrapped inside that was a fear of not being seen. What I notice about having brown hair is that I'm more confident and less conflicted about the attention I get from strangers. Now when somebody stares at me, I have to assume it's not because of my hair. It's just me. I think I'll stay brunette for a while.
Celebrity news, beauty, fashion advice, and fascinating features, delivered straight to your inbox!