I Dyed My Blonde Hair Brown
Whoa! What started as a simple color change led to major life impact.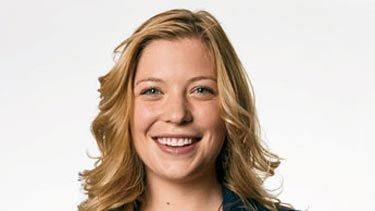 (Image credit: Taghi Naderzad)
The girl in the mirror looked formidable, assertive-and utterly foreign to me. What had I done to myself? Here, I had jumped at the chance to have Manhattan colorist Rita Hazan dye my natural blonde hair a dark brown as a shortcut to looking older and more sophisticated (I'd graduated from sorority life two years ago, after all), but it wasn't going to be that easy. I had no idea how to be this person! For the next few days, I clumsily experimented with darker makeup shades and a more tailored wardrobe-but the new hair color was still wearing me.
Click forward to the next page to see Lizzie's new brunette locks.
It wasn't until the "after" photo shoot that a patient professional makeup artist with an arsenal of smoky eyeshadows succeeded in showing me my brunette potential. In the office, people oohed and aahed. Could it be that I'd so easily shed my blonde-in-a-babydoll-dress persona? It's been two months now, and my dark hair has affected not only my makeup and clothing choices, but also my confidence. I find myself seeking new challenges, and I just earned a promotion. I guess I'm not the only one who sees me in a new light.
-Lizzie Dunlap, formerly Marie Claire's assistant to the editor-in-chief, now assistant beauty editor