The 10 Best Flat Irons for Your Best Silk Press Yet
All of the style, none of the damage.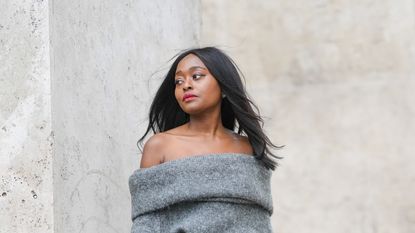 (Image credit: Edward Berthelot/Getty Images)
When shopping for the best products for natural hair, one often focuses on hair health, investing in the best shampoos and conditioners, leave-in conditioners, protein treatments, deep conditioners, and other options that prioritize moisture, strand strength, and hair growth. This especially applies to curls, coils, and kinks, which are often more delicate and prone to dryness than other hair types. But although fostering hair health from the inside out is paramount, it's also important for curl owners to invest in premium styling tools when stocking their beauty closets—particularly heat tools like flat irons, which are essential to achieving the perfect silk press.
"A silk press is a technique that is used to straighten a person's natural hair," explains Mideyah Parker, a celebrity hairstylist and PATTERN Beauty ambassador. "The method involves using a blow dryer, flat iron, combs, brushes, and plastic wrap instead of using chemicals. However, some people like to use the technique with a relaxer for a silkier look."
However, as with all styling methods that involve heat, styling your hair in a silk press runs the risk of causing damage. Finding the right flat iron for natural hair—and employing it properly—is crucial to achieving a perfect silk press sans damage. Therefore, Parker has given us her ultimate guide to everything silk press, and to finding the right flat iron to achieve it.
Mastering the Silk Press
For starters, Parker says that it's important to follow a specific set of steps in order to master the silk press.
"You must first shampoo your hair," she says, recommending PATTERN's cleansing shampoo for those in need of a clarifying rinse and its hydrating shampoo for those in need of extra moisture. Then, she recommends following up with a medium or heavy conditioner.
"Once the hair is shampooed and conditioned, you can section and detangle your hair," she says (this detangling nectar is her favorite). She advises, "I wouldn't load it in like you would if you were doing a twist out—just use enough to be able to comb through your hair with ease."
Once the detangler has been evenly distributed, she recommends spraying hair with a heat protection spray and combing through again.
"Clip your hair into four sections," she suggests. "Comb through your first section with a wide tooth comb to make sure all the kinks are out. Next, you will decide which attachment you want to blow dry your hair with." If using a hair dryer made with natural hair in mind, such as PATTERN's, you may be able to choose between wide tooth comb attachments ("for a more airy blow dry," according to Parker), brush attachments ("if you want more of a bone straight finish"), or a diffuser.
"Once all the hair is dried with the desired parting, I like to spray one pump of heat protection in my hand and then apply to the hair from bottom to top," says Parker. "You don't want to over spray and weigh the hair down with product. I then like to use a ceramic flat iron to press from the roots to the ends. After all the hair is pressed, you will wrap all the hair in a clockwise circle pattern and secure with a sliver flat clip—make sure it's not a duckbill clip, because that will leave an indentation in the hair. You will then take a roll of plastic wrap and wrap it around the hair to mold the hair to your head shape. Sit under the dryer for five minutes, then remove the plastic and comb your hair out into your desired style."
And voilà— your silk press is complete!
Parker concludes that to maintain your silk press, you can wrap it in plastic wrap once again or pin curl it, then use a satin or silk hair wrap to protect the style and prevent breakage.
Finding the Right Flat Iron for a Silk Press
If, like me, you're wary of heat tools for fear of causing long-term damage, Parker reassures that there are measures you can take to ensure that your silk press technique doesn't ruin your crown of curls.
"To protect your hair doing a silk press you must always use heat protection and do a test strand in the back to determine your heat setting," she says. "Don't just automatically turn the flat iron to the highest setting. Make sure you choose it based on how straight you want your hair." And for the sake of your strand strength, the lower the heat, the better!
And because you don't want to run your flat iron over your hair over and over again, it's important to invest in a high-quality flat iron that suits your hair type so that you can get the job done safely and effectively.
"For fine, thin, easy-to-curl hair, always look for a ceramic flat iron," says Parker. "It transmits heat through infrared technology and straightens from the inside out, which is more gentle, doesn't pull or tug, and is less prone to heat damage."
On the other hand, she describes, "For thicker, courser hair, a titanium flat iron would be better because it discharges negative particles. This helps to seal the normal moisture in your hair, making it shinier and gets it smooth quicker."
Finally, she tells clients to ensure that their flat irons have a digital dial that controls its level of heat. "You want to be able to set your temperature instead of having a preset flat iron," she explains.
The Best Flat Irons for a Silk Press
Best Ceramic Flat Iron for Silk Presses
Hot Tools Pro Artist Black Gold Evolve Ionic Salon Hair Flat Iron
Parker specifically recommends this flat iron for achieving the perfect silk press. She raves, "This Black Gold technology styling surface gets hotter faster and is powerful to create extra smooth hair styles. Pulse Technology keeps this iron hot and stays hot while in use and has an automated shut off if you stop using it. The pro-porcelain ceramic iron technology distributes even heat across the plates and generates far-infrared heat, a more efficient heating method which is gentler on the hair. The longer plates straighten more hair at a time."
Pros: expert-approved; automated shut off; gentle; efficient
Cons: some users say it snagged hair
Customer Review: "Gets hot easily and makes hair smooth! I love it. Best straightener I've used." -Ulta
Best Color-Protecting Flat Ion for Silk Presses
ghd Platinum+ Styler - 1" Flat Iron
This hair tool works well on all hair types, but reviewers with curly and coily hair are especially pleased with its results—particularly those who struggle with frizz and dullness. In addition to smoothing hair and enhancing shine, this option also prevents dyed hair from fading and thirsty hair from looking dry or damaged. It also uses predictive technology to adjust to the user's hair thickness, and its temperature is pre-set to 365 degrees Fahrenheit in order to prevent damage.
Pros: easy to use; effective; works quickly; heats quickly; color-protecting
Cons: temperature isn't adjustable
Customer Review: "My frizzy wavy hair was very straight and sleek after using this flat iron. The flat iron also heats up very quickly and is easy to operate due to it not having a lot of buttons to push." -Sephora
Best Cordless Flat Iron for Silk Presses
Dyson Corrale Hair Straightener
The fan-favorite Corrale hair straightener from Dyson is made with flexible plates that shape themselves around hair in order to lessen damage and allow users to keep heat levels low. This is because the brand makes the plates from manganese copper alloy, which not only shapes itself around strands but also gathers more hair at a time, meaning you can save time (and your hair health) by using fewer passes to get the job done. Its adjustable temperature ranges from 330 to 410 degrees Fahrenheit, and it can be using cordlessly for up to 30 minutes.
Pros: cordless capability; allows for versatile styling; good for travel; flexible plates decrease damage; works quickly
Cons: short cordless battery life; heavy
Customer Review: "Heats up quickly and keeps the heat consistent. Also the handle doesn't get hot which makes it easier for me since it takes awhile to get to all my hair. You can easily throw some curls or styling swooshes, very easy to maneuver and again no hair getting caught. There's also a option to swap into airplane mode for the battery which I think is a cool addition for when I need to do that in the future." -Sephora
Best Vibrating Flat Iron for Silk Presses
Drybar Reserve Vibrating Flat Iron
Drybar's one-of-a-kind flat iron vibrates in order to create a balance of tension that straightens hair effectively while preventing snagging and pulling. It's made for all hair textures and levels of thickness, and can be used to straighten or to create curls or waves. It promises to deliver even heat that users can adjust up to 450 degrees Fahrenheit by using an intuitive, easily accessible digital control panel. Plus, if you love to travel, you can rest assured: This tool is equipped with universal voltage (without a converter). For even more convenience, it also has a 60-minute automatic safety shut-off and a nine-foot-long cord.
Pros: long cord, universal voltage; easy to use; adjustable temperature; automatic safety shut-off
Cons: some users say that it gets hot during extended use
Customer Review: "Absolutely love this straightener! I have naturally super curly hair and this has made styling my hair super easy. I really feel like this helped reduce frizz when styling my hair as well. The product is lightweight and my arms don't get tired when styling my super thick air. The packaging is sleek and aesthetically pleasing. Feels high end and luxe. The vibrating settings are easy to use and make a difference in the end result." -Sephora
Best High-Tech Flat Iron for Silk Presses
T3 Smooth ID 1" Digital Ceramic Flat Iron with Smart Heat Setting Personalization
T3's Smooth ID flat iron is based around personalization, with a whopping nine settings that allow users to choose the level of heat they feel most comfortable with. It's also made to adjust to your hair's unique texture and needs, and has a smart touch interface that allows for ease of use. Users say that it glides through hair without any painful snagging or pulling, and that hair always looks shiny and smooth after use. Finally, it's built to prevent heat damage and breakage.
Pros: award-winning; adjustable hear settings; works on all textures and levels of thickness; prevents damage
Cons: some users found it fragile
Customer Review: "I love that it has nine heat settings which can customize the setting by hair texture, length, and color treatment. It doesn't take long to be heated and it will have notifications which I really love. When I iron my hair, I can feel that it give less damage to my hair. The ceramic plates make the process very smooth and my hair is so shiny after use!" -Sephora
Best Moisturizing Flat Iron for Silk Presses
BaBylissPRO Titanium Ultrasonic Cool Mist Flat Iron 1.25"
This option from BaBylisspro uses a novel technology to prevent heat damage: It turns water into a cooling, subtle mist that infuses hair with moisture and shine and prevents strands from overheating. Plus, it's made from smooth titanium plates that, per Parker's advice, are perfect for thick hair that tends to resist straightening. Durable and popular among users with natural hair, it features adjustable heat settings that range from 265 degrees to 450 degrees Fahrenheit, ensuring that any customer with any hair type or texture can enjoy optimal results.
Pros: durable; adjustable temperature; shine-enhancing; effective for users with thick hair
Cons: some users said it had a smell when on
Customer Review: "I love how it makes my hair feel!" -Walmart
Best Travel Flat Iron for Silk Presses
ion Titanium Ceramic Travel Gator Iron 1 Inch
This option, whose size and carrying case make it ideal for travel, features plates that are both titanium and ceramic, so it's perfect for users with any hair type or thickness. They also have a smooth mirror surface that allows for maximum gliding, so you can create pin-straight looks, curls, waves, or flips without pain or difficulty. The tool also incorporates both negative ion and infrared technology, nourishing hair from the inside out and preventing damage. Its heat is also easily adjustable, with temperatures ranging from 300 to 410 degrees Fahrenheit. Finally, it also boasts dual voltage, so it can be safely used all over the world.
Pros: dual voltage; adjustable temperature; ceramic and titanium plates
Cons: none found
Customer Review: "This iron not only smooths my hair down, but the heat somehow expands my hair gives it the lift that it needs. I love that it's a smooth ceramic plated and mirror plated glide. No pulling or tugging." -Sally Beauty
Best Affordable Flat Iron for Silk Presses
INFINITIPRO By Conair Tourmaline Ceramic Flat Iron
This option is made for creating salon-quality styles, from ultra-straight, sleek silk presses to gentle waves. It also heats up quickly (within 15 seconds, to be exact), and it has five adjustable heat settings that reach up to 455 degrees. Users say that it's easy to maneuver and that its ceramic plates hold a surprising amount of hair, so you can accomplish your desired style quicker and with more ease. And with a price tag under 40 dollars, you truly can't go wrong.
Pros: ideal for natural hair; adjustable temperature; heats quickly
Cons: some users say they had to use several passes for results
Customer Review: "I like how it straightens my hair and it's not frizzy or dry when completed." -Amazon
Best Damage-Minimizing Flat Iron for Silk Presses
Drybar The Tress Press Digital Styling Iron
Another excellent option from Drybar, this compact flat iron is meant to reduce frizz and smooth hair of all curl patterns and levels of thickness. It doubles as a straightener and curling iron, increasing shine—no matter the desired style. It utilizes ionic technology and titanium plates that straighten hair while minimizing damage, and it has a nine foot long chord that allows you to use it easily, wherever you are, without worrying about getting tangled up in wires. And for your safety, it has an automatic 60 minute shut-off, too.
Pros: versatile for all styling; long chord; automatic safety shut-off; reduces damage
Cons: some users report that it's fragile
Customer Review: "If you have fine, thin, or damaged hair, this is likely the best option for you because you can control the temp in increments of 10 degrees... I set the Tress Press at 220 [degrees] and it works perfectly for me and doesn't fry my hair." -Sephora
Best Salon-Quality Flat Iron for Silk Presses
Remington S9520 Pro 2" Pearl Ceramic Flat Iron
Users absolutely love this flat iron, which promises to deliver salon quality results on a budget. Its ceramic plates (which come in both this two-inch option and a thinner one-inch option) are made from crushed pearls, which are meant to deliver faster, more effective results than other ceramic options. Its temperature is digitally controlled, reaching heat levels as high as 450 degrees in only 30 seconds, and it also features an automatic 60 minute shut-off to ensure users' safety.
Pros: automatic safety shut-off; heats quickly; digitally controlled temperature
Cons: some users find it fragile
Customer Review: "All I have to say is that this product is great! Leaves your hair soft like silk. My daughter has really curly hair and when I [used this] I was amazed with the results! It was soft, silky, and [had] lots of shine!" -Walmart
Meet the Expert
Mideyah Parker is a celebrity hairstylist who graduated from the Aveda Institute in Tallahassee, Florida. She has styled celebrities like Danielle Brooks, Dascha Polanco, Laila Odom, and more, and has worked with brands such as Tory Burch, Prada, Versace, Marc Jacobs, and others. She is currently based in New York City.
Marie Claire email subscribers get intel on fashion and beauty trends, hot-off-the-press celebrity news, and more. Sign up here.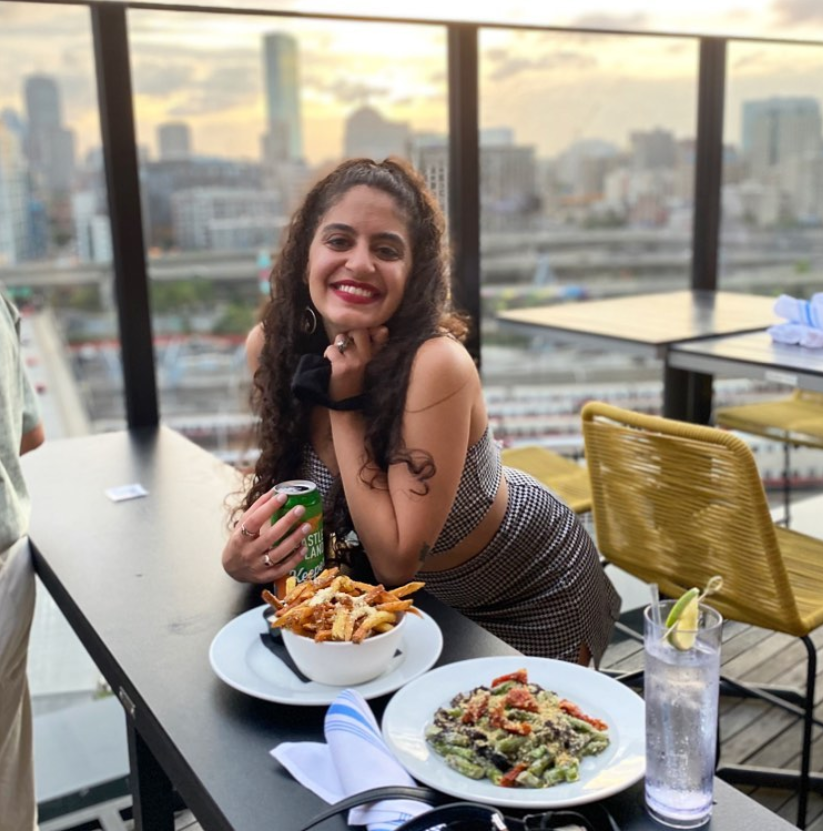 Gabrielle Ulubay is an E-Commerce Writer at Marie Claire and writes about all things beauty, sexual wellness, and fashion. She's also written about sex, gender, and politics for publications like The New York Times, Bustle, and HuffPost Personal since 2018. She has worked extensively in the e-commerce and sales spaces since 2020, including two years at Drizly, where she developed an expertise in finding the best, highest quality goods and experiences money can buy. As a film school graduate, she loves all things media and can be found making art when she's not busy writing.