The 9 Best Hot Rollers for the Curls of Your Dreams
This is how we roll.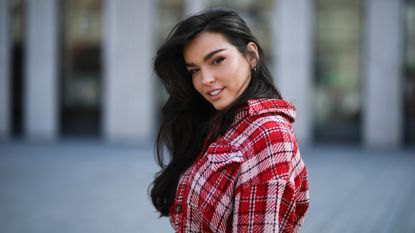 (Image credit: Jeremy Moeller/Getty)
Say "hot rollers" and your mind might go straight back to the '60s. But over the past few decades, this old-school beauty tool has come a long way on the technology front. The best hot rollers of 2023 are efficient, compact, and, most importantly, user-friendly. Take it from the world's most uncoordinated person: Hot rollers are far easier to maneuver than a curling iron with a clamp or a round brush. And the results? It doesn't get much better. "Hot rollers give you a lot of volume, a lift at the root, and bounce," hairstylist Jennifer Matos from Rita Hazan explains.
Alas, hot rollers aren't one size fits all. While there are great options for every hair type and texture out there, the size of the barrel and number of rollers required is going to differ from person to person. To get a better idea of what to look for—and shop the best hot rollers on the market—keep scrolling. We're sharing our editor-approved favorites tools, and sharing a guide on how to use hot rollers, ahead.
What Kind of Hot Roller Should I Use?
When looking for a hot roller, there are a few deciding factors: a) What look do you want to achieve? b) What's your hair type? And c) How long is your hair?
"The smaller the roller, the more of a bounce you'll get," explains Matos. "The larger the roller, the less bounce you'll get. It will be more of a looser curl."
With that in mind, hair rollers with smaller diameters will typically be preferred for fine hair types, as a tighter curl will last longer. When it comes to length, just make sure to manage expectations. Those with short hair will likely get lift and volume, whereas those with longer hair can expect full-blown curls.
How Many Hot Rollers Do I Need?
At minimum, you're going to need at least five hot rollers. "If you're looking for a quick pick-me-up, you can do a half head of rollers, which would be three on top and two on the sides," explains Matos.
A full head is going to require about 10 rollers, depending on the length and texture of your hair, though obviously someone with thick, long hair is going to need more hot rollers than someone with a fine bob.
Best Hot Rollers
The Best Hot Rollers for Customizable Heat
T3 Micro Volumizing Hot Rollers
These velvety wonders have it all: A wide circumference for maximum body, cool edges for easy handling, snag-free velvet flocking, and a steady and strong heating element. They're also fairly customizable. While they work across all hair types and textures, you're able to control your heat setting to ensure a damage-free styling session. An added bonus? The set automatically turns off after 90 minutes so you don't have to worry about burning the house down.
Pros: Velvet flocking; 90-minute auto-off; stylish storage case
Cons: Bulky clips, not great for super thick hair
The Best Hot Rollers for Damaged Hair
BaBylissPRO Nano Titanium Roller Hairsetter
No, this set was not an extra in the film adaptation of Hairspray. What looks rather old-school actually represents effective, modern technology in the form of gentle infrared heat. What does this mean exactly? You're going to get a quicker curl and cause less damage to the hair. This set comes with 20 different sized rollers, so you can add a mixture of tight and loose curls depending on your mood.
Pros: Generates far-infrared heat; ready-to-use indicator light
Cons: Curlers at least 15 minutes to heat up
The Best Hot Rollers for a Crease-Free Finish
CHI Smart Magnify Ceramic Rollers on a Platform
There's nothing more frustrating than filling your head with hot rollers only to unravel and discover a crease where your clip sat. That pain point is null and void with this innovative set. Chi created a custom clip that works in tandem with the rollers to leave you with a crease-free, smooth finish. This nine-roller set comes in two different sizes too, so you can decide if you want tight or loose curls.
Pros: Great on all hair types; velvet finish for tangle-free curls
Cons: Bulky clips
The Best Hot Rollers for Big Waves
Conair Travel Hairsetter with Jumbo Rollers
If you want to refresh your blowout on the go and don't need to do your entire head, try this set of five rollers from Conair. Each roller is one and a half inches, so you're going to get a bouncy, full finish. This is also a great option for anyone who wants to give their curtain bangs or face-framing layers a little extra oomph.
Pros: Great for travel; easy to use
Cons: Not great for shorter hair; can leave creases; only five rollers in the set
The Best Hot Rollers for Travel
Remington H1018 Compact Ceramic Worldwide Voltage Hair Setter & Rollers
This teeny-tiny kit from Remington holds 14 rollers (five large and five medium) and is guaranteed to fit in your carry-on at only seven inches long. It also promises to heat up in just 90 seconds, so it's great if you're running around on vacation.
Pros: Ionic and ceramic technology reduces static and frizz; great for travel
Cons: No auto shut-off feature; heavy rollers
The Best Jumbo Hot Rollers
InfinitiPRO By Conair Jumbo Ionic Roller Set
While some of these other sets are capable of creating a true curl, this set of eight is designed for those who just want body and volume. Each roller has a two-inch barrel, which makes it perfect for adding bounce, movement, and lift to the root. A full head of these babies will mimic a professional blowout—sans the round brush.
Pros: Easy to use; base cools quickly; great for fine hair
Cons: Flimsy clips
The Best Hot Rollers for Long, Thick Hair
Conair Xtreme Instant Heat Jumbo And Super Jumbo Hot Rollers
Despite their jumbo size, these rollers from Conair heat up in only 85 seconds. We love efficiency! They come in two, large sizes, so your long hair can get a mix of waves and loose curls when all is said and done. The roll up is smooth (no snagging) and the release is always flawless thanks to the ceramic barrel.
Pros: Great for thick hair; even heat transfer; lightweight
Cons: Hair can get caught in slits used to heat the rollers
The Most Versatile Hot Rollers
Conair Ceramic Flocked Hot Roller Set
A whopping 12 heat settings means that you can dial in the temperature that works for your texture, length, and desired end result. That also means it can be a less damaging process for the hair—just keep the temperature as low as possible. This set gets extra points for its ceramic construction and an ionic port system, both of which work to minimize frizz and damage.
Pros: Ready-to-use indicator light
Cons: Not great for fine hair; difficult to get clips on rollers
The Best Hot Rollers for Shine
Remington Compact Ceramic Worldwide Voltage Hair Setter
Tugging and pulling can cause breakage and frizz. But thanks to this set's ceramic composition and anti-tangle design, rolling the hair up—and releasing it—is a smooth, snag-free process that leaves hair feeling and looking as shiny as possible. Seal the deal with some shine spray and you're bound to get stopped on the street.
Pros: Compact case; ceramic technology reduces static and frizz; minimal maintenance
Cons: Not great for short hair; doesn't get very hot
How to Use a Hot Roller
While the whole kit and caboodle may look intense, rest assured that using hot rollers is actually pretty easy:
After giving your rollers a good 10 minutes to heat up, spray your heat protectant and section your hair. "Section in a mohawk section, from mid-eyebrows to the crown of your head. Ideally, there's three rollers there," advises Matos.
Then, you'll want to section out the sides of your hair (two rollers per side is perfect). "For the back, grab whatever hair is left and do it in sections. The number of sections depends on the hair texture, but usually three to four is plenty of sections." (Pro tip: Always roll away from the face.)
Then let the rollers sit for as long as the instructions suggest, roll 'em out, and finish off your look with a hairspray.
Meet the Expert
If you ask Jennifer what she thinks is the key to satisfying her clients, she'll say "listening". Jennifer earned her title as a stylist with Rita Hazan after years of extensive training. Her unequivocal talent is matched with the knowledge of her profession, courtesy demeanor, and sweet personality that is loved by all.
Celebrity news, beauty, fashion advice, and fascinating features, delivered straight to your inbox!