Nostalgia Alert: Herbal Essences Is Going Back to Its Roots
Minus the orgasm commercials.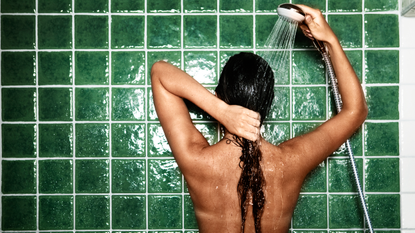 (Image credit: Frank Rothe/Getty Images)
Marie Claire Newsletter
Celebrity news, beauty, fashion advice, and fascinating features, delivered straight to your inbox!
Thank you for signing up to Marie Claire. You will receive a verification email shortly.
There was a problem. Please refresh the page and try again.
Liquid shampoo didn't change all that much during the 20th century. From its invention in 1927 until the 1960s, the basic recipe was water, surfactants to lather away dirt and oil, emulsifiers to keep the formula from separating, and fragrance. Eventually, haircare companies began to add ingredients like strengthening proteins and smoothing silicones, but even in 1972, when Herbal Essences shampoo launched, its major point of differentiation was the scent. It smelled like "dawn in the Garden of Earthly Delights," a "primeval forest after a spring rain," and/or the "green essence of mysterious herbs and enchanted flowers," according to the ads. (You must watch the animated 1972 ad below, if only for the amazing narration.) It also claimed to make hair "very, very excited," a proposition the brand doubled down on in the '90s with TV ads depicting a woman having an arousing and totally "organic" experience in the shower.
That's all well and good—really good, if your experience was anything like the one in the commercial—but chemistry advances onward. To keep up, Procter & Gamble (the parent company of Herbal Essences) continually finds new ways to update its formulas. More than a decade ago, its researchers began to study what comes out of the showerhead, instead of just what goes into the bottle. "Tap water contains trace amounts of minerals and metals picked up from your pipes and the ground," explains Maria Buck, a chemical engineer at P&G. Copper ions—found in almost all water—are particularly gnarly for hair. Left behind after washing, they damage the fibrous proteins that make up strands, accelerate the negative effects of UV light, and cause color changes, weakness, and dryness. "We realized that if we could neutralize the copper in water, hair would be healthier, softer, shinier—even the color would be more vibrant," says Buck.
The breakthrough: They found a way to do it using natural ingredients. P&G scientists combined the antioxidant histidine—an amino acid derived, in this case, from fermented corn sugar—with sea kelp and aloe to create an ingredient complex that neutralizes copper, counteracts the negative effects of other free radicals, and helps remove buildup. The concoction has a starring role in Herbal Essences' new line of bio:renew shampoos and conditioners, coming out in January.
All nine varieties are designed to stop the strip-and-coat cycle many women fall into when they use shampoos with harsh surfactants to cleanse and heavy conditioners to counteract the resulting dryness. A standout is the silicone-free Golden Moringa Oil shampoo formulated with biolipids. "Instead of just coating the hair fiber, the biolipids penetrate to moisturize from the inside out," explains Rachel Zipperian, a chemist on P&G's scientific communications team. "Your hair is replenished and still retains its bounce." Naturally, the line has revamped packaging (with a nod to the brand's "Garden of Earthly Delights" heritage) and fresh new fragrances. But don't worry, the scents are still inspired by botanical extracts, fruits, and flowers—this is Herbal Essences, after all.
This article appears in the January issue of Marie Claire, on newsstands now.
Celebrity news, beauty, fashion advice, and fascinating features, delivered straight to your inbox!
Jennifer Goldstein is the former beauty & health director of Marie Claire and co-host of the award-winning beauty podcast Fat Mascara. In her quest to uncover the world's beauty secrets, she's gotten tattooed in New Zealand, dug up turmeric in India, harvested shea nuts in Ghana, and squeezed enzyme-rich eggs from salmon in Norway. She can pluck eyebrows like a pro and has read the FDA monograph on sunscreen labeling and effectiveness—but she still can't get liquid eyeliner to look the same on both eyes.