How to Clean Your Makeup Brushes the Right Way
Mystery solved.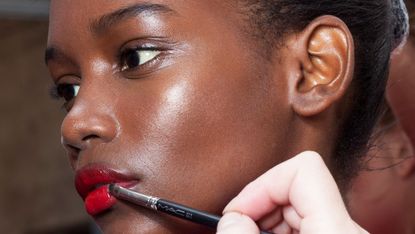 (Image credit: Getty Images)
Doing your makeup is all fun and games until you realize...yes, you actually do have to clean your makeup brushes. Cleaning makeup brushes is one of those laundry list annoyances that rarely seems like something that has to be done right now. "You can just NOT clean makeup brushes, right??" I say as How often should I be cleaning my brushes? it's taken on a new identity with the amount of makeup on it.
Well, not really, according to the professional beauty artists who create fresh makeup canvases for stars every day. Dirt and oil from the skin combined with powder accumulate in the brushes we use frequently, and without regular cleaning action, they can cause skin irritation and breakouts. You definitely don't want your makeup routine to doing more harm than good, and your brushes could be the culprit. Below, an easy guide to cleaning your brushes the right way.
How often should I be cleaning my brushes?
First off, great question! Dallas-based makeup artist Joanna Hathcock recommends a regular rinse every two weeks, if not weekly. If you have extra-sensitive skin, of course, that process may need to happen every few days.
But how do you actually, uh, do that? After all—as any novice learns the hard way—it's not just a matter of running your brushes under the sink and calling it a day. Every makeup pro has their own specialized way of doing things, so here we unpack some of the most efficient ways to get the job done without ruining the brush itself.
Beauty vlogger Desi Perkins provides two step-by-step methods below of cleaning brushes, from the most basic (dish soap/bar soap and olive oil) to a more specialized way of removing dirt. Get ready for your brushes to be squeaky clean.
How to DIY Clean Your Makeup Brushes at the Kitchen Sink
If you're in a bind for time or just don't feel like making a trip to the store (Same!), the tools you'll need are closer than you think. Here's what you'll need.
Perkins works with a regular Palmolive dish soap and olive oil, mixing mostly dish soap and a small amount of olive oil in a bowl. Baby shampoo works too since it's known for its gentle qualities. As she explains, the dish soap works to disinfect while the olive oil conditions.
She dips her dirty brushes into the mixture, head down, and swirls them around on the textured mat. Note that instead of working the brushes against her hand, the textured mat allows her to create more friction while breaking up the dirt and powder trapped in her brush.
To finish, she rinses the brush to remove all remaining soap and residue. As a substitute for the dish soap, she also recommends using a bar soap with olive in it, a favorite of makeup artists like Mario Dedivanovic, who's known for his work with the Kardashians, to remove dirt and condition brushes.
If You're Cleaning In a Rush
How to Deep Clean Your Makeup Brushes
When you're looking to get rid of all the glitter of past makeup looks otherwise known as that failed attempt of creating a look you saw on TikTok, Perkins recommends reaching for a cleanser specifically designed to nourish and clean brushes.
For what it's worth, one of our favorite makeup artists, Gucci Westman, recommends a gentle cleanser like Eminence Organics natural brush cleanser for every day use. If you're looking for a serious deep clean, set your eyes on a brush shampoo and conditioner for your brushes.
To begin, Perkins starts out in her bathroom sink this time, dampening her brush by holding it with the bristles downward (to avoid the moisture breaking up the glue in the brush head). The less moisture by the handle, the less likely your brush will fall apart on you. You get what we're saying?
Then, she uses a brush shampoo and conditioner from Ely Maya, dipping the brush head into the jar and swirling it around. This time, she works her brushes against the multi-textured surface of a Sigma Beauty Cleaning Mat, it has a variety of dense striations designed to clean different brushes, from a fat foundation brush to a little lip liner brush.
To remove all of the cleanser and dirt out of the brush, she rinses the brushes thoroughly under water and disinfects the handles with some rubbing alcohol. This is because the alcohol evaporates rather than saturating with moisture and causing potential mildew to arise.
Optional: For spot treatments between deep cleans, Perkins suggests that people use liquid cleaners like M.A.C's brush cleaner. She tells us she likes to squeeze a few drops of the formula onto a cotton pad, then swirls the heads of her brushes into the paper towel to break up the pigments.
If You Have a Little More Time On Your Hands
Don't Forget to Dry Them
All right, before you jet off to another deep dive beauty article of ours. Perkins recommends using an upside-down method. You can make a DIY drying rack at home by strapping brushes to a cutting board and securing them with elastic bands, or you can grab this Dry'N Shape Tower by Sigma that can dry 48 brushes at once.
People swear by the way drying upside down retains shape, pulls moisture from the bristles, and avoids bacteria growing in wet brushes. On the other hand, many famous beauty pros just lay their brushes out on a regular old paper towel, so...your move.
For more stories like this, including celebrity news, beauty and fashion advice, savvy political commentary, and fascinating features, sign up for the Marie Claire newsletter.
Celebrity news, beauty, fashion advice, and fascinating features, delivered straight to your inbox!