Makeup How-To: Neutral Date Night Look
Look naturally gorgeous with this minimal, but big impact look.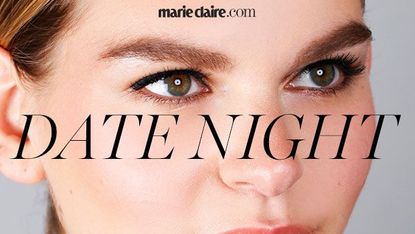 (Image credit: Kathryn Wirsing)
Step 1, 2, and 3. Start by applying concealer to the underneath part of your eyes. Jenny is wearing color TK ($8.95; l). [See the how-to here]
Step 4. Using L'Oreal True Match Super Blendable Makeup foundation (Jenny is wearing color Fair/Light Neutral, $10.95), create 3 dots across your forehead. Then add 12 dots in a W-shape from the top of your cheekbone down to the apple of your cheek, up across your nose, and then finishing at the top of your other cheek almost by your temple. Finally, place 2 dots of foundation above your lip and 1 on your chin. Blend all the dots together using a foundation brush. Pro tip: focus on one area at a time to ensure that all of the makeup is evenly blended. [See the full how-to here]
Step 5. Apply a light dusting of highlighting powder to just underneath the brow bone and down over the cheekbone in a C-shape. Apply a translucent finishing powder to set the rest of the face.
Step 6 and 7: Use a light bronze shimmery eyeshadow and apply all over the lid and underneath the lower lashes.
Step 8: Create a black winged line on your upper lash line and finish with two coats of mascara. [See the full how-to here]
Step 9: Using a coral pink lipstick, apply one coat to both the upper and lower lips.
Step 10: Take a lip brush and apply one coat of clear lip gloss or Vaseline to create a lot of shine. [See more Vaseline uses here]
More Makeup How-Tos: