The 12 Best Cream Eyeshadows, According to Makeup Artists
The best part? They're so easy to apply.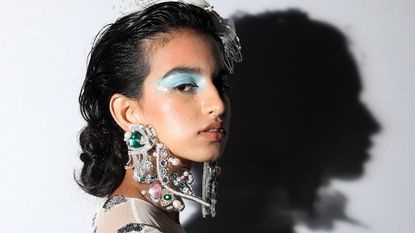 (Image credit: Brendan Thorne/Getty)
Don't get me wrong: Eyeshadow palettes are great. Really, truly. But buffing powder formulas to perfection takes a tad of skill and a bit of time. The best cream eyeshadows, on the other hand? They're easy, breezy. All you need is a finger swipe, a little tapping to blend, and a five-star formula that won't crease, budge, or smudge. From sparkly options that are quite literally one-and-done to luxe quads that can be layered for a more intense eye, there's a whole wide world of beautiful cream eyeshadows to choose from. "You can create an entire eye look and then add a cream shimmer on top as the final step," says makeup artist Dani Parkes. "You can even set the shimmer you add with a powder shadow afterwards."
Want to get on board the cream eyeshadow train but not sure where to start or what to buy? Scroll ahead. Top makeup artists are sharing the cream shadows they always keep in their kits. We also took the liberty of throwing in some of our faves. From easy-to-apply sticks to eye and cheek multipurpose duos, here are the best cream eyeshadows in the game.
The Best Cream Eyeshadows
The Best Cream Eyeshadow for Easy Application
Laura Mercier Caviar Eyeshadow Stick
"This has been my favorite for a while. They're pen-like and smudge effortlessly onto the lid, which makes them so easy to use," says celebrity makeup artist Priscilla DiStasio. "They're amazing for a quick and non-messy smoky eye. They also come in endless shades, both with matte and glowy finishes." Use them solo, combine a few shades for a more sculpted look, or even let one double as a smudged eyeliner across your lower lash line. Oh, and one last pro tip: Toss some in your bag for midday touch-ups.
Pros: Easy to use; Great for lower lash line; Multiple finishes
Cons: Not long-lasting
The Best Cream Eyeshadow for a Glitter Finish
Hourglass Scattered Light Glitter Eyeshadow
While most glitter eyeshadows are going to have substantial fall out, these glitter-specked, densely-packed cream pots don't move—like, at all. "You can apply these with just your fingertips, which I find gives the best results for this type of cream shadow," adds DiStasio. Just a little bit of product gives a gorgeous, reflective wash of color that catches the light at every turn. Place a dot in your inner corner, on the center of your lid, or do a full-fledged glitter eye if you're feeling a little fancy.
Pro: Doesn't crease or smudge; Intense payoff
Cons: Limited color selection
The Best Multi-Purpose Cream Eyeshadow
Danessa Myricks Colorfix Cream Pigment
"I'm in love with these amazing, versatile cream colors from Danessa Myricks," says DiStasio. "They are great for everyone, come in all shades and finishes, and can literally be used anywhere on the face." The matte and high shine options are stunning on the eyes, lips, and cheeks, while the metallic options look gorgeous as a highlighter or pop on the lid. The biggest plus with these little guys however is their incredible staying power. They're waterproof (aka sweat- and humidity-proof), do not crease in the slightest, and will look just as pigmented at night as they did during the a.m. Just be warned: They dry down quickly, so work fast.
Pros: Long-lasting; Intense payoff
Cons: Dries down very quickly
The Best Buildable Cream Eyeshadow
Jones Road Just a Sec Clean Cream Eyeshadow
"When looking for a cream eyeshadow, I am looking for a formula that is long-lasting with no creasing and buildable coverage. I love the Jones Road Just a Sec Clean Cream Eyeshadow because it has a beautiful shimmer and is super easy to apply. This formula is great for people who want a wash of color because it can be built up to a beautiful and dense shade," says makeup artist Nydia Figueroa. "You can use your fingers or, one of my favorite brushes, the Anisa Beauty Eye Fan All-Over Brush. This brush has an incredible shape and swipes on the cream eyeshadow with ease."
Pros: Buildable; Doesn't crease
Cons: Small shade collection; Glitter fallout
The Best Cream Eyeshadow for Layering
Bodyography Shadow Stylist Crayon
"This creamy, long-wearing, and waterproof formula is so versatile, travel friendly, and applies like a marker. It's also cruelty-free and sets within 30 seconds," says makeup artist Dominique Lerma. "I love layering this as an eyeshadow base to secure the longevity of an eyeshadow look. It has a high-shine, metallic finish and is available in eight various shades. My current favorites are Coin, a rose gold, Miss, a metallic khaki green, and Copper, a metallic bronze copper." Lerma's go-to application tip? "Swipe them on your eyelid from your lash line up into your crease and buff and blend it out in a windshield-wiper motion on your crease using my go-to Omnia Crease brush.
Pros: Easy to apply; Long-lasting
Cons: Limited shade selection
The Best Blendable Cream Eyeshadow
Glossier Lidstar Glistening Eye Glow
"This is the perfect cream shadow for a minimalist makeup look. It adds a shimmer and elevates your eyes in a beautiful way, and is super easy to use," says Parkes. There's no need for a brush—just swipe the applicator across your lid in your color of choice (there's eight total) and diffuse any harsh lines with your finger. You'll be left with a sheer, very subtle wash of color that provides just a little extra oomph. Pro tip: "You can even use this product as a highlighter to create a chic monochromatic look!"
Pros: Easy to use; Multi-purpose
Cons: Not super pigmented
The Best Crease-Proof Cream Eyeshadow
Armani Beauty Eye Tint Long Lasting Liquid Eyeshadow
"This is my holy grail product for the perfect 'going out look,'" says Parkes. "It is highly pigmented and creates a stunning eye look on its own." The crease-proof, 16-hour wear formula comes in a mix of matte and shimmer shades that give a dense, bold wash across the lid. The pointed applicator can be dragged along the lash line for extra drama. Want to take your pigment to another level? Parkes recommends layering this on top of a powder formula.
Pros: Highly pigmented; Long lasting
Cons: Dries down quickly; Difficult to get product out of the jar
The Best Buildable Cream Eyeshadow
Charlotte Tilbury Eyes to Mesmerize
One of my personal favorites, these little pots really pack in the shimmer. They have a reflective, silk-esque finish that's incomparable to other products. The shades themself are metallic by and large, but work across a range of undertones. They're buildable to the max, can be layered with other products, or used solo as a statement eye. But the most impressive feature is the formula's blendability. You have time to work with the product and perfect your shape without having to worry about it drying down in five seconds.
Pros: Blendable; High shine
Cons: Fades throughout the day
The Best Luxury Cream Eyeshadow
Tom Ford Cream Color for Eyes
The biggest eyeshadow pain point? Creasing—and you can't fight me on that. By the time dinner rolls around, chunks of shadow pool in the little lines of your lid. This cream pot however manages to be the exception to the rule. Once it sets, it's not going to budge. The luxe, metallic-finish formula gives a long-lasting fleck of shimmer and shine to any makeup look. If you really want to ensure crease-free wear, start off with a great eye makeup primer.
Pros: Smudge- and crease-free; Long lasting
Cons: Expensive