Makeup How-To: Dark Green Eyeliner
Like blue eyeliner makes blue eyes bigger, dark green eyeliner works magic for hazel and green eyes.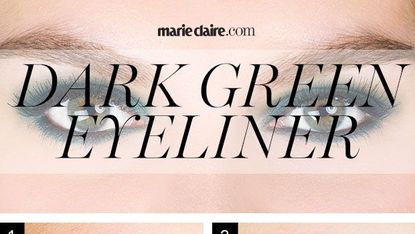 (Image credit: Kathryn Wirsing)
Step 1. Using a black kohl eyeliner (opens in new tab) pencil draw a thin, straight line close to the lashes, from the inner corner of the eye to the outter corner.
Step 2 and 3. Apply a dark green kohl eyeliner right above the black line and all the way to the crease.
Step 4. Smudge the crease (opens in new tab) with your finger. Do this fast as the pencil dries quickly.
Step 5. Outline your entire eye by connecting the green eyeliner (opens in new tab) from the outer corner all the way to the inner corner, just below the lower lash line.
Step 6 and 7. Fill in the waterline and lash line (opens in new tab) with a matte black pencil connecting the inner and outer corner as well.
Step 8. Apply two coats of your favorite black mascara to both the top and bottom lashes.
More Makeup How-Tos:
Light Purple Eyeliner (opens in new tab)
Light Blue Eyeliner (opens in new tab)
Lipstick Beauty Tricks (opens in new tab)
How to Apply Bronzer (opens in new tab)
Dewy Skin (opens in new tab)