How to Look Younger: 30 Beauty Moves to Make Before You're 30
Mere mortals can look model-esque, provided they follow a bit of expert advice. Here, 30 beauty moves to make before 30, from MarieClaire.com.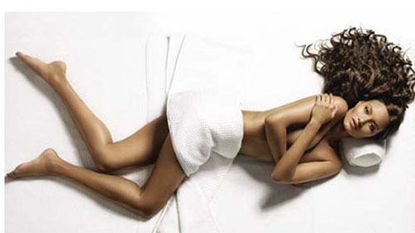 (Image credit: Greg Delves)
This is not a picture of me. But one thing I've learned, after more than a decade in the business, is that mere mortals can look model-esque, provided they follow a bit of expert advice. Oddly, despite writing hundreds of articles full of such advice, I never followed it myself before turning 30. But then I hit 30 — and, well, it wasn't pretty. That's when I vowed to actually practice what I'd preached. And you know what? It made a difference. So, without further ado, I bring you the 30 beauty moves I wish I'd committed to before 30. Luckily, it's never too late to get back on track, looks-wise.
1. Focus on your eyes when you want to make an impact. They're what people notice first. False lashes, black liner, shimmery shadow, and good brows will take you far, even if you don't wear lipstick and haven't washed your hair in three days.
How to Apply Fake Lashes

2. Avoid cream-to-powder foundation unless you're really oily. If your skin is combination, normal, or dry, the product will suck all the moisture out of it as it evaporates.
3. Sidestep streaks by mixing self-tanner with moisturizer before applying. This dilutes the formula so you don't look stripy.
How to Apply Self-Tanner

4. Blow-dry rather than chemically straighten your hair. Most stylists say they'd rather see you use a blow-dryer every other day (even though you risk heat damage) than apply harsh chemicals to your hair. I learned the hard way.
5. Learn how to blow-dry like an expert. The real reason you can't replicate the way your hair looks after a visit to the salon? Poor blow-drying skills. Ask your stylist to show you exactly what she does, step-by-step. (For example, once I stopped using a round brush on my bangs, I finally got them to lie flat.)
How to Tame Frizzy Hair

6. Keep the razor away from your bikini line. Exfoliating and waxing — and exfoliating some more — is really the only way to avoid bumps.
7. Buy the right tools for the job. I now rely on an eye shadow crease brush (by Bath & Body Works) and an angled blush brush (by T. LeClerc). They make application goof-proof.
8. Seek professional brow help. Brows are like the hair on your head — dramatically better when groomed by an expert.
Step-by-Step Brow Help

9. Keep two fully stocked makeup bags to save your sanity in the a.m. — one for items you use every day (and can apply in the dark), the other for all those crazy impulse buys that you'll only try when you have time for experimenting.
10. Own a fragrance wardrobe. My favorites include Botrytis by Ginestet, Matin Calin by Comptoir Sud Pacifique, Prada and Narciso Rodriquez Musc for Her. Fragrance is the quickest pick-me-up: You just feel confident when you smell good. Why do you need several? For the same reason you have a closetful of clothes — options.
11. Hydrate. Hydrate. Hydrate. Unless you have an excessively oily complexion, you must moisturize. Think of leather: Untreated, it gets lines and creases. And you don't want to look like a worn bag.
12. To look younger, get bangs. Every hairstylist will tell you this. I think it's because we associate bangs with kids (there is not a long wisp to be seen in the park where my 3-year-old daughter plays).
13. Splurge on your haircut. Seek out the best stylist for your type of hair; it may cost more, but if the technical part of your style's no good, no amount of product will fix it.
14. Don't ever line your lips or eyes too severely. Repeat after me: "Blend." (Unless, of course, you're trying to make either look smaller.)
15. Use a curling iron (even in you have naturally curly hair) to get perfect spirals. To do: Wrap (don't clamp) wide sections of hair around the barrel.
16. Pamper your feet. If you're going to indulge in any spa treatment, go for a pedicure. It costs more than a manicure (though much less than a body treatment), but it lasts for weeks and includes a leg massage. Moreover, getting your toenails professionally trimmed can actually prevent ingrowns.
17. Adore Aquaphor! Every dermatologist I've ever met does. Why? This occlusive salve by Eucerin is the antidote to cracked hands and feet. Apply a thick coat at night, cover with socks or gloves, and wake up to perfect skin.
18. Keep it fun. Beauty should never be taken too seriously. Just for kicks, I love using Secret Vanilla Sparkle deodorant (so teenybopper) and Crest Whitening Expressions Lemon Ice toothpaste (lemon meringue in a tube).
19. Make the most of your looks — in moderation. With plastic surgery at an all-time high and face transplants making news, you actually can change anything. But going under the knife can be painful, costly, and noticeable — in a bad way. A better bet: Dabble in less-invasive procedures, like Botox and Restylane. They may be all you need to look refreshed.
20. Wear high heels when you want to look like you've lost five pounds in five seconds.
21. Never apply lipstick out of the tube. To dispense just the right amount, and keep it on longer, pat it into your lips with a finger instead.
22. Cure cellulite with self-tanner! Well, nothing really rids you of cellulite, but self-tanner hides it very well.
23. Go light on foundation. Makeup artist Jemma Kidd taught me to use it only under my eyes and around my nose. Ever since I stopped covering my whole face with it, I've heard that I look everything from "well rested" to "younger."
24. You can never go wrong wearing your hair down. You can, however, look back on photos in which you're sporting a weird updo and wonder, What was I thinking?
25. Stick within a shade or two of the hair hue you were born with when natural (but better) is the effect you're after.
26. Apply facial products with a light touch. An aesthetician once told me that a lot of the skin damage we incur is a result of the way we handle our skin. Which means Mom was right: It's time to stop rubbing your eyes and start treating that face of yours like the precious object it is.
27. Quit cutting your cuticles. I'm still working on this one, but a manicurist I know quit, and she actually has a lot less cuticle now than she did when she was a cutter.
28. Pull, rather than squeeze, your zits. Place fingers on either side of the offending mark and gently pull them away from each other so the clog works its way out. If you push inward, you risk scarring.
29. Get dressed without deodorant stains. Here's the trick: Pull your head through first, then your arms.
30. Pat on, but don't rub in, concealer. Eugenia Weston, creator of Senna cosmetics, showed me how: Apply your concealer from just above the inner corner of your eye down to (and over) your under-eye circles. Then, gently tap the makeup until it melts into your skin for truly effective coverage.