I Want Bold Brows
Will a new treatment help Lizzie Dunlap transform her wimpy brows into glorious golden arches?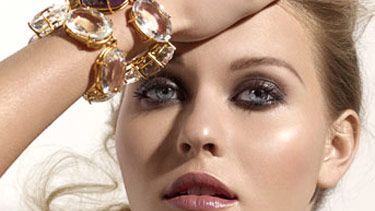 (Image credit: Don Flood)
When I look at pictures of that great beauty Jennifer Connelly, I'm struck by her eyebrows — thick, dark arches stretching out over her eyes, glamorously framing the sparkly greens. But when I look in the mirror, all I see is Bambi. Naturally thin and blonde, my puny brows stop an inch shy. Over the years, I've bought pencils, shadows, and mascaras, but each misguided attempt at lengthening drew more attention to my shortcomings. Then I heard about Completely Bare Spa's new Semi-Permanent Eye Brow extensions ($385, completelybare.com), individual hairs that are meticulously attached to your real ones with surgical-grade superglue — like false lashes but for brows. The results last 14 days.
At the sleek, downtown NYC spa, my aesthetician, Grace, starts by shaping my virgin brows, tweezing sparingly. Since my goal is to amp up definition, I pass on using my own fair hair for the extensions and choose a slightly darker shade from the swatches of human hair samples she provides. Grace then tapes my eyelids shut with blue foam patches (to keep the glue out) and gently applies the hairs, one by one. I don't feel a thing except the tape gently pulling on my lashes. After a fidgety 90 minutes, I'm ready for the reveal.
On close inspection, I can't even tell the imposters apart from what nature gave me. The hairs follow the organic pattern of my own, some standing vertically, others jutting off at an angle. I'm obsessed. But what strikes me most is not the shapely new arches as much as the effect they have on the rest of my face. My hazel eyes look more intense, my cheekbones higher, and my skin tone — could it be? — brighter.
In the following days, friends stare at me suspiciously over drinks, and my boyfriend assumes I'm wearing more makeup. Actually, I'm wearing less. Sadly — in part due to my constant stroking of my newly bushy accessories — the results don't last. After just one week, despite my attempt to glaze them with a medical-grade film (from the spa) before washing my face each night, the hairs eventually all fall out. I consider booking another session but balk when I calculate the time and money I'd have to invest. Armed with darker pencils and new knowledge of the correct elongated shape for my face, I decide that faking it with makeup is enough to banish Bambi.
Lizzie Dunlap is the assistant beauty editor at Marie Claire.
ARCH CRUSADERS Anastasia Mini Brow Kit (includes mini matte highlights, tweezers, and mini clear brow gel), $25; Talika Eyebrow Extender in Light Brown, $35; Revlon ColorStay Brow Enhancer, $8.99.
Click here to go to YOU, BUT BETTER — Marie Claire's 2009 Best Beauty Boosters.
Celebrity news, beauty, fashion advice, and fascinating features, delivered straight to your inbox!