Zoë Kravitz Has a New Lipstick Line With YSL Beauty and Told Me All the Details
"I want to represent."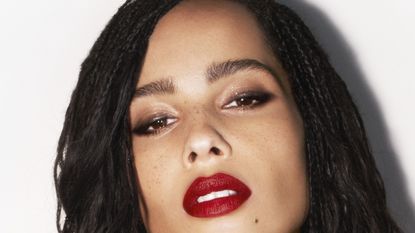 (Image credit: YSL Beauty )
Color Pyschology calls green the most calming, cool-toned shade of the color wheel. It symbolizes tranquility, growth, peace, balance, and healing. It's also the color of Zoë Kravitz's nail polish, the first thing I notice as she extends her hand to greet me. It's no coincidence that the same words that represent her nail shade—tranquil, peaceful, cool, and calm—accurately describe Kravitz's demeanor. Cloaked in an oversized sweater with gold necklaces draped around her neck, the 30-year-old exudes effortlessness.
Kravitz has been the face of powerhouse brand YSL for three years, and now she's stepping beyond standard spokesmodel into the role of collaborator; August 25 marks the launch of her first line of lipsticks for the brand. But Kravitz's serene energy, which evokes a sense of such ease, belies any pressure she might feel.
The line she's created is a cohesive, uncomplicated collection. "I wanted to start with the basics," she shares. "Nudes and reds are always my go-to because they work on a daily basis, whatever the occasion is." When creating the line of reds and neutrals, she kept every type of person in mind. "I wanted to create a collection that is for everybody: different shades, different textures, different finishes that work on different colors of skin," she emphasizes. Kravitz tells me that the shade Scout, which she describes as a "bright pop of red," and Maris, a "90s, sexy, matte neutral," are perfect colors for women embracing Hot Girl Summer—a movement she fully supports.
Get Your Hands on Kravitz's First Ever YSL Beauty Lipstick Line
If you want a full face of Zoë-approved products, add YSL's Touche Éclat All-Over Brightening Pen and Couture Brow Gel to your beauty arsenal, two products the multihyphenate never leaves the house without. "Speaking of Hot Girl Summer, when outside is just so humid and it's too hot to wear a bunch of foundation on your face, I love Touche Éclat because it's light; you can even things out and cover things up without feeling like you're going to sweat everything off," she recommends. And she's a "strong brow" kind of lady, so even when you think she's not wearing any makeup, she's always wearing Couture Brow Gel.
Knee-deep in conversation with Kravitz, it's impossible not to be distracted by her astonishing beauty. Her features are mystical and unlike anyone else's. I'd be remiss not to ask about her poreless skin gleaming right before my eyes. She credits her glow to products from Retrouve, Isun, and coconut oil, along with a healthy diet, lots of water, and exercise. As for her microbraids—individual three-strand braids—her reason for rocking them is relatable as hell. "I'm not one to groom myself everyday," Kravitz admits. "I want to roll out of bed and leave the house. So I wear my hair natural, leave it alone, and let it grow. Braids feel like the healthiest and best option for me."
Shop Kravitz's Go-To Beauty Products
Kravitz has performed in front of the largest crowds with her band Lolawolf, fronted major campaigns with some of the biggest fashion and beauty brands in the world, and stars in one of HBO's most popular series Big Little Lies. Not to mention she was born into stardom as the descendent of Lenny Kravitz and Lisa Bonet. Although normalcy has never been a part of her narrative, when it comes to beauty, she shares the same story as many of us. "Feeling beautiful is something that I grew into," Kravitz shares. "Being told by the world that this one thing is beautiful, and trying to chase that isn't fun or healthy. It's boring. With beauty, I started to look inward instead of outward because the feeling of wanting to be the other thing that I wasn't for so long got really tiring. We can develop some deep-seated neurosis growing up around one kind of person, and feeling like we're just not good enough. Getting over this feeling takes time, like a wound you have to heal from." Beauty is an attitude, to Kravitz. "Now, I look for beauty in different places. I've been around so many different kinds of people. I've been around supermodels who are considered to be the most beautiful people in the world. But what I really have found is when they're not kind people, beauty diminishes in my eyes pretty quickly."
Kravitz's biggest beauty inspiration is her mom. "I just think she's the best," she says fondly, pausing to smile. "She's one of the truest artists I've ever known. She lives and breathes art. She cares so much about everything: her loved ones, home, family, the food she cooks. There's so much care in everything she does. And she's incredibly honest."
Kravitz defines true beauty as individuality. "The thing that makes us beautiful is the thing that makes us different from everyone else," she shares, adding that her biggest grievance with the industry right now is everyone trying to look the same. "Whenever I see a person that makes me think wow, I've never seen a face like that before, like yours right now, that's what makes me excited. I think that's beautiful." My heart melts.
When asked what she wants her legacy in the beauty industry to look like, she says without hesitation: "I want to represent," with fearlessness in her eyes. "I see pictures of myself, in airports and stuff, and I'm surrounded by other pictures of beautiful, blonde, white women. I want to represent all different kinds of people. Whether you relate to me because you're brown, or short, or just different in some way from everyone surrounding you. I hope that my legacy inspires everyone to appreciate and love themselves."
Our time together is up, but I sneak in one last question about her advice for battling self-deprecating thoughts when it comes to beauty. She leaves me with words to live by: "It's about being gentle with yourself," Kravitz affirms. "For me, the big shift in my own relationship with self-hatred was being so tired of hating myself. Unfortunately, sometimes you have to hit that point. But it will always get better." As we say goodbye, my eye catches a glimpse of her green nail polish one last time.
For more stories like this, including celebrity news, beauty and fashion advice, savvy political commentary, and fascinating features, sign up for the Marie Claire newsletter.
Celebrity news, beauty, fashion advice, and fascinating features, delivered straight to your inbox!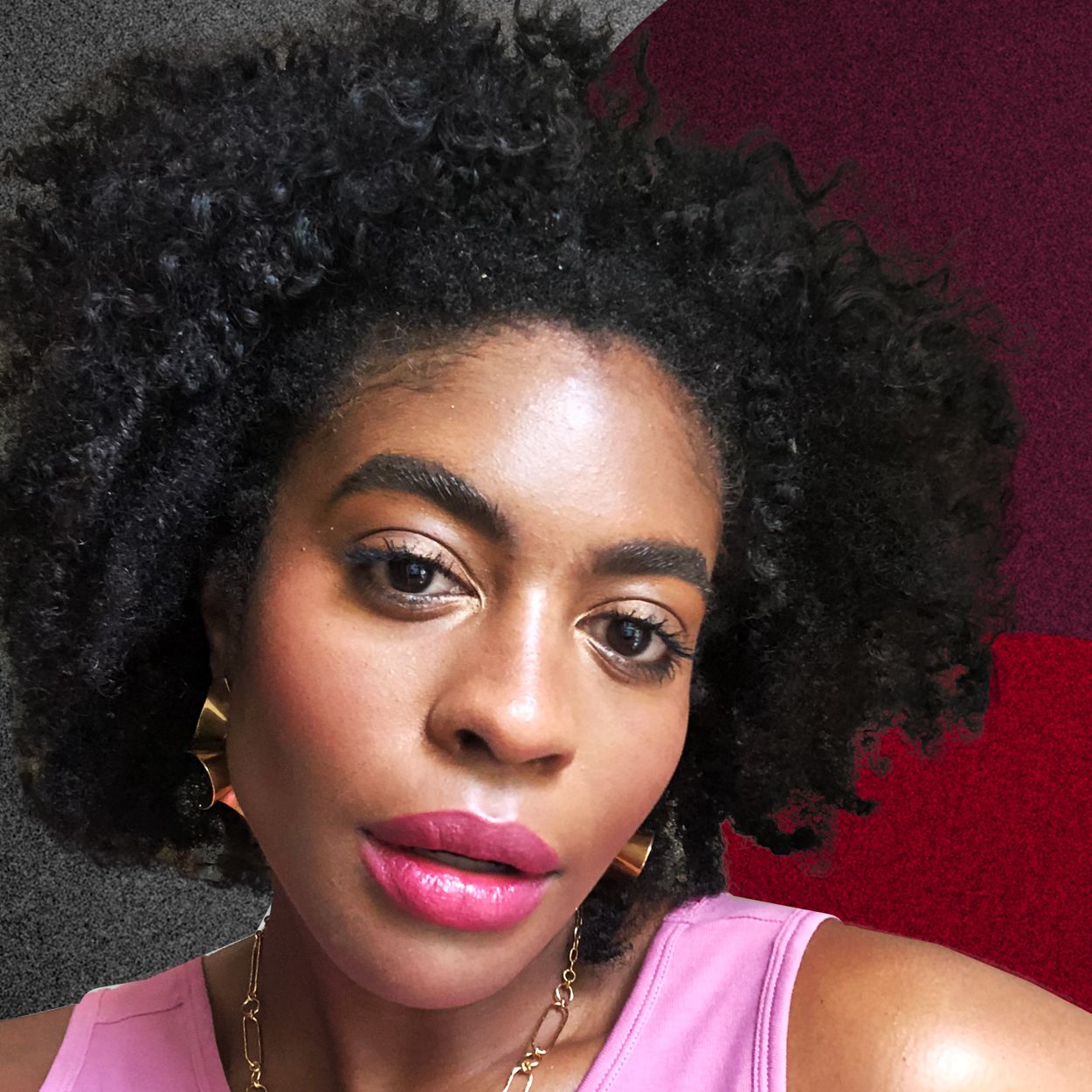 Maya Allen is the former Digital Beauty Editor at MarieClaire.com where she covered makeup, skincare, haircare, wellness, you name it! She has a 15-step skincare routine, owns over 200 red lipsticks, and enjoys testing the latest and greatest in beauty. On most weekends, you can find her at her happy place, which is her makeup vanity. There, she's usually blasting her speakers while singing along to lyrics at the top of her lungs, and making sure her highlighter is on point.