What's in Penelope Cruz's Bag?
The Oscar winner — and new mama — reveals the items in her purse.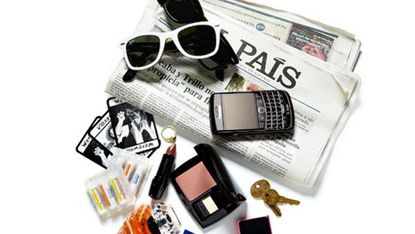 (Image credit: Jeffrey Westbrook/Studio D)
This month, Oscar winner and new mama Penelope Cruz swashbuckles in Pirates of the Caribbean: On Stranger Tides. Here, the sexy Spaniard tames the items in her Samantha Thavasa tote.
Ray-Ban Wayfarer sunglasses: "I love this shape. They remind me of Marcello Mastroianni in La Dolce Vita or 8½. He wore these type of glasses."
Newspaper: "I read El País, a Spanish paper, every day."
Werewolf: "I play Werewolf with my family and friends. It's a game where you have to convince everyone you are innocent — there are secret werewolves who are trying to kill all the villagers, so people lie to each other until they figure out who it is. I have a group of 30 people that plays in L.A., and another 30 to 50 that play in Spain."
Ring: "Growing up, I always asked my grandmother to let me wear this ring. Ten years ago, she gave it to me. This ring has been through many movies — some characters wore it — and has been with me on the most special days of my life. It's my good-luck charm."
Boiron Oscillococcinum: "I like natural remedies like this homeopathic medicine, especially when I'm traveling on planes."
Lancôme Trésor: "I've used this since I was a teenager. I remember when I saw the Isabella Rossellini campaign — more than 20 years ago — and I asked my parents to buy me a bottle. The ads were very iconic. They were a combination of fantasy and reality — a woman with her feet on the floor but who is allowing herself to dream. I've been using Trésor ever since. It has some powderlike quality to it that I'm addicted to."
Diamond hoop earrings: "These are from Chopard. I wear a lot of hoops with jeans — I love mixing jewels with denim."
Lancôme Color Design Lipcolor in Trendy Mauve: "I've been using this lipstick this whole year. It's natural-looking, and the formula is very hydrating."
Emergen-C: "Oh, my God. Vitamins — I have a lot of vitamins! Here are some packets of vitamin C."
Gum: "I like chewing gum in strawberry or cinnamon."
BlackBerry Bold: "My BlackBerry goes everywhere with me."
Lancôme Blush Subtil Powder Blush: "I change my blush color a lot. Right now it's Cappucine."
Loose keys, money, credit cards: "No wallet, no key ring — if people saw everything I have just thrown in here, it would be very funny."
iPod: "My iPod has all kinds of different styles of music — from opera to rock to pop to classical to rap music. I like Citizen Cope very much. And a lot of Brazilian music — Caetano Veloso is one of my favorites. I listen to Brazilian music almost every day."
Dr. Schulze's Cold & Flu Herbal "Shot": "When you are starting to get sick, you just drink one of these. You will never forget the flavor because it is horrible — onion, garlic, echinachea, and a very strong combination of herbs — but it works."
Marie Claire email subscribers get intel on fashion and beauty trends, hot-off-the-press celebrity news, and more. Sign up here.