What's in Tory Burch's Bag?
The preppy designer discloses the colorful contents of her self-made purse.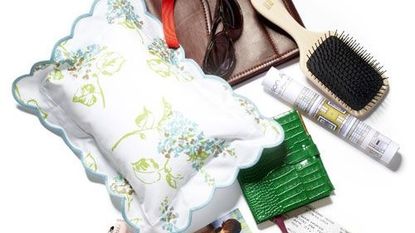 (Image credit: Jeffrey Westbrook/Studio D)
Designer Tory Burch is known for her preppy charm, sunny patterns, and coveted accessories. Here, she discloses the colorful contents of her purse.
Red ribbon: "I always carry a red ribbon for luck. It was a superstition that was handed down from my great-grandmother, and all my relatives carry one. Today I even give them to friends for good luck. Mine is a grosgrain — I can't get on a plane without it."
D. Porthault baby pillow: "When I'm flying, I bring extra moisturizer and this baby pillow. It's now a joke that my stepdaughters and I exchange these baby pillows each Christmas, because we're always losing them on planes."
The bag: Tory Burch Robinson satchel bag. "The Robinson Collection is named after my parents — it's my maiden name — and I really love it. I use this satchel every day — it's made from scratch-resistant saffiano leather."
Sue Devitt Eye Intensifier Pencil in Ava or Laos: "This eyeliner has a thick tip, which I like. They don't make them like this much anymore — usually the pencil part is skinny. It goes on more like an eyeshadow, and it's easier for me to apply."
By Terry Baume de Rose lip balm: "I'm not a big lip gloss person, but this balm is great and isn't super-shiny. Plus, I love the rose smell."
Patricia Wexler M.D.
Daily Defense Tinted Moisturizer in Medium: "It's lightweight, and the tint gives you a little coverage but still looks very natural."
St. Christopher medal: "My father gave this to me for safe travels."
iPad: "I have so many books lying around that I've turned to theiPad to keep everything in one spot. I'm loving my new case for it by J.W. Hulme. It looks like antique leather."
Tennis ball: "I love tennis, so you never know when a tennis ball will show up in my bag! I play every day in the summer when I'm out on Long Island. My three brothers and I grew up playing together, and now my boys do, too."
Marlies Möller brush: "I rarely leave the house without a wet head. This saves time — if you don't use conditioner like me, it still combs through the tangles."
Floor plans: "Today I have rolled-up floor plans for our global flagship store on Madison Avenue, which will open during Fashion Week — I've been working on them a lot lately. It's very exciting!"
Smythson diary: "I'm old-fashioned about writing things down, so I have this notebook to jot down any ideas."
Ticket stubs: "I took my boys — 13-year-old twins and a 10-year-old — to see War Horse, and they said it was their favorite show they'd ever seen. Now they're trying to bribe me to take them to The Book of Mormon."
Christmas photo: "This is the family portrait that I used for our Christmas cards last year. I carry it in my wallet now. The boys aren't so psyched about it, but I am!"