Beauty Gives Back: Laura Mercier
Treat yourself to the ultimate do-good duo: a skin-brightening palette and rosy gloss that help fund a cure for ovarian cancer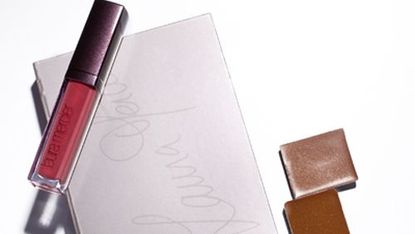 (Image credit: Jeffrey Westbrook/Studio D)
When Laura Mercier and her company's CEO, Claudia Poccia, recently bonded over loved ones who had battled ovarian cancer, Mercier was determined to take action. "It's called the silent killer because symptoms often don't show up until the advanced stages," she says of the disease that affects more than 225,000 women a year worldwide.
Now, timed with Ovarian Cancer Awareness Month, the French makeup legend launches the Laura Mercier Ovarian Cancer Fund (LMOCF). "The charity is intended to do for ovarian cancer what [the beauty industry] has done for breast cancer over the last few decades," she explains. Before the foundation's official launch date on September 1, two products—a multitasking color palette with five best-selling shades and a gloss that Mercier swears flatters all skin tones—will be available exclusively to MC readers, with proceeds benefitting LMOCF. "The creamy highlighters are totally foolproof and make anyone look better, healthier," says Mercier. No-brainer beauty goods that make you feel gorgeous inside and out? We're sold.
The Goods:

Laura Mercier Limited-Edition Rose Hope Lip Glacé, $24, and Bonne Mine Healthy Glow for Face & Cheeks Crème Colour Palette, $48.
The Cause:

Laura Mercier Ovarian Cancer Fund, a nonprofit that raises awareness and funds for ovarian cancer research.
The Deal:

Available exclusively to MC readers at Laura Mercier (opens in new tab) on August 1. Enter code LMOCFfsMC at checkout for free shipping through September 30.