The Going Green Routine: 5 Ways to Make Your Beauty Regimen Eco-Friendly
Turning your beauty routine green doesn't have to be an impossible task! Celebrate Earth Day with these five tips and tricks.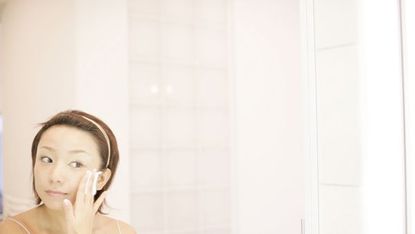 (Image credit: Archives)
Every year Earth Day rolls around, that inevitable question — what can I do better? — rolls around with it. Sometimes the answers are simple: throw water bottles away in the recycling bin; reuse takeout tupperware; don't cave to the litter monster. But what about being eco-friendly in our day-to-day beauty routines?
Product labels are far from the mind when rushing to get dolled up in the morning, and "going green" is easily disregarded when choosing conditioners and concealers that do their job for your long days. But turning your beauty routine green doesn't have to be an impossible task! Celebrate Earth Day with these five tips and tricks.
1. From a stick to a tar: We all love a good lipstick, but sometimes the brands we use can be filled with loads of unfriendly chemicals for our skin and the planet. Try switching from a lipstick to a natural lip tar, like Obsessive Compulsive Cosmetics. The OCC tars are 100-percent natural and made without any kind of animal testing — this self-proclaimed "vegan" line is better for your skin, and the clear baggie it comes in is more easily recycled than the usual lip tube.
2. Ditch the liquid soap and go for the bar: We hate to admit it, but sometimes recycling isn't easy during a hectic day. Try using a bar soap instead of a liquid — usually it'll be individually wrapped and the packaging can be easily trashed. Elegant Rose Boutique has the best all-natural, scented bar soaps. That "lavender mint splash sea salt" is to die for.
3. Use a natural, scented deodorant: If you have a deodorant that can double as a perfume, you'll be using less bottles and going just a bit more green! The Healthy Deodorant line from Lavanila has a dozen delightful scents and is made without any kind of sulfates or synthetics.
4. Homemade skin treatments: Trouble with blackheads? Who doesn't. Instead of going out and purchasing a ton of products in plastic bottles, make an at-home honey and lemon mixture and plop it right on those problem areas. It's seriously miraculous.
5. Natural aromatherapy: Stressed? You don't have to go to a spa or try out dozens of sketchy "relax now" treatments. Go for a 100-percent natural and nontoxic brand like Tata Harper's aromatherapy products. You'll sense a change in your emotions and mood right away — and treating yourself to some "me time" can be totally guilt free.
Celebrity news, beauty, fashion advice, and fascinating features, delivered straight to your inbox!