Sean "Diddy" Combs Beauty Routine
What are this bad-boy's beauty basics?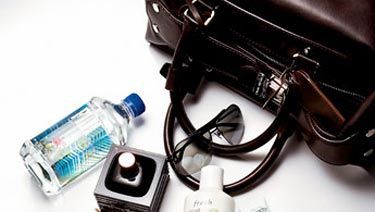 (Image credit: Jeff Westbrook)
Sean "Diddy" Combs — the most polished guy on the front row — hands over his fashion-week survival.
LOUIS VUITTON Bequia bag: "Got to give it up for the L.V. Their stuff is tight. These bags are stylish yet masculine — like me."
FIJI water: "It tastes so pure and keeps me hydrated when I'm running around."
SEAN JOHN classic navigators: "It's all about style — and these shades add instant swagger."
UNFORGIVABLE by Sean John eau de toilette: "My scent is a part of me; it's what's left behind when I exit the room. I never leave home without smelling right."
PROACTIV skincare: "I'm always in the spotlight, so I can't be walking around with acne. This keeps my skin in check."
FRESH Sugar Lemon body lotion: "This lotion exfoliates my skin like nothing else." PLANTRONICS Bluetooth headset: "I only have two hands. This device keeps them free to get the bigger things done."
LUXURY SPA Ginger Prosperity air freshener: "These keep any hotel room smelling a little bit like home, no matter where in the world I am."
IPOD
Touch: "Music keeps my creative energy flowing."

XOTICS Skin Therapy aftershave: "This provides the moisture I need to keep my shaves looking right."
Celebrity news, beauty, fashion advice, and fascinating features, delivered straight to your inbox!