I've Had Professional Laser Hair Removal, But This At-Home IPL Device Works Better
The Ulike Sapphire Ice-cooling Laser IPL Hair Removal Device is less painful and more affordable than a salon treatment.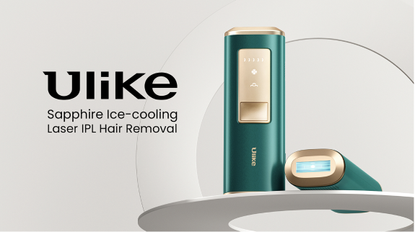 (Image credit: Courtesy of Ulike)
Let me kick this off with a blanket statement: I strongly dislike shaving. First and foremost, it's time consuming. Let's say 10 minutes, three times a week—that's 1,560 minutes a year. Then, there's the cuts, the annoying stubble, and, of course, the patch I somehow always miss. As such, I made the decision a few months back to get professional laser hair removal. It worked—yes. My armpits and bikini line are hair free. But now that I'm ready to ~permanently~ tackle the hair on my arms, legs, and upper lip, I decided to take matters into my own hands.
Enter Ulike Beauty and the Ulike Sapphire Ice-cooling Laser IPL Hair Removal Device in Dark Green, a new-to-the-US at-home laser hair removal device specifically designed for coarse hair that leverages the exact same IPL technology used in professional beauty salons. Now, I'm not normally a do-it-yourself type of person, but this medical-grade device is too good to pass up. It provides all the benefits of professional laser hair removal (smooth skin! thinner hair! less shaving!), but—and this is huge—costs less, works quicker, and feels substantially less painful.
It sounds too good to be true. Trust me, I get it. I approach at-home tools with a hefty dose of skepticism. That's why I made it my mission to understand the technology behind this device before taking it to my sensitive skin. After pouring over the instruction manual, I can confidently say this is the real deal. Just like most in-office devices, the Ulike Sapphire uses IPL technology, which stands for intense pulsed light. Essentially, the machine uses light energy and converts it into heat energy. When that contacts the skin, it zaps the hair follicle. With repeated use, the hair follicle is increasingly stunted until it grows no hair at all.
Now as the process suggests, heat therapy can be, well, spicy. Temps can reach 212 degrees Fahrenheit—and I can confirm that doesn't feel all too great. The Ulike Sapphire device however has a patented Sapphire Ice-cooling technology that's able to keep the skin calm at 50 to 104 degrees Fahrenheit. Not only does this temp feel much nicer on the skin (trust me, I know), but it's also going to minimize your chance of getting a burn or heat-related injury.
When it comes to operating the device? The handheld tool has five different energy levels that are equipped to tackle different areas, ranging from the upper lip to the bikini line. Once your energy level is selected, you pick a mode. There's a "continuous" option that glides along large spaces, and a "single" option that stamps smaller areas like the armpits. Once all the selections are made (we love customization, people), it's go time. The flat tip presses straight up against freshly shaved skin, allowing the IPL to get as close to the root as physically possible. Then, zap away. And remember: Slow and steady wins the hair removal race.
The whole process gets repeated three to four times a week and results are visible within just four weeks. I repeat: Just four weeks (!!). If you don't understand my excitement, allow me to give some context. A professional treatment requires approximately eight sessions—each of which costs roughly $300 depending on your location—spaced six weeks a part. To have results in a fraction of the time, for a fraction of the price, is a major game-changer. So, as I embark on the next chapter of my hair removal journey, the FDA-approved Ulike Sapphire Ice-cooling Laser IPL Hair Removal Device in Dark Green will be by my side—and on my legs, and arms, and upper lip.
For more information or to buy the Ulike Sapphire Ice-cooling Laser IPL Hair Removal Device (I highly recommend!), follow the brand @ulikeglobal on Instagram, visit them at ulike.com, or check them out on Amazon.
#Ulike hair removal #Ulike Beauty #laser hair removal #IPL hair removal #hair removal at home #permanent hair removal