Beauty Around the Clock: Valentina Sampaio
The Victoria's Secret model on daily boxing workouts, genius makeup hacks, and the vitamin C serum that gives her "really glowy" skin.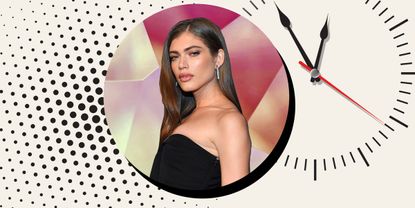 (Image credit: Future)
Marie Claire Newsletter
Celebrity news, beauty, fashion advice, and fascinating features, delivered straight to your inbox!
Thank you for signing up to Marie Claire. You will receive a verification email shortly.
There was a problem. Please refresh the page and try again.
Welcome to Beauty Around the Clock, Marie Claire's weekly peek into the daily lives of some of the most game-changing men and women in their industries. Ever wonder how they get it all done in a day? Here's your answer.
Valentina Sampaio is nothing short of impressive. If you're unfamiliar with her boundary-breaking resumé, let me give you a crash course. She became Victoria's Secret's first openly transgender model in 2019, landed the cover of Sports Illustrated in 2020, and became an Armani Beauty ambassador in 2021—all while being a huge advocate for transgender equality both in the US and her home country Brazil. She's a model on a mission to say the least, and is determined to prove that beauty is more than just meets the eye.
"Beauty is subjective and can mean many things to many people. But for me, beauty is the transmission of our essence—it's something that comes from inside of us and transcends our body," Sampaio exclusively tells Marie Claire. "I think of beauty as being good with yourself; it comes from within our soul. It's not an outside view. I have my skincare routine and love my products, but there's also a self care component that translates to self love."
To get an inside peek at the habits, rituals, and of course, beauty products, that power the model's day, keep reading. She walked us through every hour of her life, ahead.
Rise & Shine
I wake up naturally—especially when I'm here in New York because I have my routine. The first thing I see when I wake up is my little dog. Then I like to have my green tea and take a very relaxing shower. After that I take my puppy and we go for a walk around the neighborhood. He's the fluffiest little ball; he's really sweet.
Morning Maintenance
In the morning, I wash my face with this cleansing that's from Brazil—I don't think you guys have it in the United States. After that, I go in with SkinCeuticals Blemish Solution Toner and a vitamin C serum, usually from La Roche Posay or ISDIN. I feel so good with vitamin C because it gives me really glowy skin. I love the Shiseido Moisturizing Cream. Then I use the sunscreen from La Roche Posay or even from Elta MD. That's it, that's my morning regime.
La Roche Posay Vitamin C Serum
Elta MD UV Daily Broad Spectrum SPF 40
Laneige Lip Sleeping Mask
Power Start
I go to the gym in the morning after I walk my dog Leo, so I do a protein meal as a pre-train meal. I take two tablespoons of Yoki Tapioca. It's a Brazilian staple from the indigenous people there. It's really healthy and you can find it here in New York. I mash a banana with cinnamon and have a cup of black coffee. That gives me plenty of energy for boxing. Then after boxing, I have toast with scrambled eggs and some fruit. A tangerine, or mango, or a banana—I try to have five different types of fruit throughout the day. I love papaya; that's something that I miss from Brazil. We have better berries in New York though.
Fitness Fix
I go boxing every day—I love it. I work with a trainer at my gym and we have a lot of fun. It's very de-stressing for me. My day truly starts after boxing. During the session I'll feel so tired, but after the session I regain all my energy.
Signature Look
The makeup look that I like is more natural, glowing, healthy skin. I have a group of products that I use every day. I love the Nars Creamy Concealer. They also have a color corrector that I love to use before the concealer. I apply it under the eyes and over any red marks. I go for a BB cream over a foundation because it's light and more natural. For blush? I normally use lipstick because it's creamier. I use the Benefit Lip Tint. I'll also put it on my lips for some color. For mascara, I go with the classic Armani Beauty one.
NARS Radiant Creamy Concealer
Self Care Ritual
I work and travel very intensely, but when I have some downtime, I try to disconnect. When I am not working, I try to spend time with people I love and doing activities that bring me joy. This process really, really helps me to recharge my energy and spirit. If I have more time, I'll try to back home to Brazil and spend time with my family.
Signature Scent
Right now, I'm using the Heavenly Fragrance. I love the versatility and warmth of Heavenly. It's a fragrance I can wear day-to-day and also for any major life moments or a night out.
Hair Help
I workout every day, so I have to wash my hair every day because it gets sweaty. I always try to use a hair mask—even if I leave it in for only two or three minutes. I love the one from Kerastase. There's also a French brand called Leonor Greyl and they have great products for curly hair. I don't use conditioner, just a mask. If I know I'm going to wash my hair the next day, I also like to apply oil to the middle and ends of my hair because I have very curly hair, so the oil keeps it hydrated.
Cheap-but-Chic
I'll probably get ice cream at a drugstore. Ben & Jerry's Ulta Caramel Cone with the core—I can never find it in the supermarket. It's only at the drugstore, but it has brownie, blondie, and ice cream.
Daily Playlist
I always have a big diva like Rihanna, Beyoncé, or Anita playing. There's so many more though. Miley Cyrus, of course. Whitney or Mariah, too.
Beauty Icon
My beauty icon is definitely Brooke Shields in Blue Lagoon. I really identify with her simple and natural beachside beauty. I also found Grace Jones very inspiring growing up—both for her strength and views of color, but also her very confident androgyny. There's also Boy George. When I would watch his music videos on TV, especially Karma Chameleon, it was very inspiring to me.
Backup Career
I think I'd be doing biology or veterinary stuff, something taking care of animals. I could have also done architecture.
P.M. Routine
At night, I wash my face and then I use this Ivy C serum that has vitamin C, hyaluronic acid, and also retinol. It's a Brazilian brand, too. It's called Mantecorp Skincare and you can find it here if you really look for it. I also apply the ISDIN eye cream, which helps with my dark circles. Then, I use the Laneige lip sleeping mask in the berry flavor.
Lights Off
In the evening, I like to do yoga. I always put something on TV to help me fall asleep . I'm watching the second season of White Lotus right now and it's really fun.
Celebrity news, beauty, fashion advice, and fascinating features, delivered straight to your inbox!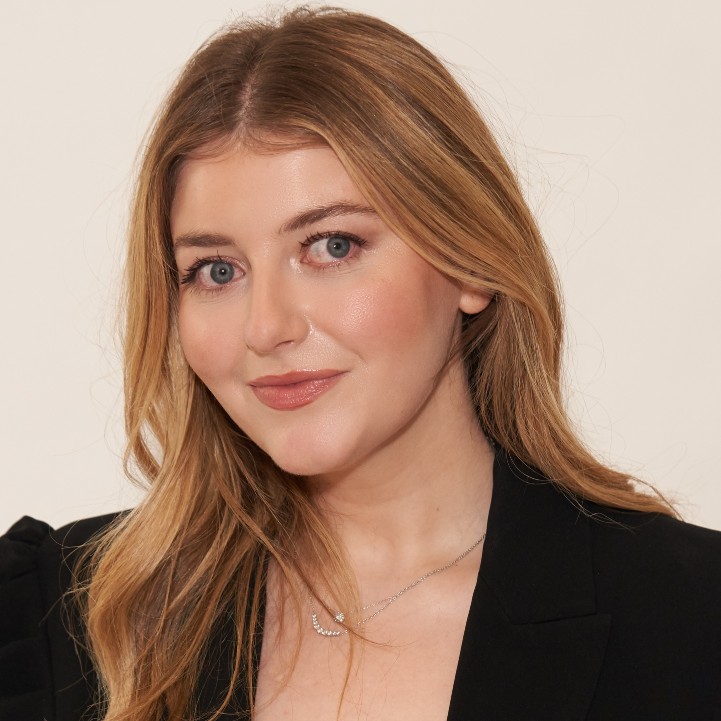 Samantha Holender is the Beauty Editor at Marie Claire, where she reports on the best new launches, dives into the science behind skincare, and keeps up with the latest trends in the beauty space. She has previously written for Us Weekly, Popsugar, Makeup.com, Skincare.com, and Philadelphia Wedding. Follow her on Instagram @samholender.